HOME
HF activities
MY START IN CONTESTING
Even before I've got my license I was interested in contesting, either as a SWL, or in the clubs which were very popular in these times. As a member of OK3KAS and later of OK1KIX I was very eager to take part in each contest I was allowed due to the limitation of my license degree. In 60's there was no computers, no software even no professional rigs available. The SSB was very rare so the most contests I took part was in CW. From the point of view my today's experiencies I must confirm it was an excellent way how to improve operator abilities as well as the speed of CW I was able to receive.
After few years of my activities mostly in national contests (without any remarkable result) like 160m Activity Contest (called also "telegraphy Mondays") and different 80 m contests I recognized it is necessery to build up transmitter for all bands. After six months I was QRV with 90 W output, longwire antenna and homebrew "elbug" with two relays. With a smile I still remember my first receiver, an old WW2 trophy - the FUHEc (80 - 15m) and MWEc (for 160m).

INTERNATIONAL CONTESTS
By the openned way to another bands the contesting became more interesting and the number of QSOs increased from one contest to another. Even the results were not very good I was very keen to take part in nearly each contest and after 35 years I can say it was pretty good excercise of the Morse code (couple of the first years I was QRV only CW) and the operators ability . I made many contacts in REF, RSGB, DARC, SSA, SRAL, EDR, NRRL, ARRL, VERON, ARI and JARL contests, some of the most popular I attending till now. With the above mentioned rig my chance were too low but by my point of view - the most important for the each contest are the "little pistols" more than "big guns". I will not boring you with the list of my results I only wanted to share my contest-philosophy with you.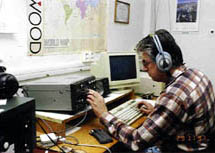 In some period of my HF activities I was concentrated in membership of different clubs. As the highest achievement I count the FOC (The First Class Operators Club) where I was chose in February 1967 and got the number 905 as the third OK station. Beside this one I became member of another clubs like TOPS(#1290), HSC(#412), etc.
The development in the computers and software openned the new era of contesting and returned me a motivation again.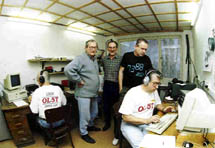 Even I had a lot of to learn I was very happy I had the chance to buy a good transceiver (the first one was IC701, then IC730, IC735 and finally Kenwood TS850SAT), build up antennas and operated a PC in the contests. Few years ago I've met a group of enthusiats building nice contest QTH and together with my good friend OK1VD became members of the OL5T team. Unfortunately, our business and other more important activities don't allowed us attend more than 3 contests but I have to say it was really exciting experience to get in touch with the teamwork.

SOME RESULTS
2000 Even I was very busy this year I succeeded to save some time for my favorit contests. The results were as follows:

ARRL 2000 SSB - SO 10m assisted ~ 701 QSO, 2103 pts, 55 mults = 115665 pts (in 15,7 hrs)
FOC MARATHON ~ 680 QSO, 1583 pts - allband/CW
EUSPRINT CW/II ~ 151 QSO (20,40 and 80m) - the contest lasts 4 hrs only
CQWW CW SO 10m assisted ~ 693 QSO, 1713 pts, 125 DXCC, 35 zones = 274080 pts (in 14,5 hrs)
2001
Unfortunately due to limited time and the necessity to rebuild my Hamshack, my contest activity was low this year. I focused to the OK/OM DX contest and CQWW CW part. Surprisingly I succeeded in ARRL SSB contest even I did not expect a good score.
EU Sprint CW - April 2001 : First OK
ARRL 2001 - SOAB HP assisted : 6th place in EU, 10th in World (probably no more stns in the same category, hi)
OK/OM DX contest - SOSB 15m raw score : 136 884 pts (338 QSO, 204 mults)- first place
CQ WW CW contest / SOSB 15m assisted again. The raw score 366 560 pts, results still not available.Anyhow - I don't expect extremly good results as I spent few hours visiting our daughter and her son in maternity house.

2002
ARRL CW
IARU HF Championship-as a member of the Czech HQ team OL2HQ/10m CW.The team was managed by OK1DUO and we achieved his offer to use his excellent QTH (DZBANOV in JN89DX) and well equiped station.Unfortunately, we were suffered by heavy lightning storms (mainly on Saturday) causing enormous QRN statics. The ugly propagations made the contest boring - can you imagine I made only 55 QSOs in first three hrs? Fortunately the props improved a bit the next day and the rest of crew made 426 QSOs.Even some US stations were worked (but, for instance, KC1XX's real report was 339 only!Despite of it, the teamwork at the OL2HQ was very challenging and we decided to meet there again hopefully under better propagations. Have a look to some pictures taken by OK1DUO......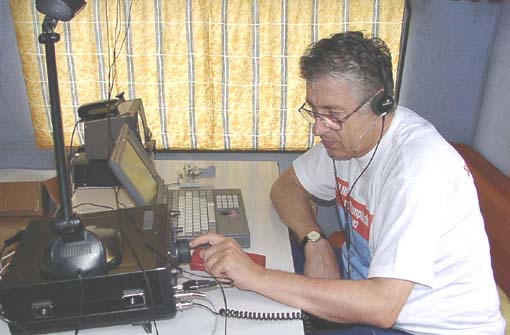 L to R: OK1ITA, OK1DUO,OK1ZP,OK1KT,OK1VD