N2PK-VE3IVM return loss bridge
This is the classical bridge design from N2PK, built used the PCB supplied by Ivan, VE3IVM. It's described by N2PK on his website, in the 2nd part of his VNA documentation.
Its schematic, with the ports numbering used for the following graphs, is shown below: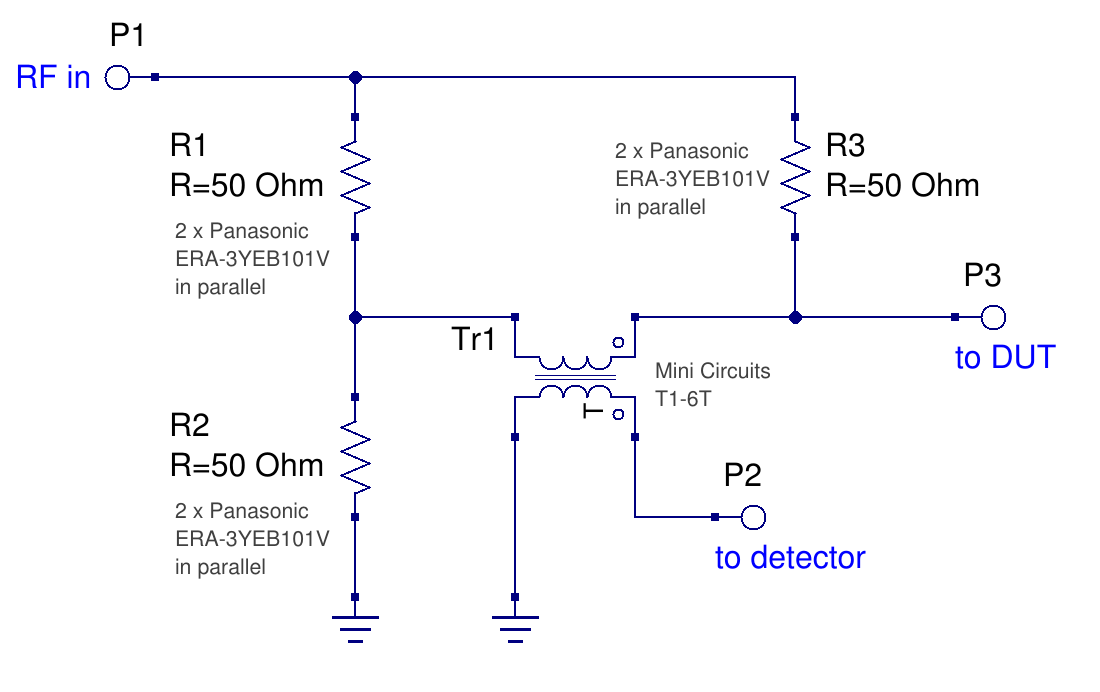 and this is how mine looks like (as usual here, still without an enclosure):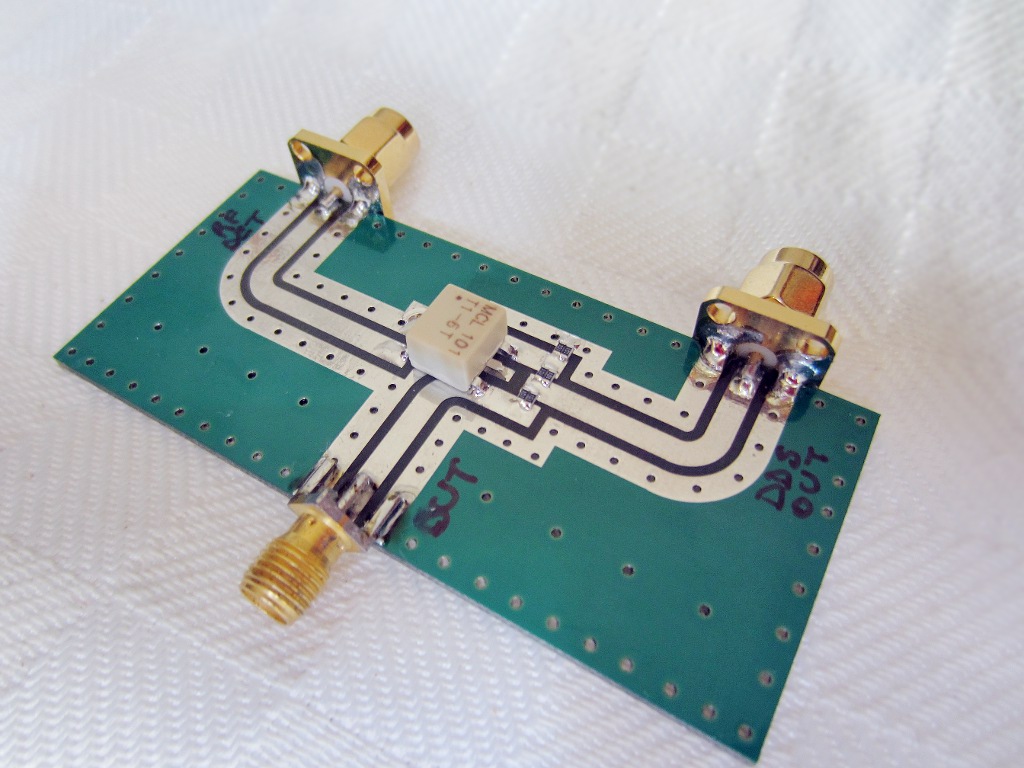 with reference to the schematic above, Port1 is the one labeled DDS out, Port 2 is labeled RF det and Port 3 is DUT.
The bridge performances, especially at low frequency, are exceptional: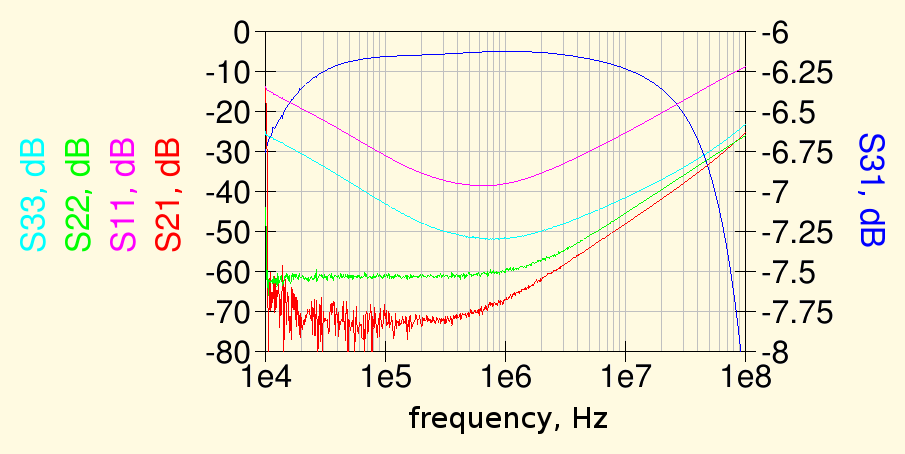 An important parameter of a bridge, especially when used for impedance measurements, is its directivity. Ideally, the detector port output should be related only to the reflected power from the DUT, while in practice also a (small) part of its output is due to coupling with the input (source) port.
The directivity is usually defined as the ratio between the detector output due to the reflections from the DUT and the output due to the direct coupling with the bridge input. A more useful definition takes into account the bridge losses, so it normalizes the unwanted response on the detector port to the power incident to the DUT.
The directivity expressed using the bridge S-parameters is then
For this bridge the measured directivity is very good over the entire HF range (and can be improved at the higher end, see below):
High-frequency response compensation
As recommended by N2PK, the bridge directivity can be improved at the higher end of the spectrum by adding a small compensation capacitor on the DUT port. A bit of experimentation with the simulator shows that the best results are achieved with a capacitance of 10 pF, somewhat less than the 16 pF recommended by N2PK.
Below is the bridge directivity with (blue curve) and without compensation (red curve); note that the compensation capacitor can improve the directivity by 10 to 15 dB in the HF spectrum.
Alternative construction
The T1-6T Mini-Circuits transformer has very good performances but can be difficult to source and is somewhat expensive; a possible replacement is a Bourns DR331-474BE common-mode choke, used as transformer. Its low-frequency inductance is only slightly less than for the Mini-Circuits transformer and the high-frequency performance is at least as good or better.
Here is the original bridge PCB fitted with the DR331-474BE transformer; since the PCB layout does not match this component pinout, a small piece of wire was added to connect one of the pins:
The measured S-parameters look quite nice:
for comparison, here below are the original bridge (with the T1-6T transformer) S-parameters over the same frequency range
note that they look quite similar, so for this application the Bourns common-mode choke can effectively replace the Mini-Circuits transformer. Moreover, the low-frequency response could be improved by using one of the higher-inductance chokes from the same series.
Response compensation
Also in this case the bridge response at high frequency can be improved with a small capacitor on the DUT port. It turns out that the optimal value is still around 10 pF, as with the T1-6T transformer.
Here is the response of the compensated bridge:
and for comparison, here below is the compensated T1-6T bridge response over the same frequency range
---