GB5HQ (RSGB) in the IARU Contest July 2000
GB5HQ operating in the July 2000 IARU Contest on behalf of the RSGB
The station was located at GM3WOJ's home in the north of Scotland
GB5HQ operated 15m, 20m, 40m and 160m SSB & CW
5,606 contacts were made worldwide
GB3RS was active on 10m and GB4HQ on 80m, both from England.
OPERATORS
GM3WOJ GM4CXM GM0NAI GM0CLN MM0CCC
Chris GM3WOJ at the 40m station with Colin GM0CLN, John MM0CCC and Jim GM0NAI looking on.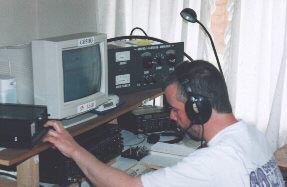 GM3WOJ operating GB5HQ on 20m
GM3WOJ's Homebrew 5el 20m Monobander @ 60'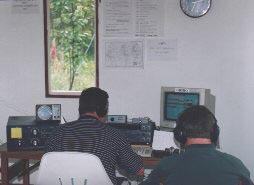 MM0CCC and GM0NAI operating GB5HQ on 15m
Jim GM0NAI and John MM0CCC working 15m pile-up !
---
BAND CONTACTS QSO POINTS POINTS/Q ZONES HQ STATIONS
160 124 304 2.45 6 12
40 1025 3031 2.96 29 28
20 2732 10212 3.74 50 34
15 1725 6007 3.48 35 25
______________________________________________________________________
5606 19554 3.49 120 99
Score = 4,282,326 points
---