SteppIR 3el Yagi from Fluidmotion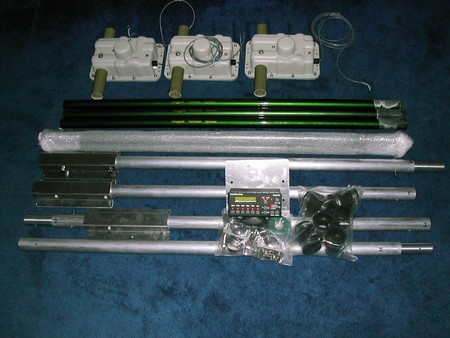 Complete antenna unpacked.
3 motorised control units for each element.
6 lengths of fibreglass tubes which extend to a minimum of 17' 8" each.
4 boom sections. A boom to mast plate and all the associated bolts and washes.
A set of 6 "quick-release" connectors. Enclosure and connector for element wiring system.
1 antenna controller and power supply for the shack end.
Picture shows one of the Stepp motors bolted to the boom.
The fibreglass is plugged into receptacles and secured with both electrical tape and silicon tape.
Though this is sufficient, I opted for the additional "quick-release" system for extra insurance!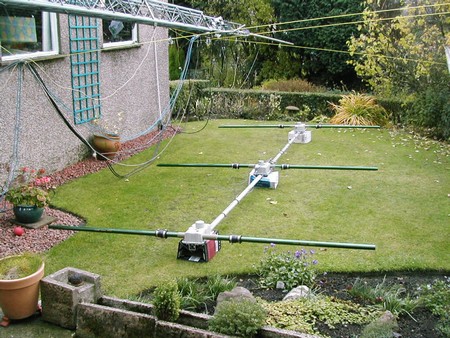 Almost done!
I have a small garden so the elements were not extended until the antenna was mounted on the mast.
Just the quick release boots to fit. The cables all went on last
.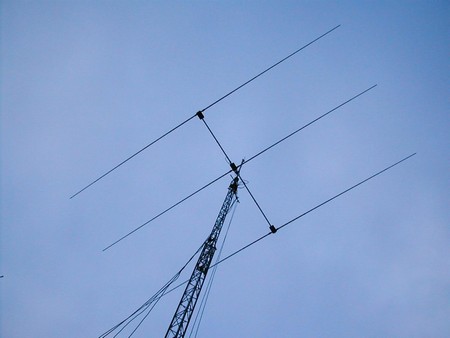 It's up and looking good!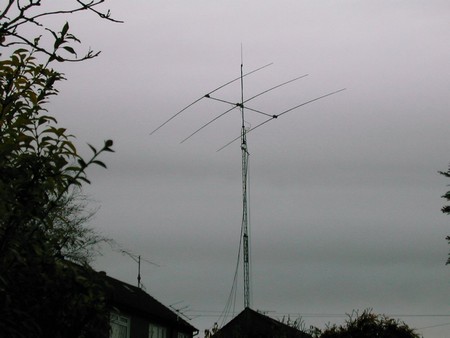 The 3el SteppIR is mounted on a 20' pole on top of a 60' Versatower.
A 2m vertical currently sits at the top though a 2m yagi will eventually be mounted below it.
The neighbours view!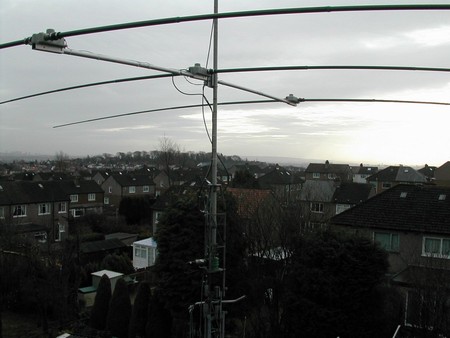 View from my shack with the tower right down.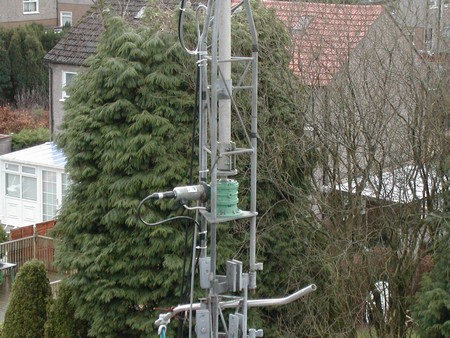 I recommend the Prosistel rotator!
Overview
The requirements for a HF antenna rested upon my numerous DX, Contest and ragchewing interests.
I do not have a large amount of land available but I wanted optimum performance on as many HF bands as possible. I benefit from having a 60' telescopic tower but only enough room for one!
Having had experience of using numerous multi-band and mono-band beams over many years, I very neally went the route of a log periodic to get good results over the range of 10m through to 20m.
I was giving some points away one weekend during the SEANET Contest and one signal from Asia stood head and shoulders above the rest and that eminated from the DX-Pedition station of XY3C.
On checking their website I established they were using a 3el SteppIR beam.
This was a new antenna to me so I decided some investigation was required.
Here was a 3el beam that could provide computer optimized results on all frequencies between 14Mhz and 50Mhz!
Fibreglass elements in which a berilium copper strip transversed and is instructed on commands from rig control signals or manually through a shack based controller. The ability to reverse the beam heading or change bands within a few seconds electronically was an additional bonus.
The European supplier is Ron GW3YDX of Vine Antennas.
An order was submitted and it arrived within two months.
The antenna came very well packed and no missing parts. A good start!
Construction
The antenna went together with ease. Though I started "by the manual", the size of my garden
caused a change in method. I found it easiest to mount the boom to the mast first. Thereafter the
three SteppIR motors were bolted onto the boom. The 6 fibreglass elements had been secured to
the motors and tape placed over the end of the first section to stop the inner tubes coming out.
Each motor has a screened 4 core control cable and these were tie-wrapped to the boom.
The antenna is linked to the shack based controller via a length of screened 12 core cable.
The 12 core cable is inserted into one side of an electrical contact strip, the 3 lots of 4 core cable
go into the opposite side. A separate connector is used to insert all 4 remaining screening wires.
Anti-moisture compound is inserted into the electrical block. A tie-wrap was used to support the
4 cables against the electrical block before inserting it all into a capped tube which is anchored to
the boom to mast clamp. The last job was to withdraw each fibreglass section of each element.
Silicon tape is used at each joint to stop movement. Care must be taken to make sure each section
is pulled out fully so that the minimum length of each element is 17' 8" or damage could occur when
the motors push out the Beryllium copper element its maximum length.
The mast was raised and it was time to give it an airing.
The shack controller is easy to operate.
The 12 core cable is connected to a 25 pin socket on the rear. Other sockets are for data in which is
used for the optional transceiver interface. A data out socket is present but not used at this time.
There are 2 dc power input sockets and the antenna comes with one 24v 2.7A universal supply.
The only time both sockets would be used is if there were 4 or more elements.
The front of the control has 6 band buttons, 20m, 17m, 15m, 12m, 10m and 6m.
There are numerous default settings on each band with the exception of 12m and 17m with 1 each.
For example, pressing 20m can default to 14.050, pressing 20m again takes it to 14.200 and again
puts the antenna on 14.300. There are "Up and Down" buttons to enable manual fine tuning of 25Kc points within each band except 10m (50Kcs) and 6m (100Kcs).
A unique feature is the ability to switch 180 degrees or beam bi-directionally. One button is used for
this feature. Each time you press the button an LED displays what function you are using.
A mode and select button is used to go into a menu system. This can enable you to move from the
default "Amateur" setting to general coverage. Menus are also available for adjusting the factory
default frequency settings, selecting transceiver setup, creating your own antenna, calibrating the
antenna or "homeing" the elements back into the motors.
The optional transceiver interface negates the need for the continual use of the shack controller.
The controller is connected directly to your transceiver and the frequency of your transceiver determines the tuning of your antenna.

On the Air (updated 11th April 2003)
Results have been beyond my expectations running 100w with a TS940.
DX pile-ups I have joined in resulted in a contact after only one or a few calls.
Some of the DX stations worked have broken with their pile-up and wanted to chat.
I read results like this from other users but hearing is believing!
The first weekend I spent some time giving away points in the WAE RTTY Contest.
This antenna is absolutely superb for contesting. It produced almost constant pile-ups and it was great
to keep the frequency clear and keep the qso pot boiling by quickly being able to reverse directions or
direct power in 2 directions at the same time.
For general use and without cluster assistance, I find listening around with the bi-directional mode is most
profitable. On hearing someone I want to call I just switch to the forward or 180 degree mode depending
where the rotator is heading. No more waiting for the "beam to come around".

I have carried out a lot of front, rear and bi-directional checks on all HF bands and the results have
been most impressive. As we draw closer to the sunspot minima, HF operators require greater awareness about the different paths open to DX. This antenna allows such checks to be made very quickly.
Of course, with the bi-directional mode, you can beam long and short path at the same time and then go directional on the reply you go back to!
One "local" check. That was with Jimmy GM3CIX who is about 10 miles away. He found
me S5 off the back and 9+10db off the front. I need to do more checks but I am delighted so far!
Some DX stations like to take a fair chunk of the band when operating split frequency and it can be
difficult to find where they are listening and whether they are tuning up or down. The ability
to switch to 180 degrees or bi-directional certainly helps in finding the station they are working in order
to call after a qso has been completed. Switching directions takes around 3 seconds and can
save you minutes or even the chance of a contact if conditions are changing to favour another area.
Anyone with experience of shunt feeding a tower for 160m or 80m will be aware that a beam on top
of the tower acts as a capacity hat. I have read of another 3el SteppIR user who has found an extra
bonus of his antenna in so far as any tuning to different bands on the SteppIR enables him to tune his
shunt fed 160m antenna to different frequencies on top band. Logical, but very useful!
More information, pictures and feedback are available on FluidMotions website www.steppir.com
or for Europe visit www.vinecom.co.uk
What do I mean by frequency optimisation? Well the antenna self or manually adjusts to the following
dimensions in inches. Try doing this with a normal antenna! These are the measurements for only
200 kilohertz of the 20 metre band. For clarity I have not included the dimensions for 180 degree or
bi-directional use and not all frequencies between 13.600 Mhz and 54 Mhz.
| | | | |
| --- | --- | --- | --- |
| FREQUENCY | DIRECTOR | DRIVEN ELEMENT | REFLECTOR |
| 14.000 | 384.9 | 399.6 | 421.4 |
| 14.025 | 384.2 | 398.9 | 420.7 |
| 14.050 | 383.5 | 398.2 | 419.9 |
| 14.075 | 382.7 | 397.4 | 419.2 |
| 14.100 | 382.0 | 396.7 | 418.5 |
| 14.125 | 380.5 | 395.2 | 417.0 |
| 14.150 | 381.3 | 395.9 | 417.7 |
| 14.175 | 379.8 | 394.5 | 416.3 |
| 14.200 | 379,0 | 393.6 | 415.4 |
73 and come back for more feedback once I have had more chance to use the antenna.
Ray GM4CXM