Coast
Radio Stations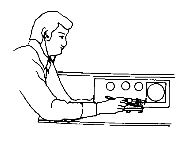 OBAN
RADIO
GNE
Content researched by
Bob Dixon
report from Oban Times of Thursday 1st April 1982
British Telecom's Oban Radio which has served West Coast shipping since 1949, closed yesterday (Wednesday). The station, which provided a radio telephone link between ship and shore stations, was established mainly at the request of the fishing fleets, and was started from a mobile station on Connel Air Field, with two operators, Don Morrison, who retired about four years ago, and Sam Kennedy, who will retire with the closure of the station.
In 1951 the station moved to its present site at Connel, in a temporary building. It is this building which closed on Wednesday.
Oban radio also served Skye and Lewis Radio V.H.F. stations, and these will now be operated by Stonehaven Radio on the East Coast, via land-line links. A new station, Hebrides Radio, will be established later this year on Lewis, and it too will be linked to Stonehaven.
One operator, Donald MacLeod, will transfer from Oban to Stonehaven, and another, Pete Howe, will move to Port Patrick Radio. John MacKay, who is in charge of Oban Radio, will continue to work in Oban.
Above story was contributed to the Oban Times by Ronald Cowan, who was a regular
summer-time user of Oban Radio from his twin-screw motor yacht "Grian".