ARRL Field Day
I have been making business trips to Massachusetts for over 20 years and have made quite a few friends in the Framingham area, some of whom are members of the Southborough Rod and Gun Club. The club has an active ham radio section and participates in many contests with the club call W1SRG.
In recent years, I have had the good fortune to be there in late June, which has given me the opportunity to participate in ARRL Field Day. This event is quite different to the RSGB Field Day and, in my opinion, is a much better organized fun event. Unlike the UK event where only one station is operational on CW, there appears to be no restriction on the number of HF and VHF stations a club can operate in the US. The result is that everyone has the opportunity to get on the air.
We have operated multiple stations on the HF and VHF bands and there is a great turnout of club members and visitors on Field Day weekend. We enjoy a great weekend playing radio accompanied by fine outdoor cooking and the occasional beverage or ten.
Here are links to each Field Day event:
---
Portable Field Day Station
I have now assembled a complete portable station (less antenna)which fits into a laptop backpack.
This means I don't have to tear the home station apart every time I want to take a portable HF station on the road.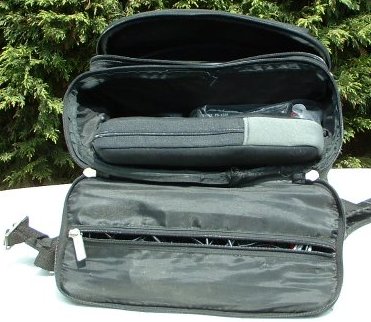 &nbsp
This is my complete Field Day station all contained in a computer bag kindly supplied by Mr Bill Gates and his little helpers.
This is the bag's contents, ready to be assembled into a station.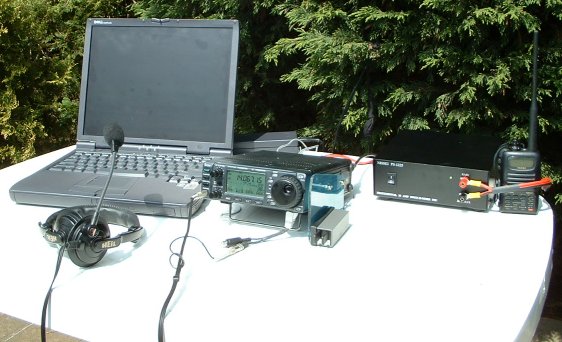 Here's the station set up & being tested in my garden. Click on the picture for a closer view.

Field Day Station Inventory
Icom IC706 mkIIG with 250Hz and 1.8Khz filters
Nissei PS1225 23Amp Power Supply with DC Power lead and US AC power cord
Heil Pro-Micro Headset with HC4 cartridge and homemade RJ45 adaptor
Dell Latitude CPi Laptop using Windows98 with TR, N1MM Logger, MixW, YPLog and Hamscope software
Dell Laptop Power Supply and US AC Power Cord
Palm Mini Paddles and homemade bracket to fix to side of IC706
Homemade N0SS type LPT cable for paddles, PTT, Key and footswitch
Homemade Isolated Soundcard Interface
Home-made CI-V Interface
Home-made Icom Tune Device
USB/Serial adapter
Footswitch
---
[Home]