C91BWW Maputo Capital / C98BWW Bazaruto Isl.
First Stations on C91BWW Log: ZS1JRQ, ZS1ZY, ZS1AET, OK8ANM, DK1MAX, OK2FD, ES5RY, HA0IV, UA3MEJ
Last Stations on C91BWW Log:
PY1NB, EC7DND, IT9CWA, RW4UU, CX9BP, RA4UF, EA1BVF, IK8PGC, RK4UWA
First Stations on C98BWW Log: W0CZE, AB8AL, WA1DJK, C5DXC, G4DJJ, ON4IZ, K4NNX, EA8AG, ZS1AU
Last Stations on C98BWW Log: JA8LJE, IK0YVV, OK1BNJ, JM1LQW, OK1FCJ, OK1UM, OK1AHG, JR6TEQ, 5R8RJ
Log Search Page here
please try also here :
If you cannot find a record of your QSO in the online log and you are sure to have made a valid contact, please carefully check the QSO details (Date, UTC Time, band) and send your card by the bureau or direct. Each request will carefully checked in order to debug any possible log entry mistake. Thank you for your understanding
If you need to send card direct use Qsl Manager Address.
The QSL manager for
C9
1BWW
or
C98
BWW
is CT1BWW, We QSL via bureau or direct.
Log Search Page
Please use this applet to search the logs of our Operations .

Please use the following address for QSL card direct:

Manuel Alberto C. Marques,CT1BWW

P. O. Box - 41

2780-901 OEIRAS

PORTUGAL - Europe

If sou send direct, we would like to ask you to follow these instructions:

- Please remark C9 on the envelope, it's more easier to separate for

other Dx'peditions

- Non EU Stations: send a SAE (Self Addressed Envelope) 1 IRC (NEW) or

plus 2 US$ or 2 Euro. No other currency!

- EU Stations: send a SAE (Self Adressed Envelope) 1

IRC (NEW) or

plus 1 US$ or 1Euro. No other currency!

- These postages allow us to send one letter with 20 gramms = 1 QSL

card + envelope.

- If the SAE and/or (not enough) postage is missing we send QSL card

via the bureau.

- Please send requests only for 1 callsign in envelope and send only 1

card it helps to save you postage and avoids additional work for us.

- If you were happy with our DXpedition and you got a new country or

new band or mode, Zone, we would be glad to receive some extra

donation to cover our costs and this also allow us to plan and

finance our project for C9 (Mozambique).

Your call will be registered on This Project as a donateur.

Thank you!

- And finally... remember like you this is a "hobby" we've regular job we

work on QSL'ing on free time.

All cards will be sent as follow:

1st Direct QSL request

2nd QSL Cards by the Bureau

- If you send card by the Bureau you will receive by the Bureau.

»»»»»»»»»»»»»»»»»»»»»»»»»»»»»»»»»»»»»»»»»»»»»»»»»»»»»»»»»»»»»»»»»

Se enviar o seu cartão de QSL via directa, gostaríamos de lhe pedir para seguir as seguintes instruções:

- Escreva C9 no envelope, é mais fácil de identificar de outras

Expedições

- Estações Resto do Mundo: Além do envelope auto-endereçado favor

enviar 2 US$ ou 2Euro. Não são válidas outras moedas. (1 IRC é válido)

- Estações Europeias: Além do envelope auto-endereçado favor enviar

1 US$ ou 1Euro. Não são válidas outras moedas.(1 IRC é válido)

- Estes portes destinam-se a cobrir o envio de 1 envelope com o cartão

de QSL com peso até 20 gramas.

- Se o Cartão de QSL recebido directamente não cumprir com estas

regras o QSL será enviado via Bureau.

- Por favor utilize apenas 1 e só 1 cartão de QSL para cada envelope,

evitando transtornos adicionais no processamento dos mesmos.

- Se ficou feliz com a nossa Expedição, se conseguiu um novo País ,

Nova Banda ou Modo, ou Zona, ficaríamos muito gratos com um

donativo para cobrir as nossas despesas Extras e para futuros planos

e sobretudo para o nosso projecto para C9 (Mozambique)..

O seu indicativo vigorará na lista de todos os doadores.

Muito Obrigado!

- Finalmente... lembra-lhes que como você! somos "amadores"

possuimos as nossas profissões , o processamento dos cartões de

QSL é feito em Tempos livres!

Vamos processar da seguinte forma:

1º. Responder a todos os cartões Directos.

2º. Responder a todos os cartões via de Bureau.

Os cartões de QSL poderão ser enviados directamente com um envelope auto endereçado e estampilhado, ou via QSL Bureau da REP(CT1BWW)

.

Back to Top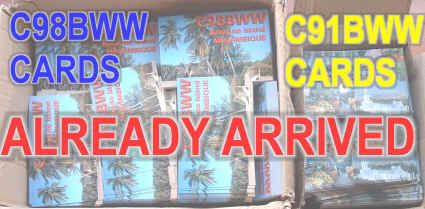 WE'VE ALREADY RECEIVED CARDS DIRECT

FROM FOLLOWING STATIONS:
For Station C91BWW

CT1AUO

CX9BP

EA1EJ

HB9TON

IW6DGJ

K4NNX

OK1APV

SV9GPV

US3QQ

UV5QA

W2AY

For Station C98BWW:

4Z5FL/M

5B4AHJ

7K3EOP

9A2Y

CT1AUO

CT1BOL

CT2IVH

DE1DXX

DG3RBL

DL1HRN

DL1RM

DL6XK

DL8FL

DL9EO

EA1AUS

EA1BXN

EA1EAU

EA1CEZ

EA2CNU

EA3GHQ

EA9AO

EC1AIJ

EC7AHU

EC8ACP

E21EIC

E21YDP

F-14217

F4FAZ

F5XX

F6CKH

F6EOO

F6GFP

F8AFC

G3VNI

G4PTJ

G8DQZ

GØDQS

HA1RW

HA6NF

HB9BIN

HB9TTR

I2MQP

I5HOR

I5NPH

I5RFD

I5YDO

I7RIZ

IØGOD

IK1IZB

IK8YTA

IT9EJW

IT9RYK

IV3AVQ

IV3IQY

IW1QN

IW3RQL

IW4EQZ

IZ2AMV

IZ6GSP

IZ7EDQ

IZ8FWN

J28JA

JA1BPA

JA1EY

JA5TNF

JH4IFF

JK1OPL

JO7KMP

LY1CM

K4KW

K4NNX

K5DU

K8VFV

KL7NVA

M3SDE

N4PJ

NA2P

OE1PMU

OE3EHA

OK1APV

OK1DLA

OK2PHI

ON4AXU

ON4KJR

ON5JV

ON7CD

PH7A

RA4UJL

RX9FM

SM4CTT

SM6DHU

SV1EPP

SV9GPV

S57AT

UR5VBQ

US3QQ

UV5QA

VA2PZ

VE1MMD

W1-7897

W2AY

W3LL

W4UM

W8GEX

W9HA

WØCZE

WA3GFB

WI8A

YBØEIN

YO9HP

ZS3OBE
Web-designer MACM©Copyright
All rights reserved c91bww
Last changed: Maio 22, 2007
This is NOT a Commercial page