Home
>
Photos
>
SS Kauai
Let's take a tour of the radio room of Matson's container ship, the SS Kauai.
Enjoy, and feel free to drop me an e-mail if you have questions.
Today, we have the unusual opportunity to visit the Matson Navigation Company containership SS Kauai while it's docked in Honolulu Harbor being unloaded and made ready to set sail for Seattle. Howard Shieber, K7HI, the radio operator aboard the 720 foot, 24-man vessel gives us a look at the radio room and bridge of the vessel.
Bridge
K7HI, AH6RH and AH6NF greet you to the bridge of the SS Kauai. We are looking from the port to the starboard side. The fore of the ship is off to our left, and the ship is facing towards Diamond Head while it's tied up at the Matson berth. At the extreme left is the shipboard radar, which operates at 10 and 3 centimeters (3 and 10 GHz).
Just to the left of Howard is where the helmsman pilots the ship.
Radio Room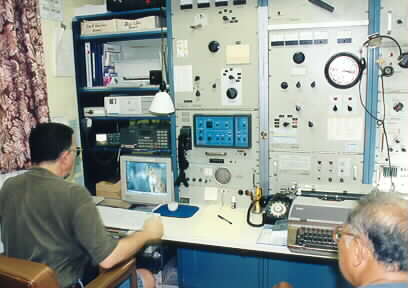 On the deck below is the radio room. Right in front of Howard is the 166 MHz PC that drives the ship-to-shore text messaging system. Right above it is a 150 watt Raytheon HF radio that's hooked into the data modem and a 35 ft vertical antenna. Much of the traffic is sent as text messages to Globe Wireless shore stations around the world and linked via satellite and landline to Matson's company e-mail system.
Above Jim, WH6GS and below the clock is the MF (Medium Frequency) 500 Khz distress CW radio. Much of the MF CW traffic is pretty much the same as in the SS Titanic days, where ships within a 800 mile radius would contact each other via MF radio. And off to the right, partially out of view is the 12 volt battery operated HF radio.
While near shore, Howard works a Standard C-508 dual bander VHF/UHF handie and an MFJ dual bander collapsable whip antenna to get out using 260 mw on two meters and 440 Mhz.
Antenna Assembly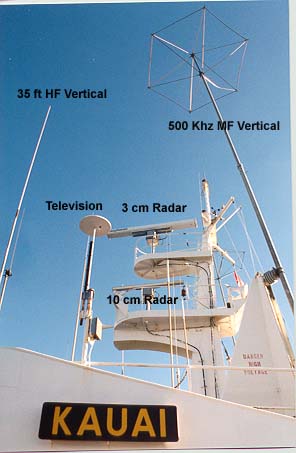 This gives you an idea of the antenna assembly atop the bridge. The fore (front) part of the ship is to the left and the aft (rear) is to the right.

Find out more by contacting: rhashiro(remove this part)@hawaiiantel.net
Copyright © 1997-2012 Ron Hashiro
Updated: April 12, 2006
DISCLAIMER: Ron Hashiro Web Site is not responsible for the content at
any of the external sites that we link to and therefore
are not necessarily endorsed by us.