Home
>
HF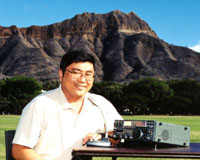 HF Communications
One of the great joys of ham radio is to use the "shortwave" bands, otherwise known as High Frequency or HF for short, to talk person-to-person with another ham anywhere around the world.
These pages gives you some insight into how to get started in the world of HF, and what kind of magic is in store for you.
July 5, 2007
If you live in an antenna restricted neighborhood, you can always try your hand at HF mobile and see whom you might reach.
September 27, 2008
During the 2008 Hawaii QSO Party, Martin Barr KH6MB and I believe we encountered 20 meter meteor scatter which improved our contesting contacts early in the morning.
Links to sites about HF Propagation and Solar/Space Weather
Find out more by contacting: rhashiro(remove this part)@hawaiiantel.net
Copyright © 1997-2015 Ron Hashiro
Updated: November 15, 2008
DISCLAIMER: Ron Hashiro Web Site is not responsible for the content at
any of the external sites that we link to and therefore
are not necessarily endorsed by us.