Home
>
Photos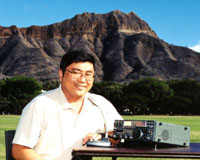 Photos of Amateur Radio in Hawaii
These are a few photos about amateur radio in Hawaii. I hope you enjoy them.
Feel free to drop me an e-mail if you have questions.
Find out more by contacting: rhashiro(remove this part)@hawaiiantel.net
Copyright © 1997-2012 Ron Hashiro
Updated: April 12, 2006
DISCLAIMER: Ron Hashiro Web Site is not responsible for the content at
any of the external sites that we link to and therefore
are not necessarily endorsed by us.