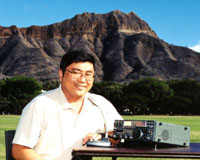 Since June 1997, these web pages have informed readers from around the world on various topics.
April 12, 2006
I put these web pages together as an information resource for those who ask me for help or information. It was easier to give them a link to my web pages and let them read it at their convenience.
I hope the materials and links on this website has been of use for you. Thanks for taking a moment to view the guestbook at the link below, and please feel free to sign the guestbook. You can also send me an email and share your thoughts. Aloha for now.
Sign My Guestbook
View My Guestbook
Find out more by contacting: rhashiro(remove this part)@hawaiiantel.net
Copyright © 1997-2015 Ron Hashiro
Updated: April 12, 2006
DISCLAIMER: Ron Hashiro Web Site is not responsible for the content at
any of the external sites that we link to and therefore
are not necessarily endorsed by us.