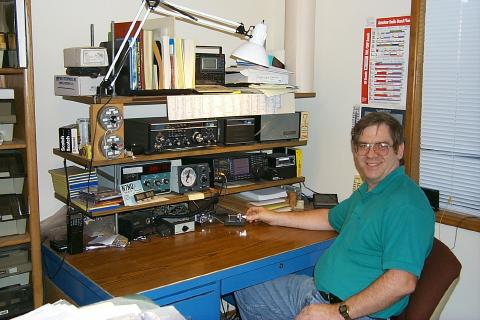 Lee, N7NU In his shack in Eugene, OR

Lee was first licensed, as WN7BBM, in March of 1975. Lee's next
call was WB7SND obtained in 1978 and retained until March of 1997
when he changed to his current [vanity] call of N7NU. Lee works
for Lane Community College in Eugene, OR in the Computer Services
department.

Lee was content with U. S. contacts until two fellow members
(Mark, N7MQ and Ron, WJ7R) of his radio club (Valley Radio
Club of Oregon) presented a slide show of their recent trip to
Cayman Islands. Some months after that Lee said "yes" to an
invitation to join the XR0Z DXPedition to Salas y Gomez in
September, 1995. After that, he was invited to join the CNCG
where he has since visited Little Cayman Island, B.W.I.
(in 1997 as ZF2LH) and Tortola, B. V. I. (in 1998 as VP2V/N7NU).
He, and CNCG, are currently making plans to go to the Bahamas
in November, 1999.