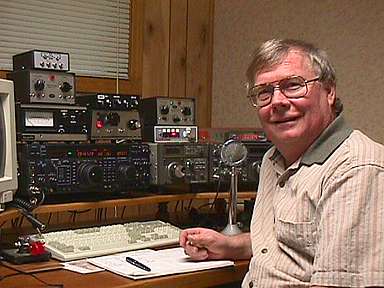 Jim, K9JF at home in the shack in Vancouver, WA
Jim was first licensed as KN9TZH in 1959. General class
followed in 1960 with K9TZH on the bands, hungry for DX.
His first DXCC was earned in 1962. Today, he has 359 "entities"
worked and confirmed. A dedicated "low band" DXer, Jim has
DXCC on 160 from the Pacific Northwest, over 225 worked on 80
and 250+ on 40 meters.
Jim is ARRL Vice Director for the Northwestern
Division. He was just appointed for the third year to the ARRL
Administration and Finance Committee. He was the first president
of the Greater Milwaukee DX Assoication, president of the
Willamette Valley DX Club, and president of Clark County ARC.
Jim was licensed as DL5JF in Germany, operated from Market
Reef as OJ0SUF, and from the British Virgin Islands as VP2V/K9JF.
He has operated as an hired gun from stations such as W9LT, N9MM,
W9DUB, W7RM and others.
Professionally Jim is executive director of finance and operations
for a Seattle area school district. He holds a BA in Political Science,
an MBA in Finance, an accounting certificate and is a CPA-Inactive.