Home
>
Hawaii
>
History of Broadcasting in Hawaii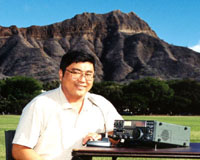 History of Broadcasting in Hawaii
As time moves on, buildings and locations that used to house radio and TV broadcast studios, transmitters and towers are being replaced with new commercial development. It was the demise of the KGMB-TV tower at 1534 Kapiolani Blvd that inspired me to create a web page chronicling the changes so that future generations can look back and know where a part of Hawaii history once existed.
Many thanks to the web sites and web pages with historical information that made the web research possible. A special thanks to Barry Mishkind, who scanned the archival copies of the to-be-FCC Radio Service Bulletins, and provided one of the foundations for the research.
This page is work-in-progress, as this research takes a long time to find and cross-check.
Enjoy, and feel free to drop me an e-mail if you have any questions.
1901 Mutual Telephone Company Inter-island Spark Gap Network
In 1901, a network of five spark gap stations Oahu, Maui, Kaui. Hawaii & Molokai were installed to provide inter-island communications, issued callsigns KHK, KHL, KHM, KHN, and KHO and operated by the Mutual Telephone Company. The locations included Kaimuki on Oahu, Lahaina on Maui, Puaho on the Big Island and Nawiliwili on Kauai. The first transmission was on June 16, 1900.
The Mutual Telephone Company became Hawaiian Telephone Company, GTE Hawaiian Tel, Verizon Hawaii then Hawaiian Telcom.
1930 Mutual Telephone Company Network
The June 30, 1930 Radio Service Bulletin lists these frequency assignments to MTC for use as "Limited Public" radio service (limited to public correspondence between fixed stations).
KGXO, Kalepa, Kauai 47,300 kc
KGXN, Kaunakakai, Molokai 51,600 kc
KGXP, Lanai City, Lanai 54,000 kc
KGXB, Maunawahua, Oahu 46,200 kc
KGXC, Maunawahua, Oahu 37,400 kc
KGXD, Maunawahua, Oahu 50,400 kc
KGXE, Maunawahua, Oahu 35,200 kc
KGXF, Maunawahua, Oahu 41,800 kc
KGXG, Maunawahua, Oahu 52,800 kc
KGXH, Ulupalakua, Maui 48,400 kc
KGXI, Ulupalakua, Maui 49,200 kc
KGXJ, Ulupalakua, Maui 40,700 kc
KGXK, Waikii, Hawaii 49,500 kc
KGXL, Waikii, Hawaii 38,500 kc
KGXM, Waikii, Hawaii 36,300 kc
1912 Honolulu-San Francisco Spark Gap Circuit
In 1912, 30 kW spark gap transmitters were used to connect Honolulu and San Francisco via radio for daily transmission of the news.
The June 30, 1930 Radio Service Bulletin lists callsign KDG and frequencies used by the Press Wireless service.
7,340 kHz
7,355
7,370
7,820
7,835
7,955
15,610
15,640
15,670
15,730
15,760
15,880
15,910
Kahuku Marconi RCA station
One of the first radio sites in Hawaii was the Kahuku station for Marconi's RCA communications company. The receiver station was atop Koko Head. See these web pages chronicling the past days:
Hawaii Radio Station Artwork
Take a trip down memory lane as you look over artwork from various Hawaii radio stations.
KYQ, The Electric Shop
In October 1920, the Electric Shop in downtown Honolulu transmitted the first radio signals in Hawaii with voice and music. In 1922-1923, The Electric Shop received a license as KYQ and began transmitting on on 833 kHz which was the only AM broadcast frequency licensed then. It then moved to 1110 kHz by June 30, 1924. By June 30, 1925, KGU-AM moved to 500 watts on 1110 kHz and KYQ ceased to exist.
KGU-AM, Honolulu Advertiser building
KGU-AM was Hawaii's first commercial broadcast station, first broadcasting on May 11, 1922 at 10:57 am at 500 watts on 833 kHz. It was first licensed on March 14, 1922. In 1923, KYQ (The Electric Shop) also began on 833 kHz, then moved to 1110 kHz by June 30, 1924. By June 30, 1925, KGU-AM moved to 500 watts on 1110 kHz and KYQ ceased to exist. By June 30, 1927, KGU upped its power to 600 watts. By February 28, 1930, KGU had upped it's power to 1,000 watts (RSB Feb 28, 1930, Page 23). April 27, 1930, KGU moved to 940 kHz. By January 19, 1933, KGU moved to 750 kHz and 2500 watts. It was noted in a report by the USS Enterprise's Scouting Squadron Six that the Japanese used the signal from KGU-AM on December 7, 1941 to direction find their way to Honolulu.
KGU-AM was the NBC (National Broadcasting Company) affiliate in Hawaii. The transmitter was located in Honolulu Advertiser building on South and S. King Street. By 1976, it was relocated to the Kewalo Basin tower, next to the John Dominis restaurant, which closed November 30, 2010. It is on the Ewa side of entrance to Kewalo Basin near the UH Kewalo Basin Marine Mammal Laboratory research facility.
The signal was used by the Japanese as a source for direction finding and navigation just prior to the attack on Pearl Harbor.
KDYX-AM, KGMB-AM, Ala Wai
First broadcast on May 11, 1922 as KDYX, sponsored by the Honolulu Star-Bulletin on 833 kHz. Additional information available at this web page. Per Barry Mishkind, the callsign KDYX was deleted in 1924. On June 30, 1928, Radio Sales Corp was transmitting KGHB on 1320 kHz. By December 31, 1929, the callsign changed to KGMB in 1930 mirroring the initials of George and Margaret Burke (per grandson Barney Burke), transmitted 500 watts on 1320 kHz from the Hawaiian Trust Building and was owned by the Honolulu Broadcasting Company. (RSB Dec 31, 1929)
On January 1, 1937, KGMB-AM transmitted 1,000 watts on 1320 kHz. It was used in an attempt to direction find and locate Amelia Earhart in July 1937. Reference.
In 1939, KGMB moved to 590 kHz at 1534 Kapiolani Blvd. The KGMB-AM tower in 1940 was northeast of the current KGMB-TV tower and building at 1534 Kapiolani Blvd; about the general location of the current Hawaii Public Radio studios at 738 Kaheka St near Makaloa St. The current KGMB-TV tower replaced the 1939 tower in 1962.
The transmitter was a 1KW RCA-1D transmitter. It was the signal from this transmitter that the Japanese used as a source for direction finding and navigation just prior to the attack on Pearl Harbor. The radio station was on the air during limited hours of the day, in contrast to today's 24 hour operations. The Army occasionally requested that the station broadcast during the normal off-periods so that it's bombers flying in from the West Coast can use the radio signal as a means of radio navigation. On the morning of December 7, 1941, a flight of B-17s used KGMB-AM's signal to home in on Oahu. The Japanese used the signal to home into Honolulu, and also gain assurance that complete surprise was maintained. The same was also noted in the report by the USS Enterprise's Scouting Squadron Six.
The location of the KGMB-AM tower and transmitter changed over the years. The RCA-1D transmitter was eventually relocated to the 1701 Ala Wai Blvd site. The transmitters for KGMB-AM (590 kHz) and K-POI (1380 kHz) were diplexed onto the K-POI tower at 1701 Ala Wai Boulevard between Kalakaua Ave and John Ena Road. Chief Engineer Gary Flynn and Assistant Chief Doug Holland rebuilt the RCA-1D and placed it back on the air in the 1970's. The tower was located along the Ala Wai Canal, across from the old Aloha Motors location, which is now the Hawaii Convention Center. It is now the home of Unity House and the tower has been dismantled.
Lee Enterprises bought KGMB-AM and TV in 1977 and sold KGMB-AM to Clear Channel Communications in 1980, which then became KSSK-AM. The current KSSK-AM tower is Diamond Head of the Kapalama Canal, near the Costco in Iwilei. The studio moved from the building built on the location of the old Victoria Station restaurant at 1601 Kapoilani Blvd, to a location on Dillingham in the same building complex as Office Depot at Colburn and Waikamilo. The studio then moved to the current Clear Channel Communications offices/studios in the former Dole Cannery building.
KHON-AM and KPOI-AM, Ala Wai
K-POI was the focal point of rock-and-roll in the Hawaiian Islands, featuring the likes of Tom Moffatt, Ron Jacobs and other "Poi Boy" DJ's. On May 9, 1959, the callsign changed from KHON-AM to KPOI-AM and changed format to full-time rock-and-roll. Check out this Star-Bulletin article by Ron Jacobs and his web article. Also, a write-up on the station's 50th anniversary.
In the late 1970's, K-POI AM ceased operations, the property on 1701 Ala Wai Blvd sold and the AM tower dismantled. Later on, KPOI moved to FM. On May 7, 2004, the station was sold and the K-POI callsign on 97.5 FM changed to KHNR-FM, then K-POI moved to 105.9 FM.
KAIM-AM 850 kHz, KOHO-AM 1170 kHz, 12th Ave Kaimuki
The KAIM-AM began broadcasting in 1952, playing contemporary music and later rock 'n roll. The studio was at 3555 Harding Ave, between 11th and 12th Ave. The transmitter and tower was located at the top of Kaimuki on 12th Ave, at the former location of Kaimuki Bowl, 1136 12th Avenue. The tower base occupied a portion of the outdoor parking lot adjacent to the building. The transmitter and power supply was located on the ocean side of the parking, next to the office adjacent to the stairwell leading to the bowling alley on the second floor. The feedline was affixed to the ceiling of the parking level and travelled to the base of the tower. The station ran 1,000 watts, then later upgraded to 5,000 watts.
Around 1962, the ownership changed and the format changed to religious broadcasting. In 1978, Billy Graham's ministry bought KAIM AM and FM, and relocated the AM station to a 50,000 watt station on Molokai, with directional antenna system favoring the Hawaiian Islands. A 950 MHz STL (Studio Transmitter Link) was used to hop the studio program from Kaimuki to Koko Head, then to Molokai. Reference.
At the end of 2001, the station ended broadcasting that had started in 1952 Star Bulletin article. The 50,000 watt 870 kHz station on Molokai was shut down and $12-13K/month electric bill ended.
Salem Media bought the station in 2000, and the studio for KAIM-FM is now at 1160 N. King St., Second Floor. The station is at 560 N Nimitz Hwy, Ste 109.
KOHO started in 1959 as the Japanese language station for Hawaii until it signed off in 2000. The studio for KOHO-AM radio was located at the top of Kaimuki on 12th Ave, at the former location of Kaimuki Bowl, 1136 12th Avenue. The site is now the Honolulu Board of Realtors building. Blog with photos. The office and studio was located Diamond Head of the parking, and is now occupied by restaurant Hale Vietnam. The studio later relocated to Waikiki. The station was sold in August 2, 1999.
The 5 Kilowatt transmitter on 1170 kHz was diplexed into the KAIM-AM 850 kHZ antenna at the site.
KZOO-AM 1210 kHz
The Japanese language station started in 1963. The transmitter and antenna was on Kamani Street, near Ward Avenue and Auahi Street.
KORL-AM 650 kHz
In the early 1970's, KORL-AM originally transmitted Top 40 music on 650 kHz, then moved to 690 kHz.
Per Hank KH6HAK, the studios were at 1200 college walk, by the old TOYO theatre by the river in Chinatown. The transmitter was quadruplexed into the Kamani St. Tower (Auahi, next to Ward ave.)
KUMU-AM 1500 kHz
KUMU-AM originally transmitted soothing contemporary instrumental (elevator) music in the early 1970's. The station at 1500 kHz moved and was located at the intersection of Nimitz Hwy and Middle St. Stan Harter, KH6GBX, provided the news on Saturday mornings.
In December 2002, KUMU-AM changed owners from Maverick Media Inc to Real Radio of America LLC.
KGMB-FM, KGMB-TV Studio and Tower, KFVE - Kapiolani Blvd
CBS television affiliate in Hawaii. KGMB-TV first broadcasted on December 1, 1952 on NTSC channel 9. Star-Bulletin article The KGMB-TV tower was built at 1534 Kapiolani Blvd in 1962 and the old KGMB-AM tower dismantled. The KGMB-TV tower was across the street of the HECO Makaloa St Substation, and slightly Diamond Head of the intersection. KGMB-FM began on use of the KGMB-TV tower on Oct. 1, 1967. Star-Bulletin article Green neon letters "AKU" promoting KGMB-AM DJ "J Akuhead Pupule" were placed on the tower for a period of time in the late 1960's. The tower and the neon letters can be seen in Hawaii FIve-O Season 1, Episode 3 "Strangers In Our Own Land" (air date October 3, 1968), where a number of the scenes were filmed along nearby Amana Street.
At it's peak, KGMB-TV featured a week day children's program Checkers and Pogo. The program ran from May 26, 1967 to 1982. See Checkers and Pogo - Remembered and the Checkers and Pogo Magazine.
KGMB-FM, which became KSSK-FM features the Perry and Price Show (morning drive-time radio), which has been on since 1983. Star Bulletin article KGMB-FM started transmitting on October 1, 1967. Article
Emmis Broadcasting bought the TV station in 2000, and sold it in 2007 to MGC Captial Corp. Pacific Business News article.
FCC Notice of Rulemaking DA 08-1734 enabled a change from DTV channel 9 to 22. The transition to DTV occurred on noon, January 15, 2009. It transitioned to DTV UHF Channel 23 atop Palehua Ridge FCC Facility ID 34445, 23 kw, 629 meters HAAT with a DIE TUA-BP3SP-6/18M-1-S antenna. On Friday, October 16, 2009, KGMB-TV began the disassembly of the news set at 1534 Kapiolani Blvd and moving it to the KHNL building on Waikamilo.
Date
Callsign
FCC Facility
Coord
Location
Channel
Transmitter
Antenna
Comments
KGMB
34445
629 meters HAAT
Palehua Ridge
DTV Channel 23
23 kw ERP
DIE TUA-BP3SP-6/18M-1-S antenna.
KGMB9-TV sold the land under the station which closed on December 31, 2007 for $12,350,000. Honolulu Advertiser article Star-Bulletin article On Monday, October 26, 2009, the callsign of facility 36917 changed to KFVE. Star-Bulletin Erica Engle article
The building at 1534 Kapiolani Blvd that started as KGMB-AM and also housed KGMB-AM, TV studios and FM was renovated starting in H2 2010 to be converted into retail space. Pacific Business News The 432 foot TV tower was dismantled beginning in December 2010 through February 15, 2011. Within two weeks, the concrete base was demolished, the rebar foundation was excavated and removed. Star-Advertiser article
In the fall of 2011, it will be the new home of Saigon Pho, currently on Keeaumoku St.
KHON-2 Studio and Tower - Auahi St
Formerly KONA-TV. First signed on in December 16, 1952, as an NBC television affiliate on NTSC channel 2. Photo of the KONA TV studio. The station callsign changed from KONA-TV to KHON-TV in 1965 according to this Star-Advertiser article.
The studio, transmitter and tower were located on 1170 Auahi Street, across from the IBM building. The studio was relocated to the Hawaiki tower on 88 Piikoi St (former location of 404 Piikoi) in 1999. Pacific Business News article. Star-Bulletin article. The analog TV transmitter and antenna was relocated to the Century Center building 1750 Kalakaua Ave, and the digital TV channel 8 transmitter and antenna was relocated to the KGMB-TV tower on 1534 Kapiolani Blvd. The transition to DTV occurred on noon, January 15, 2009.
KULA-4, KHVH-4, KITV-4 Studio - Ala Moana Blvd
Formerly KULA-TV and KHVH-TV. First signed on in April 16, 1954, as an ABC television affiliate on NTSC channel 4.
The KULA-TV antenna site was originally on Mt. Tantalus. Reference The analog TV transmitter and antenna was later relocated to 1290 Ala Moana Boulevard. The site later was used by AAA, then demolished for development. The studio was relocated to 801 S. King St, and the analog transmitter moved to atop the Ala Moana hotel. The DTV transmitter is on DTV channel 40.
On August 25, 1997, Argyle Television, Inc. in Wailuku Hawaii updated its application for a new digital TV facility for KMAU-TV near the summit of Mt. Haleakala on digital channel 29. The ERP was specified as 51.2 KW at an HAAT of 1,770 meters, with an RFS PHP4 for the antenna. Star-Bulletin Article
KHET-TV 10, Hawaii Public Television, PBS Hawaii
PBS Hawaii started as KHET-TV, with studios on the UH Campus (Dole and University). Its transmitter and antenna was located at the KGMB-TV tower on Kapiolani Blvd, and started on Feb. 23, 1966. In December 2008, it bought the former studio of KHNL/KFVE on Sand Island Access Road and Nimitz. Pacific Business News Article.
KIKU-TV 13, Japanese Language
The Japanese language TV station KIKU-TV transmitted on NTSC channel 13, with transmitter and antenna atop the Hilton Hawaiian Village tower in Waikiki. The station started as KTRG on July 4, 1962. In the late 1970's or early 1980's, the station became independent.
KHNL-8 Studio - Sand Island
KHNL was originally a FOX television affiliate on NTSC channel 13. It swapped programming with KHON, and became an NBC affiliate.
KHNL-8 studio was located on Nimitz Highway and Sand Island Access Road. It moved to 420 Waiakamilo in November 2008. The transition to DTV occurred on noon, January 15, 2009. The DTV transmissions moved to DTV channel 35 atop Palehua Ridge. The KHNL-8 news operation which started on April 17, 1995, ended on October 23, 2009. Honolulu Advertiser article.
KFVE-TV 5, UH Sports, KGMB
The KFVE transmitted on NTSC channel 5, with transmitter and antenna atop Palehua Ridge above Makakilo on Feb 7, 1988. The offices were located at 150B Puuhale Rd.
Per Hank KH6HAK, K5 went on the air in early 1987 and featured the world's first 22Kw all-solid-state MOSFET transmitter, broadband, built by LARCAN in Canada. The K5 LARCAN analog transmitter served well for 22 years, and was scrapped in early 2009 after the complete conversion to DTV. The K5 site was stripped, and is currently being rebuilt to serve as a master broadcast transmitter site for K5, KHNL, KGMB, and KHET digital transmitters. It is expected to be on the air in a few months.
KFVE DTV channel 22 was authorized atop 1534 Kapiolani Blvd, FCC Facility 36917, 15 kw ERP, -33.3 meter HAAT, with a Antenna ASR registration 100585 at 21-17-35.0 N 157-50-26.0 W, 1.5 meter elevation. The structure was constructed 05/17/1962.
The transition to DTV occurred on noon, January 15, 2009. KFVE transmitted on post-DTV transtion on DTV channel 22 atop Palehua Ridge, FCC Facility 36917, 40 kw ERP, 629 meter HAAT, with a DIE TUA-BP3SP-6/18M-1-S antenna, Antenna ASR registration 1007114 at 21-23-52.0 N 158-06-00.0 W, 755.9 meter elevation. The structure was constructed 01/01/1989. On Monday, October 26, 2009, the callsign of facility 34445 changed to KGMB, DTV channel 23, 5.4 kw ERP, 453 meters HAAT with a DIE TUA-C1-1/1H-1-S antenna.
Date
Callsign
FCC Facility
Coord
Location
Channel
Transmitter
Antenna
Comments
KFVE
36917
21-17-35.0 N 157-50-26.0 W, 1.5 meter elevation
1534 Kapiolani Blvd
DTV Channel 22
15 kw ERP
ASR registration 100585
The antenna structure was constructed 05/17/1962. Removed 02/15/2011.
DTV Conversion
KFVE
36917
21-23-52.0 N 158-06-00.0 W, 755.9 meter elevation, 629 HAAT
Palehua Ridge
DTV Channel 22
40 kw ERP
Antenna ASR registration 1007114, DIE TUA-BP3SP-6/18M-1-S antenna
The antenna structure was constructed 01/01/1989.
Star-Bulletin Erica Engle article
Broadcast Towers
This section is work-in-progress on locating past and present locations for broadcast towers.
Broadcast Tower Sites
Tower
Location
North
West
Height
Constructed
Removed
AM
FM
TV
Comments
KGU-AM East 760
605 Kapiolani Blvd, Honolulu Advertiser building
21 18 11.07186
157 51 20.17643
Top of tower 200 ft ASL
Before 1930
After 1964
KGU
KGU-AM West 760
605 Kapiolani Blvd, Honolulu Advertiser building
21 18 10.66271
157 51 21.66429
Top of tower 187 ft ASL
Before 1930
After 1964
KGU
KGU-AM
Kewalo Basin
21 17 29.71417
157 51 39.27781
Before 1961
KGU, KKUA
Near John Dominis restaurant
KGMB-AM 590
Kapiolani Blvd
21 17 36.58275
157 50 23.80187
1939
1963
KGMB
Broadcasted the 590 kHz AM signal on December 7, 1941.
KGMB-TV
1534 Kapiolani Blvd
21 17 34.57700
157 50 25.96792
1962
Removed 02/15/2011.
KGMB
KGMB-9, KHET-10
KHON-AM
Ala Wai Blvd
21 17 15.30133
157 50 10.76462
Before 1965
KHON
KHVH
Hilton Hawaiian Village Hotel Roof
21 16 54.61002
157 50 13.67561
Before 1961
KHVH-AM
Hilton Hawaiian Village Hotel Parking Lot
21 17 00.56282
157 50 14.41138
Before 1961
After 1965
KHVH
KHVH-TV
1290 Ala Moana Blvd
21 17 32.75636
157 50 58.53332
Before 1961
After 1984
KULA-TV, KHVH-TV
Former KULA tower
KONA-AM
1170 Auahi St
21 17 35.63035
157 51 04.04591
About 350 ft
Before 1961
After 1969
KONA, KHON
Across from the IBM building
KHVH-AM 1040
Near entrance to Honolulu Harbor
21 17 44.76610
157 52 08.43049
Before 1969
KHVH
KPOA-AM
Near Iolani School, Kaimuki
21 17 08.41236
157 49 27.20349
Before 1961
1965
KPOA, KORL
KAIM-AM
1136 12th Avenue, Kaimuki
21 16 56.33373
157 47 58.34965
224 ft
Before 1964
After 2000
KAIM, KOHO
None
None
KPOI-AM 1380
1701 Ala Wai Blvd
21 17 16.65280
157 50 09.77417
1963
1980's
KPOI, KGMB
KIKI-AM
Kamani St
21 17 48.06997
157 51 22.58607
273 ft
Before 1961
After 1984
KIKI, KORL, KPOI, KGMB, KHVH
KUMU-AM
Middle St and Dillingham
21.332878
157.889663
Around 1998
KMVI-AM 550
Wailuku
450 ft
1996
March 20, 2011
You Tube video of the demolition. Maui News article Star Advertiser article
AM Broadcast shuffle
It's a common practice to combine multiple transmitters into a single AM broadcast tower/antenna. Per Doug Holland, KH6JQW, the signals shuffled between several towers in the 1970's.
The Kamani St (Ward and Auahi St) KIKI tower hosted KIKI, KORL, KPOI, KGMB, KHVH.
The Kewalo Basin tower near the John Dominis restaurant hosted KGU and KKUA.
In the 1970's, KGMB moved from Kamani St. to the Ala Wai canal tower.
Later, KORL diplexed with KGMB at the Ala Wai tower.
KPOI moved to another frequency and it's own folded unipole antenna.
Restored Hallicrafters BC-610-E WWII AM Transmitter from Pearl Harbor and Battle of Midway
A YouTube video of a restored Hallicrafters BC-610-E WWII AM Transmitter, used at Pearl Harbor and the Battle of Midway. The new owner takes us on a video tour of the transmitter and internal components.
Opana Pt Radar
Just prior to the attack on Pearl Harbor, the Army deployed a new experimental SCR-270B radar in the hills above Turtle Bay Hilton/Kuilima Hotel in an attempt to ferret out incoming aircraft. Pvt Joe Lockard, one of the radar operators, recounts in an interview and an article. This web page has information on a historical plaque placed at the hotel, as a reminder of that fateful radar.
The Haiku Omega Station
The mountain ridge above Haiku Valley served as the supports for the antenna array for the Omega navigation station. During World War II, it supported a VLF (Very Low Frequency) array for communicating with submarines in the Pacific. See this web page.
It's the origin of "The Stairway To Heaven" found in Haiku Valley. The stairs played a part in Season 1, Episode 17 of the TV show Magnum, P.I. entitled "J. "Digger" Doyle".
FCC RID (Radio Intelligence Division) Adcock Antenna sites
Immediately after the attack on Pearl Harbor, the FCC established Adcock Direction Finding antenna sites on each of the main islands. This web page features a photograph of George Sterling at the primary station at Punchbowl Crater in March 1942. See also an additional web page.
The sites seemed to be:
Primary site at Punchbowl crater.
Kauai
Maui
Molokai
Lanai
Three on the Big Island
Radio controlled aircraft during World War II
A pilotless radio controlled aircraft was tested around 1943 in the area outside of Naval Air Station Puunene and Maalaea on Maui. The aircraft had a wingspan of about nine feet, and was launched from a jeep mounted catapult.
Another pilotless radio control aircraft was tested at NAS Puunene around the same timeframe. A yellow pilotless trainer aircraft took off from the air strip, and was followed by a silver B-25 Billy Mitchell bomber. The pair of aircraft performed a number of laps in the area before landing at NAS Puunene.
Shortwave
Voice of America KRHO, 1944, 100 kW Lualualei
KRHO was a shortwave station operating 100 kW at Lualualei. Reference.
See Notes for additional info on shortwave in Hawaii.
WWVH, Kihei Maui and Kekaha Kauai
WWVH is the NIST time standard of the Pacific. The first location at Kihei, Maui was on the air in November, 1948. It moved to Kekaha, Kauai in July, 1971.
WC6ABE and the Oahu Civil Defense Agency RACES
The predecessor organization to today's City and County of Honolulu's (C&C) Department of Emergency Management (DEM) was Oahu Civil Defense Agency (OCDA). On February 22, 2007, Mayor Hannemann announced the formal elevation of the agency to a department on his cabinet following the approval of the City Council for the reorganization. Article.
Previously, OCDA held RACES station license WC6ABE. It was not renewed and has since expired.
In the 1960's, OCDA used a Collins KW-1 HF transceiver, serial number 139. In time, the transceiver was declared surplus, and given to the original Hawaii Five-O series to be used as a prop for radio communications. Pete KH6IRT restored the unit, and it gets on the air occasionally.
UH ALOHA project
In the late 1960's, the University of Hawaii at Manoa began a radio project to test the viability of an "ALOHA" channel. It used statistical timing to determine when to transmit a packet of information, and transmit an acknowledgement packet. If the originating site did not get an acknowledgement, it would retransmit the packet of information and wait for an acknowledgement.
The engineering was done at the 4th floor of Holmes Hall. The Principal Investigator was Norm Abrahamson, with contributions from W. Wesley Peterson, Ned Weldon, Shu Lin and others. Technicians included Chris Harrison, KH6EJZ and Chuck Wall. The radio unit was modified from a military radio operating in the 400 MHz military band, with the deviation and discriminator modified to accept a 19.2 kbaud modulation scheme. A simple and primitive microprocessor with limited memory was used to drive the intelligent controller (IMP).
The initial application was relaying weather telemetry from Haleakala, via a relay station at Leahi Hospital, to the Holmes Hall engineering building. The intent was to replace a leased data communications line (with modems at each end). The system worked well enough to be hailed as a research success. The concepts pioneered by the ALOHA project became used in packet radio, Ethernet and eventually the Internet and Wi-Fi.
Find out more by contacting: rhashiro(remove this part)@hawaiiantel.net
Copyright © 1997-2012 Ron Hashiro
February 19, 2009. Updated: July 27, 2011
DISCLAIMER: Ron Hashiro Web Site is not responsible for the content at
any of the external sites that we link to and therefore
are not necessarily endorsed by us.