Home
>
Emergency Communications
>
Writing Test Messages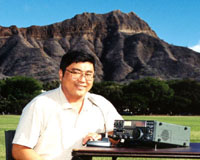 Writing Test Messages
The ability to write short, actionable messages is a valuable skill you should learn and practice for every practice emergency net, such as the annual Simulated Emergency Net (SET) which happens on the first Saturday in October.
No one knows your backyard like you do. You can create the most realistic and meaningful scenarios that reflect how emergency responders should think about your neighborhood.
Enjoy, and feel free to drop me an e-mail if you have any questions.
Perspective
Remember that the number one objective by anyone on the team is to forward the message(s) to its final destination. Remember the mantra: "Move the message forward." Use this to focus and concentrate when you're totally exhausted and can't think clearly.
To practice your mission, you need test messages to send and receive.
It's real simple to write test scenarios and test messages. Contrary to what you might think, it's the exact same skill you'ld use during a real emergency as we'll see below.
You also need a partner to practice this with. So, share this web page with others in your emergency communications practice group, so they can learn and improve on a new skill.
Now is the time to do this, not in the middle of a REAL emergency in your backyard. You can write a handful of test messages now, "canning" it by putting it aside, and use it for the practice emergency net tomorrow. If a real emergency happened in the meantime, at least you are now more proficient to respond with a well-crafted message.
Preparation
No one knows your backyard better than you do. As you drive or walk around your neighborhood, look at things that might be at risk. Are there large trees that could fall and block the road? Are there large trucks or busses that drive regularly in your immediate area that could breakdown or be damaged and block traffic?
Do streets flood and pond during heavy rains? Are there streams in your neighborhood that could flood and cause problems?
What happens when your neighborhood shelter is not opened, is awaiting stock and provisions or has other shortcomings during an emergency?
And of course, there are the usual specific and non-specific problems. Power outages. Phone outages. Water outages. Sewer spills. Your neighbor's home burns. Your other neighbor has a heart attack, stroke or other medical emergency.
Pick up the newspaper. It's loaded with stuff that could happen in and around your neighborhood. For excitement, take a headline article such as a plane crash, multi-vehicle accident, fallen bridge or collapsed building and drop that into your neighborhood.
If you get really stuck trying to come up with scenarios of consequences to common emergencies and disasters, check out this list of incidents on Oahu for ideas.
Messages
Practice relaying both formal messages (NTS formatted messages) and tactical messages. Formal messages, which are originated locally, are "record communications" which are public records and part of the formal incident log maintained by the served agency. The most important features of a formal message are: (a) the date and time of the message, (b) the originator or sender of the message, and (c) the intended recipient or addressee of the message. (d) the message body or content.
Formal messages can be sent outside the affected area, such as to State or Federal Emergency Management without having to be re formatted. NTS message format is adequate for emergency use, but you should be prepared to handle messages longer than the standard 25-word ARRL form. Most EOC, military and Federal agency message forms are 50 words. Ensure that your operators know how to handle non-standard formats such as ICS resource requests, local situation reports, etc. on the served agency form.
Tactical messages are informal, real-time verbals sent for command and control purposes when time is of the essence. Tactical messages must still be documented. They should be recorded as line items in your operator log, listing:
1) local time,
2) who sent the message,
3) who received it,
4) who should receive it,
5) subject, situation or resource request,
6) who is responsible for the assignment or action and
7) who gets the reply, if any.
Writing practice test messages
It's simple.
Pick one of the situations and drop it into a street, street address, intersection, business establishment, school or similar identifiable location.
Use a message form to compose and capture the message. Even if you don't have a form ready, you can write it on a blank sheet of paper. That's what you would do during a real emergency. If you're writing a test message for an inter-agency test net, use the ICS 213 message form. Here's a softcopy template for an ICS-213 message in a Microsoft Word document.
Don't forget to include "This is a test message X (X-ray)" at the beginning and "End of test message" (There is no ending X or X-ray at the end of a message). If you're preparing an interagency test message using the ICS 213 message form, use periods rather than the amateur radio "X" (X-ray) prosign for the end of sentence.
Draft two or three short sentences. The first one should explain the situation. The second should be an actionable request or need that would improve the situation and aid to the recovery. A third sentence might include information the responder should be aware of that would impede or improve access to the site, or impede or improve their response.
You don't want to put too much in a single message. The objective during a test practice emergency net is to practice exchanging a series of messages. So, spread out your scenario across several smaller messages.
It also gives more realism that information on the situation becomes known or reported over a period of time.
Common examples of hazards and status reporting are:
Status and Hazards Reporting

Type

Condition

Comment

Priority of the Message
Emergency
An urgent message that needs to be delivered to the recipient immediately.
Priority
An urgent message that needs to be delivered to the recipient in a prescribed amount of time.
Routine
Routine or status information.
Welfare
General information about the health and welfare of the identified individuals.
Hazard
Access/No Access
Problem with emergency responders and relief workers accessing the site.
Chemical
A chemical hazard in the area.
Electrical (Home, Utility)
A downed electrical line or service affecting a single residence or business, or a larger area requiring the electric utility to intervene.
Fire
Flooding
Gas Leak (Home, Utility)
People
Immediate
A person who has stopped breathing, has an affected airway, is bleeding, or is in shock and needs immediate medical attention.
Delayed
Dislocated joints, broken bones and other injuries.
Minor
The walking wounded.
Trapped
The person is trapped and needs help to be freed.
Structural Damage
Heavy
The building is unsafe to occupy.
Medium
Parts of the building are unusable.
Light
Comparatively minor damage to the structure. The building is substantially usable.
Addressing a test message
Under normal circumstances, if there was such a problem in your neighborhood, you'd call 911 on the telephone. Who do you call if you didn't have 911 during a hurricane, tsunami or whatever is your SET's practice scenario? If it's Police, Fire or Ambulance, that's the intended recipient of the message. If it's a particular utility like phone, power, water, etc, you address your message to that company. If it involves food or shelter, the Red Cross, Salvation Army or similar relief organization would be the recipient.
Most times during a metropolitan (or island) emergency, for the remaining messages, you address the message to your LOCAL civil defense organization or local/county emergency management agency. On Oahu, the civil defense organization is called "Department of Emergency Management" or DEM. They'd be involved in things that involve local government services such as road closures, response to flooded streams and rivers, or coordinating a broad response to a large scale item such as an airliner crash.
Here's an example of a completed test message in ARRL Radiogram format. Here's an example of a completed test message in ICS-213 NIMS format.
Recap
Take a look at the message you just drafted. Doesn't it resemble a message you would write for real during an emergency? Writing a practice test message is exactly the same skill and thought process as writing a message for a real emergency.
Execution
During a practice net, you would take the message and send it to the simulated recipient in the most direct means possible. Sometimes you can't reach them directly, so you'll need a relay station to get the message through. Or, you may have to route the message to your local civil defense organization, which then relays it with their communications and EOC means to the police, fire, ambulance, government agencies, Red Cross, utilities, etc. So, if these locations are not physically staffed and operating during your practice net, have stations role play being at these sites and handle these test messages.
If you wish to practice passing messages in ICS-213 format, check this web page out.
The more persons that generate test messages, handle and generate response messages, the more realistic your simulation and practice net becomes.
Find out more by contacting: rhashiro(remove this part)@hawaiiantel.net
Copyright © 1997-2015 Ron Hashiro
Updated: March 29, 2014
DISCLAIMER: Ron Hashiro Web Site is not responsible for the content at
any of the external sites that we link to and therefore
are not necessarily endorsed by us.