Home
>
Emergency Communications
>
Alert Process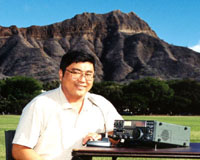 Generally speaking, the process outlined below is how amateur radio operators signed up with the Oahu RACES program are alerted. Since the conditions vary with each situation, the actual alert and activation varies with each incident.
Enjoy, and feel free to drop me an e-mail if you have any questions.
January 5, 2008
With certain incidences, primarily those involving weather, it is possible to get some advance notice. Hurricanes, strong storms and weather systems are a few such examples. In these cases, the RACES and ARES leadership may call one another up on the phone to discuss the upcoming weather situation and begin preparations.
For weather-related incidences during normal working hours, the weather bulletin is sent from the National Weather Service (NWS) to Hawaii State Civil Defense (SCD) Warning Point located in Diamond Head crater, which makes a determination to alert and activate as necessary.
For substantial earthquakes in the Pacific region that may generate tsunami alerts for Hawaii, the Pacific Tsunami Warning Center (PTWC) issues an alert through the tsunami alert network, the HAWAS network and the NOAA network.
January 5, 2008
For weather situations that occur outside of normal working hours, or if the incident involves a rapidly evolving situation such as a tsunami alert or a national defense alert, the alert is typically received by the Hawaii State Warning point, which is located within Birkheimer tunner in Diamond Head crater that is manned 24 hours a day, 7 days a week.
The Hawaii State Warning point alerts a number of agencies, including a Oahu Civil Defense Agency staff member, which then evaluates the situation and if necessary, activates the responder notification system. A number of means are employed, including
text messages sent to cell phones
digital messaging pagers for the leadership of the volunteer units
a digital voice recorder/player unit which has automatic telephone dialer capabilities for calling a list of people and relaying a voice message
individual telephone tree and messages
Other agencies may get the alert notification faster, depending on the individual circumstances of the alert. Agencies such as the National Weather Service, Hawaii State Civil Defense, Hawaii Chapter of the American Red Cross are examples of agencies that may possibly get the notification before Oahu Civil Defense Agency.
August 8, 2009
Ron Hashiro, AH6RH and Robin Liu, AH6CP are notified for Hawaii SCD RACES via cell phone text messages. Clem Jung, KH7HO and Kevin Bogan, AH6QO are notified from Hawaii SCD staff via cell phone text messages. Chuck Oh, N6NCT is notified first for Oahu via the digital pager system. Chuck contacts other Oahu RACES/ARES leadership via digital pagers and a phone tree to give a quick overview of the situation. Others in leadership include:
American Red Cross
Mike Zanoni, AH6WA
Rick Ching, KH7O
Kimo Chun, KH7U
Healthcomm (Hospitals)
Bart Aranoff, WH6AA
Toby Clairmont, KH7FR
Jack Tsujimura, KH6DQ
Oahu Civil Defense RACES
Russell Houlton, WH7O
Salvation Army
TBD
State ARES
Kevin Bogan, AH6QO
State Civil Defense RACES
Ron Hashiro, AH6RH
Robin Liu, AH6CP
Skywarn (National Weather Service)
David Cabatu, AH7E
If possible, a quick discussion takes place to confirm the activation times and arrangements for coordination. The exact course of action is influenced by factors such as the time of day, the area to be affected by the incident, the likelihood and fashion that the incident will escalate, for example, so no two activations are alike. The OCDA leader phones and notifies the Net Control Station to start a command net on the 146.88 Mhz Diamond Head repeater and provide direction as initially determined through the phone discussions. The NCS station takes check-ins and status updates while the OCDA Quick Response Team (QRT) is alerted, activated and responds to the OCDA Headquarters Emergency Operating Center (EOC).
Other nets are opened as needed for State Civil Defense (147.06), Skywarn (146.88), Healthcomm (147.22) and American Red Cross (147.34). Additionally, each outlying OCDA district may establish command and operations nets on repeaters and simplex frequencies as needed.
As the situation permits, an HF net is established from State CD's EOC at Diamond Head to further link the island chain.
Additional RACES/ARES personnel are alerted via digital pagers, cellular phones, phone calls and similar means. Personnel that are alerted respond to their assigned area of operations, taking along the necessary equipment and provisions.
Operations nets are activated on other repeater, simplex and HF frequencies as the situation develops.
Find out more by contacting: rhashiro(remove this part)@hawaiiantel.net
Copyright © 1997-2012 Ron Hashiro
Updated: August 8, 2009
DISCLAIMER: Ron Hashiro Web Site is not responsible for the content at
any of the external sites that we link to and therefore
are not necessarily endorsed by us.