Multi-functional Voice & CW keyer!!
The Super Combo Keyer is a dual-mode (Phone and CW) multi-purpose keyer designed for DXers, Contesters, DXpeditioners and the casual operator who wants to reduce the amount of wiring and black boxes on the operating desk.
6 Message memories on CW and Voice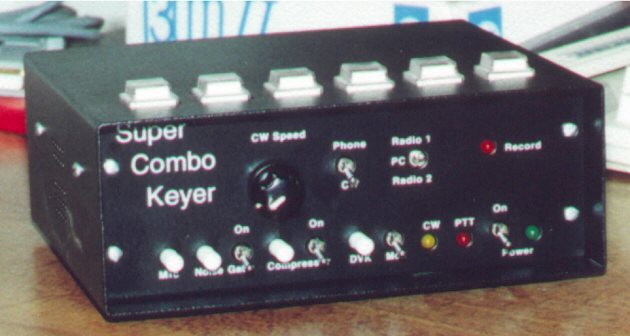 PC interfacing to Keyer, via LPT & COM Port
Audio Amp, Compressor and Noise Gate
Voice and CW Message Loop/Beacon Function
NA, TRLog, CT & WriteLog Compatible
Letter from Jeff, N5TJ after using the Super Combo Keyer in the 2001 CQWW SSB contest from VE3EJ.
Dimensions : Height 65mm, Width 180mm & Depth 170mm, Power requirements: 13.8V , 200 mA
Want to know more?
Manual in PDF format

Please contact: Jay, WX0B from Array Solutions or contact Bernie, via email ZS4TX or SMS

Last updated: 26 January 2002 by [email protected]

Powered by counter.bloke.com