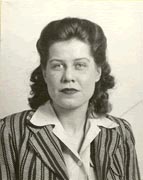 While working as an addressograph clerk at Toronto Hydro, Maude Elizabeth Steane enrolled at the Radio College of Canada to qualify as a Wireless Operator - 2nd Class.


She began her night-school training in June of 1942 and completed her requirements fifteen months later, graduating second in her class.


In late May of 1944, she joined the merchant ship S.S. VIGGO HANSTEEN at New York. The HANSTEEN was an American-built Liberty Ship transferred to Norwegian registry for emergency war transport.


Just ten weeks after leaving home, at the age of 28, Maude Elizabeth Steane was murdered aboard the HANSTEEN while anchored off Naples, Italy. She was shot by a male crew member who then turned the gun on himself. She was the first woman from Toronto killed on active service. She is buried in the Allied War Cemetary at Florence, Italy.


Condolences were expressed to her family by the Norwegian Consul General at Toronto.

At the conclusion of the war, there were a small number of other Canadian women who found their way up the gangways of Norwegian vessels.


Lylie Smith shipped out in '46 but prior to that she had been the first girl radio operator hired by the Hudson's Bay Fur Trade Co. for their northern posts. Possibly the longest at sea of any of the Canadian YLs, Lylie's travels took her to the Far East, South America, the U.S. and Europe.

Four young women who had served as interceptor operators for the government during the war headed for the sea as soon as an opportunity arose. Anna Ozol was one of these and, while her first ship is not known, it was while serving aboard the m/v Skaubo in the late summer of '49 that Anna achieved the doubtful distinction of being one of the few women to send out an SOS. Skaubo had taken on a severe list while about 500 miles off the U.S. West Coast when the ship's cargo of soft ore concentrate shifted during a storm. Happily the vessel was able to make port without aid.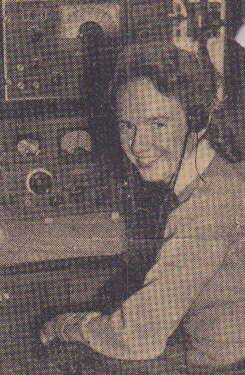 In early '47 Anna was followed to sea in quick succession by Elizabeth King, Norma Gomez and Olive Carroll. Elizabeth flew off to San Francisco to join her first ship, m/v Vito, where she served for a year and a half. After a lengthy holiday ashore Elizabeth signed aboard the m/v Skauvann, leaving the sea for good in '51. She sailed the Pacific routes; her voyages taking her from Japan down to Australia, and ports in between.


All things considered, Norma Gomez was the unlucky one. Her first and only ship was the Lutz, a small coastal vessel which carried newsprint from B.C. to U.S. West Coast ports. Accommodations on the ship were quite primitive, as was the radio set-up, and Norma retired six months later.

Olive Carroll was the last of these former interceptor operators to join the Norwegian MN. She replaced Esther Crichton on m/v Siranger in April '47, a service that would last four years and cover much of the world.

In the early '70s Dallas Bradshaw of Victoria went to England for training, becoming, it is said, the first woman operator to sail aboard a British ship, the ore carrier m/v Duncraig. Being a Marconi operator Dallas no doubt served aboard a number of other vessels and she was still at sea in '74 aboard the Naess.

Perhaps last of these Canadian YLs, and certainly not the least, was Aja Vibeke Norgaard Gron who sailed aboard a Danish vessel. Her name has been passed on but nothing is known of her ship or experiences at sea.


Ships' wireless operators have now gone the way of the Dodo bird, a brief chapter in maritime history. Canadian woman operators were pioneers who played but a small part in the annals of sea-going Sparks - but they are deserving of remembrance.


Thank You To:
Olive Roeckner VE7ERA - Wrote Text and Author of Deep Sea Sparks
Fred Addis, Maritime Historian, Toronto - for Ship Photographs and Information
Royal Canadian College (RCC) for 1942 First Graduating Class of Wireless Operators and Maude Steane's Photographs


Copyright
©


Back to Top

1999 - 2011