DID WOMEN SERVE AT SEA IN WWII?
Pioneer Canadian Wireless YLs
The first woman in Canada to earn a professional operator's license, she was also the first woman to serve as Sparks in the Norwegian Merchant Navy. Fern passed away in 1991 at the age of 73.
This eye-catching question appeared a few years ago on the glossy cover of an American magazine called Sea Classics. Inside this same magazine,


Maritime historian, Ian A. Millar, posed another question in very large caps.

"WHO SAYS WOMEN DIDN'T SERVE AT SEA IN WWII?"



Millar went on to declare that "Few today realize that Norway's exiled wartime merchant marine allowed women radio operators to serve aboard with Norwegian-flagged merchant men."

A pity this magazine didn't get widely distributed in Canada because in his article, Millar also stated...'In spite of YLs holding identical commercial licenses to their male counterparts they faced a closed door both during and after the war. They were a very small number, this group of pioneer wireless operators.' and he followed this declaration by listing the names of these women, all Canadian, their ships, and theatres of war in which they sailed.

That handful of Canadian women served at sea during the war years, and immediately following, is virtually unknown here in Canada and would perhaps be met by disbelieving stares, shrugs or indifference.

Such was the attitude also shared by the Canadian government back in the war years. When the Norwegian tanker Kaptein Worsoe arrived in an Australian port late in 1944, newspapers 'Down Under' made much of the fact that the 2nd and 3rd wireless operators aboard were two young women from British Columbia. No mention was made of the name of the ship, or port of arrival, only that the girls were serving aboard an allied (not Canadian) vessel.

Inevitably this story was picked up by news services in Canada and a reporter asked a Canadian official if this now meant that women would be allowed to serve aboard Canadian vessels. The response was a horrified, 'Good God no, we have enough trouble on ships now without having women on board!'

With the Battle of the Atlantic continuing for most of the duration of WWII, ship losses meant losses of trained personnel, among them the wireless operator. Fortunately the Norwegians displayed no hesitation in accepting those few Canadian women who volunteered. As far as can be determined at this late date, records being impossible to track down, at least ten Canadian women sailed wartime and seven in the post war years.


Who were these unknown and unsung wireless pioneers?
One such pioneer was: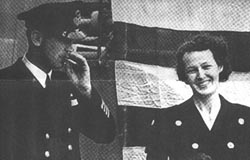 FERN BLODGETT
1918 - 1991
The first, and the only one about whom much detail can be obtained, was Fern Blodgett, a young Ontario Women who grew up in Cobourg Ontario during the '20s and '30s. Watching Great Lakes' steamers passing along the shores of Lake Ontario, Fern had childhood dreams of one day becoming a sailor and travelling the world, a life definitely not open to women at that time.
When war broke out in 1939 Fern was employed in the steno pool of a large manufacturing firm in Toronto. Bent on doing something to fight against the Germans, Fern's youthful wish to go to sea was reawakened when the Merchant Marine began recruiting wireless operators in Canada. She applied to three wireless schools before being taken seriously and accepted as a student. Working as a steno by day, Fern attended night school for almost 18 months before writing her exams, which she passed among the top of the class. Her 2nd class wireless operator's license and a call to go to sea arrived on the very same day. There was no chance of her forgetting that date - it was a Friday the 13th, June of 1941. Fern had often told her radio school principal that she would like to become a ship's Sparks and when he learned of an opening in Montreal, he immediately phoned to her place of employment and asked if she was still interested? Her answer - a very definite 'Yes'.
That same night Fern was on the train to Montreal, and when she arrived there next morning, authorities were dismayed to discover that F. Blodgett was a woman. There was nothing in regulations to say that a woman could not sail as a wireless operator, but it was pretty obvious the 'powers that be' weren't exactly enamoured of the idea. Fortunately for her the decision was left up to the ship's master. Captain Gerner Sunde of the fruit carrier Mosdale had been waiting days for an operator and didn't want to wait any longer. He spoke with Fern, and since she seemed self assured and sounded competent, he hesitated only a few moments before agreeing to sign her on.
Once clear of the St. Lawrence River on that first trip, Fern became violently seasick. However, being the sole operator, she had no choice but to stick it. Handed a bucket to keep at her feet, she somehow coped. Fern gained her sea legs in time and soon proved to be a capable operator, but she often battled seasickness and only fellow sufferers can truly empathize.
Fresh from radio school, with absolutely no experience in operating, decoding, or any of the necessary copious amounts of paper work, Fern found herself in charge of Mosdale's radio shack. At first, as the only operator, she later became the Chief Operator with an English 2nd and a Norwegian 3rd.
Of the half dozen fruit carriers from Norway to start the crossings in 1940, only Mosdale survived. A fast ship capable of 15 knots she often traveled alone. The crew hated it when they were assigned to so-called fast convoys of 8 knots.
In all, Mosdale made 98 crossings of the Atlantic of which Fern was aboard for 78. Many times she witnessed the horrors of torpedoing and the loss of ships and men. Asked why she went to sea when it was so dangerous, she is reported to have answered.
"Why should I not risk my life when millions of men are risking theirs. Is a woman's life more precious than a man's?"
In the normal way of things Gerner Sunde was rather young at 30 to be Master of a vessel and not at all the old greybeard Fern had been expecting as a skipper. Romance flourished and captain and operator became engaged December of '41 and married the following year. Their honeymoon was spent at sea in convoy.
In July of 1943 when Mosdale was in the U.K., Capt. Sunde and others attended a special luncheon ashore where they met the Norwegian Royal couple Prince Olav and Princess Martha and were presented with medals by King Haakon VII.
Mosdale was a happy ship but the war's end came in time. Nerves had been stretched to the breaking point as everyone wondered how long their luck could last. In December of '45, after almost four and a half years on the harsh North Atlantic run, Fern left the ship to settle down at Kjorestad in her new homeland of Norway. Her story does not have an '.... and they lived happily ever after' ending for Captain Sunde died suddenly of a heart attack
Fern was left to raise two small daughters in strange surroundings and carried on with exceptional determination and fortitude. So highly respected by the small city of Farsund where she made her home, Fern was awarded a medal in 1988 in recognition of the special distinction she had brought to the city. As well, Fern had also earlier received a medal from the Norwegian government for her wartime services.
Written by: Olive Roeckner, VE7ERA, Mirror Lake, Kaslo, B.C.
Olive visited Fern in Norway in June 1991. Fern passed away a couple of months later. The book about the Lucky Mosdale is called just that and was written by Filiv Odde Hauge.

&nbsp
Copyright
©
&nbsp


Back to Top
1999-2011