540 miles in one day!
Even though I lived in Michigan all my life, I never cease to wonder at the magnificence of the Mackinaw Bridge. It always deserves at least one ride a year. This year we drove across the bridge, ate lunch in St. Ignace, and made the run back home. It was a 12 hour round trip but well worth the ride.
Getting Ready to leave, me on my Voyager XII, Josh on his new Kawasaki ZX6R
A couple of potty stops along the way...
On the road...
The Bridge in site, almost the halfway point...
Welcome center in St. Ignace and our lunch stop...
Didn't know we had our own state park...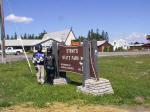 The ravages of a long ride are setting in.
Over all the trip was great but it's not for the faint of heart or soft tushies...oooh my butt hurt!