This page contains some graphics that person's not in agreement with Hunting may not find suitable for their viewing.
| | | |
| --- | --- | --- |
| | | |
| My First Buck With a Bow - not Pope & Young but I was proud none the less! | Preserve Americas Right To Hunt and Bear Arms! | My Favorite Hunting Buddies (My sons many years back now) |
As an Archery Deer Hunter in Michigan and being restricted to Public Hunting lands I have had some interesting experiences trying to find a place to hunt and maintain some type of consistency to what I do. I have managed to hunt the same basic 10 acre piece of State land for the last 8 years and have been successful 5 of them. It's takes a lot of work to scout and learn what the deer are doing when you're constantly invaded by fellow hunters which change the deer's habits on a regular basis. It takes lots of patience and being in the woods EVERY DAY POSSIBLE in order to be successful. I would hope to someday have a piece of private property to hunt but in the mean time, I'm still having fun in the out doors.
---
Archery hunting season 2000!
My Son Joshua got an 8 point opening day! October 1st 2000
The Proud Hunter and his eight point Michigan State Land Buck
Hanging the Deer
Well, it's November 4th and we both have put a deer in the freezer. Unfortunately for me, mine didn't have antlers but then again I'm a meat hunter and you can't eat the antlers. Still about 10 hunting days left before the Gun season opens, so maybe I can score that big buck yet. I saw him tonight but he was more interested in the doe he was chasing than my grunt calls.
---
Archery hunting season 2001!
My Son Joshua got lucky again. A nice size spike on Oct. 15th. I want my stand back! Just Kidding, I think it's great!
The Proud Hunter and his Spike horn Michigan State Land Buck - only ran 45 yards after a perfect double lung hit.
---
Archery hunting season 2002!
This year has been a unique one so far. On October 2nd my son missed a nice Doe at 25 yards...practice is needed (buck fever got the best of him). On October 5th my son got a great hit (so we thought) on a nice 4 point buck. I watched the deer run into the field and lay down 50 yards from me, thought it was all over! My son and I use family service radios in the woods to keep each other up on what's happening. When my son got down about 20 minutes later to look for his arrow (which he found the front half of), the deer got back up and ran off about 100 yards and lay down again. Since it was dark, we decided to wait till morning on this deer to let nature takes it's course and not scare him into the swamp. The next day I picked the trail after hunting for about an hour in the morning and followed it easily for about 100 yards or so as it was heavy even the next day. Then all at once, nothing! Making ever larger circles out to about 100 yards I couldn't find so much as a drop. I think at this point the half of the arrow that was still in the deer must have plugged the hole? We searched for another 4 hours checking all the logical and not so logical places in a bout a mile radius where he may have laid down again and nothing! This was a depressing realization to accept, but none the less a sometimes reality of hunting.
On October 12th, I missed a nice 4 point at 5 yards! I made the common mistake when shooting with a sight and a release, of forgetting to bend at the waste when shooting at such a steep angle. Should have a perfect easy broadside shot but nope, over his back it went. I knew it the minute I released that buck fever got the best of me and I screwed up! I reached for another arrow as the buck ran about 10 yards out from where he was and stopped. One other thing to remember when shooting with a release, make sure your release is fully locked on the string before you draw. As I began to draw back for a second 15 yard broadside shot, the release "twanged" off the string and the arrow looped over his back like an arrow shot from a toy bow. At this point I'm feeling, well you can imagine. I figured this deer was meant for another day as I watched him trot away!
On October 13th, I moved my stand back onto an Oak ridge that I hadn't hunted for a couple of years but had taken deer from before. On the 16th, which was a beautiful cool evening, I arrived at my stand late (work issues), and climbed up at about 5:45 PM. At 6:05 PM I see a deer about 75 yards below me walking alone by the edge of a swail going away from my location. I pulled out my favorite Primos call, a Doe in heat bleat in a can and gave a few twists of the wrist. He stopped and listened for a minute or so, so I hit the bleat a couple more times. He came straight up the hill and after waiting for a couple of minutes at full draw he finally cleared some brush and gave me the shot I needed. He ran about 100 yards and it was all done. Another State land buck in the freezer!
The prize with 6 points
And my hunting buddy (my youngest son)
Waiting for Processing (we do our own)

---

Archery hunting season 2003!

Well this has been an interesting season of ups and downs. My son Josh, had a full load of college classes along with his full time work schedule so he wasn't able to hunt near as much as usual this year and so far has not had a shot at a deer. Today is the 8th of November and we pulled out the tree stands in expectation of the gun season opener next weekend. We had some vandalism this year which we hadn't seen for years out there on our favorite piece of state land. My son lost lost a couple of strap on tree steps (a whole $3 each) and someone cut the cables on my stand, stole the cables, ropes, a useless lock and left the stand? Go figure! I don't know what possesses people to be that way, it's really unfortunate. I moved my stand down further into the swamp where it wouldn't likely be seen and didn't have any more problems but kept seeing deer up on the trail where I was first located after that (not making me happy). We also had a group of three individuals who decided to put up stands right by ours and do some night hunting! A call to the DNR put a stop to that in a hurry. Just what we needed this year, poachers too!

Well anyway on to the story for the year. I missed a little 6 point on October 9th at about 25 yards. Got a bad case of the shakes after holding a full draw for about 5 minutes waiting for him to step out from behind some brush and made a bad shot that went low. I continued to hunt hard but the next couple of weeks had little to show for it. I kept seeing a pair of yearlings that were fun to watch but weren't on the menu. Couldn't seem to get any deer in close and most nights didn't see anything at all! Patience is the key out here as there aren't lots of deer and you just have to keep trying.

On October 27th I was hunting my sons stand and about 1/2 hour before dark I saw deer sneaking through in front of me about 75 yards away. I have become very reliant on my Primo's Doe-Estrus bleat in a can (no I don't work for them, but I just love this call!) and gave it a couple of tips. The deer stopped but kept walking around out in front. I waited a couple more minutes and gave a twist of the wrist on the can a few more times and in he came, grunting all the the way in. I just love listening to a buck grunt. He stopped 20 yards out and threw his rack in the bushes in front of me and I took that opportunity to stand up and draw. He stepped out and I let the arrow fly. I looked like a good hit and I could see the arrow laying on the ground near where I'd shot. Then the rain came :( ! Blood trails and rain don't mix! I was only able to track him about 30 yards before loosing the blood trail to the rain. My son came out after he got out of class and we looked until 10 PM but no luck. I went back out in the morning before work and looked for two more hours checking all the likely places in the direction I last saw him heading but no luck. I went back out after work and decided to walk a tall grass field near where I had shot him and just started zigzagging though the field. It was almost dark when I stumbled onto him almost by accident and boy was I happy. I don't like not finding a wounded and likely dying deer. He would have been a 7 point but broke off a tine so we called a 6 1/2 point. We dragged him out and he was in the freezer the following night. Luckily here in Michigan the temps are very cool so everything was fine with the meat until I could get him processed.

The proud hunter after a lot of hard looking to find him.
---
Stepoutside dot org A great general info site
Bills Hunting and Archery Page Another neat hunting info site
Outdoorsite dot net Great general Hunting and Fishing site and info
Mossy Oaks - Hunting the Country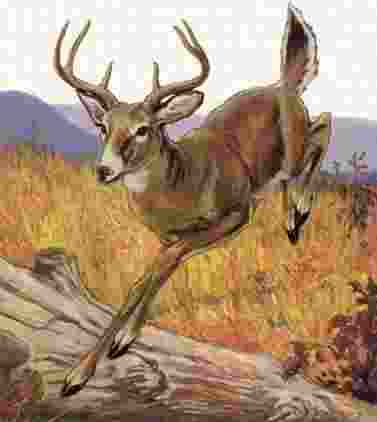 | | | | |
| --- | --- | --- | --- |
| Camo & Clothing | Accessories | Major Hunting Gear | Tree Stands |
| | | | |