PureSignal
Clean up your FreeDV plus Video signal with adaptive predistortion
Why adaptive predistortion?

Certain modes particularly benefit from the use of adaptive predistortion to reduce intermodulation (IM) products. Modes employing Frequency Division Multiple Access (FDMA) are particularly susceptible to Intermodulaton Distortion (IMD). FreeDV plus Video (FreeDV+) employs FDMA, and the FreeDV+ signal is dramatically improved with the addition of adaptive predistortion.


The setup at WA6NUT

The setup at WA6NUT uses adaptive predistortion software (PureSignal by Dr. Warren Pratt, NRØV) with an Apache Labs ANAN-10E SDR transceiver. The SDR transmitter output is amplified by an HF Packer amplifier followed by an Ameritron AL-811 linear amplifier.


Below: Setup for PureSignal, showing sampling of output signal by directional coupler

Without and with PureSignal

The screenshots below show the ANAN-10E receiver's panadapter display while transmitting (25 watts at the amplifier output) without and with PureSignal (the ANAN-10E can operate in full duplex mode, simultaneously transmitting and receiving). Note that the IMD3 changes from about -20 dB (without PureSignal) to about -40 dB (with PureSignal).
Below: Panadapter display of the FreeDV+ signal without PureSignal, showing IMD3 = -20 dB approx. (mouse over the image to enlarge)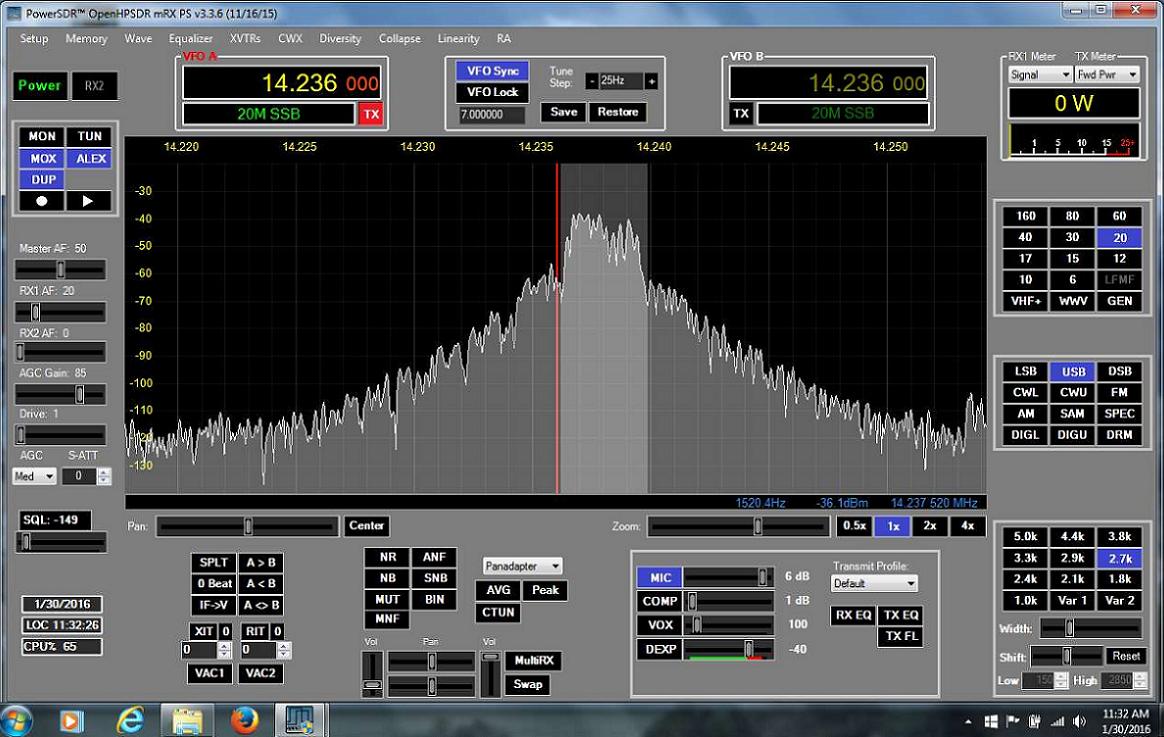 Below: Panadapter display of the FreeDV+ signal with PureSignal, showing IMD3 = -40 dB approx. (mouse over the image to enlarge)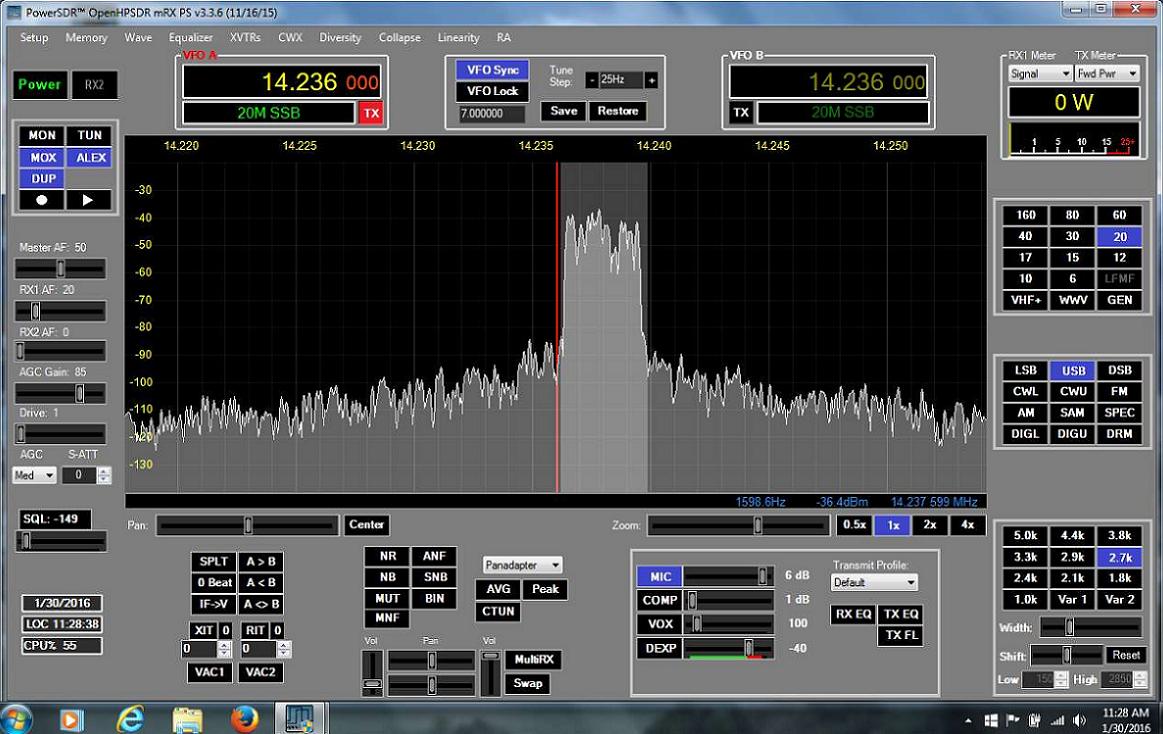 Clearly, the FreeDV+ signal is significantly improved when adaptive predistortion is added. The FreeDV+ operator should seriously consider upgrading to an SDR setup with adaptive predistortion capability.

The screenshot below shows the PureSignal AmpView display. Using AmpView, the operator can, in real time, watch PureSignal correcting the magnitude and phase so the IMD is reduced. The vertical deviation of the blue curved line from the straight diagonal line shows the magnitude error, and the vertical deviation of the red curved line from the straight diagonal line shows the magnitude correction applied by PureSignal. The vertical deviation of the yellow curved line from the straight horizontal (phase = 0°) line shows the phase error, and the vertical deviation of the green curved line from the straight horizontal (phase = 0°) line shows the phase correction applied by PureSignal.



Below: AmpView display showing the PureSignal magnitude and phase correction (mouse over the image to enlarge)






More information

For more information on FDMA and adaptive predistortion, click on the "Technical" link at the top of the page.


ANAN-10E: Using FreeDV+ with PureSignal


Use Single Calibrate Mode


PureSignal may lock up when using the AutoCalibrate mode with FreeDV or FreeDV+. Use the Single Calibrate mode instead.


PureSignal Power Limited


PureSignal may be unable to correct IMD above a maximum power level when used with FreeDV or FreeDV+. This will be indicated by distortion in the measured and correction AmpView curves.


Limit Two Tone Gen Power


If a small MOSFET amplifier (such as an HF Packer 4) is used to boost the ANAN-10E output power, the default PureSignal Two Tone Gen level may be high enough to damage the amplifier's MOSFET's. Reduce the maximum Two Tone Gen power to a level consistent with the amplifier input rating.
Setup ==> Tests ==> Two Tone Test ==> RF Power


Useful Accessories:


TR-Plus kit from TAPR: Provides RF switching for PureSignal. Requires removal of the cable between J29 on the Hermes board and J3 on the Apollo board inside the ANAN-10E.
TR-Plus Link 1 - TR-Plus Link 2

30 dB Directional Coupler (Elecraft CP1 kit or equiv.): Samples the output power for feeding back to the ANAN-10E receiver. Use the link below to download the CP1 manual (PDF).
Elecraft CP1 Link

0-41 dB Attenuator (Elecraft AT1 kit or equiv.): Attenuates the sampled signal for input to the ANAN-10E receiver. Use the link below to download the AT1 manual (PDF).
Elecraft AT1 Link



ANAN-10E: General Notes


Consult the Apache Labs Community Website


You'll find expert help for your ANAN-10E (and other Apache Labs SDR transceivers) on this group's pages.
Apache Labs Community Link


On-Off Cycling in Transmit


On-off cycling in transmit can be prevented by disabling the SWR Protection.
Setup ==> Ant/Filtering ==> SWR Protection
(not recommended unless the ANT output is connected to a low-SWR load, i.e., a dummy load or the input to an amplifier, with low output power).


Unusually High CPU Usage


High CPU usage may be indicated if the computer is downloading or installing software updates. Another cause is excessive CPU usage by the svchost.exe process in Windows. The links below give several solutions to this problem. The author has found Solution 7 (disabling the wuauserv service) to be effective in reducing CPU usage.
CPU Usage Link - - Windows 10 Link


Limit Tune Power


If a small MOSFET amplifier (such as an HF Packer 4) is used to boost the ANAN-10E output power, the default Tune level may be high enough to damage the amplifier's MOSFET's. Reduce the maximum Tune power to a level consistent with the amplifier input rating.
Setup ==> Transmit ==> Tune ==> Power


Useful Accessories:


J16 Breakout Board kit from TAPR: Provides an input for PTT control of the ANAN-10E from a Sound Card Interface; provides an output for PTT control of an external amplifier.
Input uses the PTT_KEY jack with a jumper at JP1-2 to JP1-3.
Output uses the LINE_IN jack with a jumper at JP3-1 to JP3-2.
Be sure that the breakout board is centered horizontally when connecting to the ANAN-10E J16 connector.
J16 Breakout Board Link

Ethernet Switch (TrendNet TEG-S80g or equiv.): Connects between the PC and the ANAN-10E using CAT-5 cables. Connect a CAT-5 cable from a router to the switch for ANAN-10E firmware updates.
TrendNet Link

High Stability TCXO Option: The ANAN-10E can be ordered with this option from Gigaparts, for a small additional cost.
TCXO Option Link

GPS Disciplined Oscillator (GPSDO): The BG7TBL GPSDO can provide even greater frequency stability (and accuracy). It is available from several eBay vendors.
BG7TBL GPSDO Link




---

- 5 July 2013 -

  Back to WA6NUT home page  

(Search the entire site from the home page)