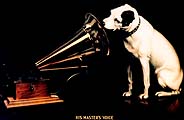 Victor Amateur Radio Association (VARA)
W2VTM
---
The VICTOR AMATEUR RADIO ASSOCIATION (VARA) is the employee amateur radio club of L-3 Communications Systems - East and other successors of the Victor Talking Machine Company (VTMC), and sister organizations. The club started when we were the Radio Corporation of America (RCA), and now includes employees and retirees of RCA, GE Aerospace, Martin Marietta, Lockheed Martin, and L-3 Communications Systems - East. We are headquartered at the Camden Waterfront Technology Center, Camden, NJ, in the shadow of our former Nipper Building, on the Delaware River overlooking the city of Philadelphia, PA (see the view from our building). Affiliated members are located in Moorestown, NJ and throughout the country. We operate the Camden repeater (146.82-). Our members and former members have been pioneers in the communications business, a century-long heritage which started in 1901 here in Camden.
Were you looking for information on antique records, players, radios, etc.? Click here for Victor/RCA Link Site
---
---
VARA Web Sites and Links

Club Information
Club History and Background Information | Victor Talking Machine/RCA Web Sites
Hamfest Schedule
Hamfests in South Jersey/Philadelphia/MD/DE Metro Area
Ham Activities
What hams like to do - table of activities, buzzwords, links, and equipment
License Exams & Courses
ARRL Exam Search
FCC Licensing, Renewal
FCC License Information, Renewals, Change of Name/Address, Rules, etc.
Call Sign Allocation Definition
US Callsign Allocations by Region
Shuttle Missions
Upcoming Shuttle Missions & SAREX Missions
Satellite Tracking & Reference
Satellite Tracking Software & Keplerian Elements | Space Reference Page | Launch Sites
ARRL Bulletins (ARRL)
ARRL General Bulletins (ARRL web page)
DX News (ARRL)
Index of DX Bulletins (ARRL web page)
DX Resources
DX Information/Resources
General Resources
General Resources for Amateurs on the Web
Call Sign/QSL Searches
Links to Call Sign Look-ups and QSL Managers
Postage Rates
International & Domestic Postage Rates | International Postal Services
Radio Mods (QRZ.com)
QRZ Radio and Scanner Modifications
Hurricane & Weather Frequencies
List of Government & Ham frequencies used to track hurricanes, weather, etc. (by KC2AUP)
Solar Indices and HF
Quick Guide to HF Propagation using Solar Indices (by N2LVI)
Solar Index Charts
Solar/Geomagnetic Activity Chart (an excellent tutorial/summary) (by NA5N)
Working the Gray Line
A tutorial on Gray-Line DX Work (by NA5N)
Emergency Communications
ARES/RACES, MARS, CAP, REACT, Weather, Red Cross, etc.
PowerPole Connectors
ARES/RACES Standard Power Connector (Anderson PowerPole)
RCA/Victor Talking Machine
Victor Talking Machine/RCA Web Sites
RCA/Victor History Series
KPH Pacific Overseas Radio Station
Vintage RCA Military Radios
List of Vintage Military Radios/Receivers manufactured by RCA Corporation
AR-88, AR-88LF, AR-77, CR-88, etc.
Manuals, Brochures, Photos, Technical Data, etc.
Project Block Military TV
Military Television History - Provided by Maurice Schechter
Battleship New Jersey (BB62)
Battleship New Jersey Amateur Radio Station (BNJARS) | BB62 References
E-mail VARA
Comments, Questions and other Correspondence

VARA Members Only

Membership List (L-3 only)
Camden Membership List | Moorestown Membership
Off-site Members | Retired Members
Membership Application
Application in PDF format | Microsoft Word format -- Submit hardcopy only
Sister/Heritage Clubs &
Member Pages
Saltlake Peaks Amateur Radio Club - K7CSW, L-3 Communications Systems - West
Raytheon Amateur Radio Club - WD5GSL, L-3 Communications Integrated Systems
David Sarnoff Radio Club - N2RE, Sarnoff Corp, Princeton, NJ (former RCA Labs)
Thomson Amateur Radio Association - W3RCA, Lancaster, PA (Picture Tube Division)
RCA Amateur Radio Club - W9RCA, Indianapolis, IN (former RCA Consumer)
Waterton Amateur Radio Society - N0LM, Lockheed Martin Astronautics, Denver, CO (Local)
LMERA Amateur Radio Club - WA6GFY, Lockheed Martin Missiles & Space, Sunnyvale, CA
Lockheed Martin ARC - W5SJZ, Lockheed Martin Tactical Aircraft, Ft. Worth, TX
Lockheed Martin Emp. ARA - W4LMA, Lockheed Martin Aeronautics, Marietta, GA
---
History of the Camden, NJ Plant
Victor Talking Machine Company (VTMC) -- 1901 - 1929
Radio Corporation of America (RCA) -- 1929 - 1986
General Electric Aerospace (GE) -- 1986 - 1993
Martin Marietta Corporation (MMC) -- 1993 - 1995
Lockheed Martin Corporation (LMC) -- 1995 - 2003 (ATL, EPI)
Lockheed Martin Corporation (LMC) -- 1995 - 1997 (Communications Systems)
L-3 Communications Corporation (L3C) -- 1997 - present (Communication Systems - East)
"If you don't like the company you're working for, wait another year!"
RCA History (provided by Thomson Consumer Electronics)
RCA Victor 100th Anniversary Special Event (Oct-Dec 2001)

Call Signs Used - Past & Present
WA3RCA NG2R KB2VBI W2VTM
Location
Camden, NJ USA -- Camden County -- Grid FM29kw
---
VARA Officers
| | | |
| --- | --- | --- |
| Position | Name & Call Sign | Phone |
| President | Pete Greene, N2LVI | 856 338-2343 |
| Vice President / Membership | Joe Everhart, N2CX | 856 338-4099 |
| Secretary | Steve Devlin, N3DZT | 856 338-2876 |
| Treasurer | Steve Devlin, N3DZT | 856 338-2876 |
| Activities Chairman | Dave Mull, N2GQG | 856 338-3131 |
| Training Chairman | Tim Ohrman, W2CN | 856 338-4797 |
| Repeater / PARA Representative | John Goheen, KB2ADL | 856 397-3703 |
| Moorestown Representative | Rich Inacker, N2VVT | 856 722-3464 |
---
Other L-3/Lockheed Martin/RCA Club Locations & Contacts

Contact & E-mail | Website
Plant Location | Heritage
Contact Phone Number
Pete Greene, N2LVI
L-3 CSE, Camden, NJ
RCA GCSD, CSD, Broadcast
856-338-2343
Rich Inacker, N2VVT
LM NE&SS, Moorestown, NJ
RCA MSR, LM GES, LM NE&SS
856-722-3464
Ron Vattimo, KC3PC
Astro ARC, WB2JQR
LM CPC, Newtown, PA
RCA Astro / GE Astro
215-497-3660
Clarence Rudd, W2PGS
RCA ARC, W9RCA
Thomson Consumer Electronics, Indianapolis, IN
RCA Consumer Electronics
George Gadbois, W3FEY
Thomson ARA, W3RCA
Thomson Multimedia Inc., Lancaster, PA
RCA Picture Tube Division
Barry Griffen, KD5PXU
Raytheon ARC, WD5GSL
L-3 Integrated Systems, Greenville, TX
Raytheon Aircraft Integration Systems / E-Systems
Rick Donkin, KA7MMM
Saltlake Peaks ARC, K7CSW
L-3 CSW, Salt Lake City, UT
Lockheed Martin, Loral Wideband Systems
Craig LaBarge, WB3GCK
LM MDS, Valley Forge, PA
GE Aerospace M&DS
610-531-3241
Jim Woods, KC7FG
LMERA ARC, WA6GFY
LMMS, Sunnyvale, CA
Lockheed
408-742-3033
Benj Campbell, W0CBH
Waterton ARS, N0LM
LM Astronautics, Denver, CO
Martin Marietta
303-977-9917
Barry Whittemore, WB1EDI
BAE Sanders, Nashua, NH
Sanders, LM Sanders
603-885-7190
Bill Penny, WM5U
Lockheed Martin ARC, W5SJZ
LM Tactical Aircraft, Ft Worth, TX
General Dynamics
817-763-4212
Tony Miles, KD4CJO
Lockheed Martin Emp. ARA, W4LMA
LM Aeronautics, Marietta, GA
Lockheed
---
Affiliated Corporate Home Pages:
(Legal Notice: VARA is solely responsible for this web page content. Endorsement is not implied or inferred.)
---
Web Page Maintained by Pete Greene, N2LVI

Victor Amateur Radio Association
Pete Greene, President
c/o L-3 Communications Systems
1 Federal Street, OPS-2A
Camden, NJ 08103-1004

Contact Webmaster: Pete Greene, N2LVI
Phone: (856) 338-3659

© 1998-2010 VARA. All rights reserved.
Last Updated: 27 July 2010

Web Site Courtesy of

Page created Dec 1998