Ocean Park


Pacific County, WA
46.516555, -124.044333
80 Feet
Call: NM7R


145.170 -600kHz 118.8Hz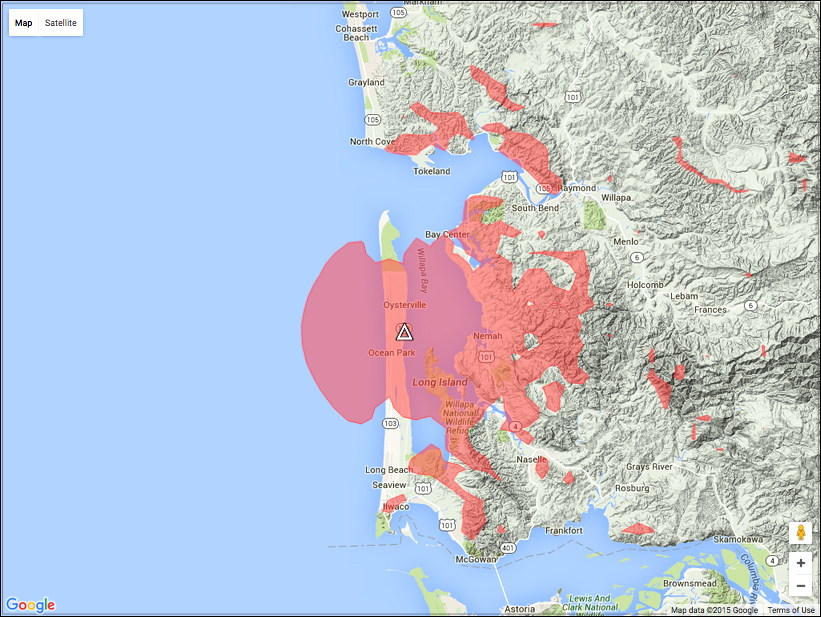 Ocean Park VHF Repeater

This repeater is located on
high ground adjacent to
NM7R's home, and is used
occasionally as a remote
base station to assist in more
conveniently monitoring and
controlling other network
repeaters as part of oversight
and maintenance of the
BeachNet system. For exam-
ple, It may be linked to the
Nicolai station, either on the
repeater itself or on its con-
trol frequency to monitor the
solar battery voltage and op-
erate the back-up generator,
or it could be linked to
the IRLP repeater for more
convenient access while
monitoring or operating
portable on a hand-held
around home. Usually, this
repeater is available for
normal use, tied to the rest
of the BeachNet system.


Location: Two miles northeast of Ocean Park, between Nahcotta and Oysterville, on the ridge east of Sandridge Road, overlooking Willapa Bay on the northern part of the Long Beach Peninsula. This site is called "Rental Ridge" as it is, even at 50-feet above sea level, one of the higher locations on the north peninsula. The repeater itself is in a corner of the garage of the rental house owned by one of
BeachNet's
owners (NM7R). Yes, I even inflict my radio hobby on those that rent from us. The antenna is 40-feet above the ground, making the antenna height about 90-feet above sea level. Please do not bother the residents at this location. They are not Radio Amateurs, know nothing about the equipment or hobby, and my occasional visits to tend the machinery are imposition enough.

Coverage: Although there are several area repeaters that work well mobile, hand-held coverage has always been elusive in Ocean Park and the surrounding residential area, especially to the north. This repeater is easily usable from Ocean Park, including the Fire Hall. With the Fire Hall being a major shelter and nerve center during an emergency, the repeater is potentially quite useful. Expect to use this repeater within 3-4 miles hand held, and 7-10 miles mobile. Normally linked to the rest of
BeachNet,
this repeater can be linked to the 444.925 IRLP repeater on Megler Mountain, by a Control Operator. This provides a 2-meter, north Peninsula port to the world-wide connectivity and just plain fun of IRLP for those in the North Peninsula area who may not have a UHF rig.

It also provides a potential connection to the Ilwaco 146.860 repeater, located at the south end of the Long Beach Peninsula, and owned and operated by the Pacific County ARC, which can also be linked to the same UHF repeater. During a disaster situation, the Ocean Park 145.170, Ilwaco 146.860 and Megler 444.925 repeaters could be linked in this way to provide a Peninsula-wide mini-net for Fire and Emergency Medical support.

Hardware: The repeater consists of a GE Mastr-II 110-watt continuous duty base station (running 50-watts) with an Arcom RC-210 controller in a 30-inch GE cabinet with a Mastr-II power supply. The duplexer is a 4-can, 8-inch Wacom BpBr feeding a Hustler G6-270 dual band antenna through 60 feet of LDF4-50 half-inch hardline. The remote base uses a GE Rangr 16-channel UHF transceiver running 30-watts, which shares the dual-band antenna through a diplexer.

History: 02/28/09, The Ocean Park, 145.170 Repeater was installed at the Ocean Park Fire Hall. K7KID, K7WAT, KC7BFU and NM7R participated.

03/01/09 repeater on air from Fire Hall, NM7R, K7KID, K7WAT.

11/19/09 replaced 10-amp line fuse, K7KID, K7WAT.

01/24/10 replaced 10-amp line fuse, K7KID, K7WAT.

09/18/10 intermittent problem, moved to shop, K7KID, K7WAT.

09/23/10 reinstalled repeater at Fire Hall, K7KID, K7WAT.

06/24/11 replaced power supply, K7WAT.

07/17/14 removed repeater from Fire Hall and reinstalled at Rental Ridge (new location north of town), NM7R.

07/30/17 replaced original Link RLC1 controller with Arcom RC-210, retro-fitted control shelf with slide-in Regulator and Audio cards, changed Rangr link radio, and suite of remote base UHF channels. NM7R.