You will find below some small informations about what mother propagation let me do during the last 8 years. To be complete and let you make some comparisons, I will give you more info's.
During 1995/96/97, on my previous QTH into LX capital city I was using 100 watts from a YAESU 890-AT, then very shortly after from a KENW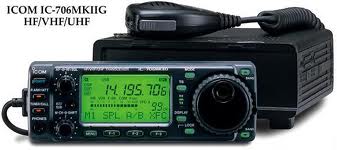 OOD TS850-S. During 1995/96 the antenna was a CUSHCRAFT AP-8A. I change 1997 for a GAP TITAN-8, both antennas were placed at the same place on the top of my building about 24 meters up the ground. These configuration let me work 200 DXCC.
Mid 1997, I move to my present QTH from which I still use the GAP for some time and try to improve things on high bands by placing a YAGI beam A3S by CUSCRAFT, 21 meters high in the air.
April 1998 I bough an used AMERITRON AL-80BX linear which gives me with my beam 115 DXCCs more. I must said that I'm still using the original valve (which was brand new) even with countless hours of duty, this EIMAC 500ZG is very impressive and still giving full output power.
Since June 1999 I was also more present on 40 with homemade full size OCFD with quite good results, this antenna is now dismantle. I also just put on the air an ISOTRON 160C for 160 but this one was only good for wide local and people with very small lot like me, this antenna always accepted the full power from my linear, unfortunately I broke it during garden works, RIP little antenna. Don't forget I'm living in center city and only 200 hundreds meters away from a major railways station. This is a very very noisy place to live.
November 2011 after almost 3 years of home improvement, modification for that the family has to leave home for months due to dangerous homework including wall and basement modifications, I'm back. House is complete but the radio station suffer deeply from dust, vibrations and inactivation even if the radio room was secured...
The TS 850S doesn't work anymore above 20mts band, so I must fixe that problem. I succeed.
The AL-80B TX/RX relay was faulty, so must fixe it also. I succeed.
The transformator of my rotor controler was dead and have to be replaced. that was really expensive...
Before new problems come, I open all device and take away the dust, good idea seeing all my power supply...
Then I tough it could be a good idea to backup my logbook, Murphy was an optimistic... During the backup, the DVD burner burnt itself, destroying the radio PC power supply and burning most of the PC... After asking myself if it was not time to stop this time consuming and expensive hobby but I decide to further hamming. I buy a new PC and interface for radio and look for uptodate software. More on software later.
All radio, linear, interface, are now working again, got a new PC, got new logbook and after hard work could save my old data.