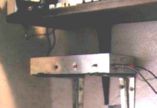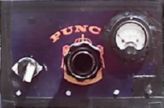 HOMEBREW QRP IS GUD 4 U
compiled by George Rosenberg, KC6WDK


[email protected]
last modified December 15, 2017
---
The challenge here is to build CW (Morse Code) shortwave radio equipment for the amateur bands using a bare minimum of components, money, and construction skill; equipment that is useful and dependable for non-licensed folks just interested in monitoring the ham bands as well as those of more advanced standing looking for some diversion beyond their regular pursuits.

Anyone with a suitable amateur radio operator's license and a lots of cash can buy a gazillion-watt computer-controlled rig and contact Antarctica and Swaziland via SSB or bounce digitized images of their pets off satellites and the Moon. For the rest of us, including lot of "QRPers", it is more practical and just as interesting is to see how far "flea-power" can go (QRP is a Morse Code signal meaning 'decrease power' and has been adopted by amateurs working with an output power of 5 watts or less). Low-power operating inspires learning about propagation characteristics of relevant frequencies determined by season, time of day, and sunspot activity. Homebrewing - building equipment oneself - makes it that much more satisfying.

Contained herein are plans to assemble "from scratch" a variety of CW QRP equipment and related items. The original sources are credited for each project. All components are inexpensive and readily available commercially, though builders can salvage parts from junked AM radios, stereos, etc. For the few components that are harder to scrounge such as panel meters, variable capacitors and crystal holders a "suppliers" section is provided.

Electronic component recognition and ability to read simple schematic diagrams are assumed, but even non-ham tyros with minimal construction skill are strongly encouraged to investigate the receiver project, which is designed to be built with no soldering and gives excellent service. After many years of use, my VFO and Audio Q-Multiplier enhanced version was the heart of my "shack." More recently I have been using a receiver using an I.C. audio amplifier which is just a different version of the same receiver.

Complete beginners: buy Getting Started in Electronics by Forrest M. Mims III - it's a fast, easy and entertaining way to quickly grasp basic electronics and develop understanding of schematic diagrams. It contains a wonderful collection of projects to build.



Have fun!



---
***RECEIVER***
***Q-MULTIPLIER***
***2-BAND VFO***
***RECEIVER USING I.C. AUDIO AMP CIRCUIT***
***15 METER CONVERTER***
***500mW TRANSMITTER***
***3W 2-BAND TRANSMITTER***
***6-WATT 2-TUBE TRANSMITTER FOR 40 METERS***
***15 METER VXO-TUNED TRANSMITTER***
***STATION CONTROLLER***
***TINY TORNADO QRP TRANSCEIVER***
***HALF-WAVE DIPOLE ANTENNA***
***OP-AMP FIELD STRENGTH METER***
***JUNKBOX FIELD STRENGTH METER***
***WATTMETER***
***CRYSTAL TESTER***
***VARIABLE VOLTAGE POWER SUPPLY***
***GALLERY***
***SUPPLIERS***
---
A FEW USEFUL LINKS:
ARRL's PAGE OF FCC AMATEUR FREQUENCY ALLOCATIONS know what frequencies you can work!
RADIOQTH.NET callsign lookups, printable QSL cards, practice exams, and more.
CONUS HF BAND CONDX A fast look at amateur radio band conditions and more. Updated every 30 seconds.