Projects
A large proportion of my projects are antenna related, but there are a few other projects that over time will be listed here. Keep an eye on this page!

Portable Morse Bug
Recently I went on a SOTA expedition with my good friend Steve 2E0MMY to the Brecon Beacons. As part of the activation I wanted to take a Paddle to operate CW (morse code) with. My own paddle that I use in the shack is very heavy and is a highly precision made piece of equipment that I would not want to take up a mountain.

So one afternoon I headed out to the workshop to make something for myself. I heard of someone using a hacksaw blade to produce a single paddle, so I thought I would see what I could do to produce a one as a double paddle.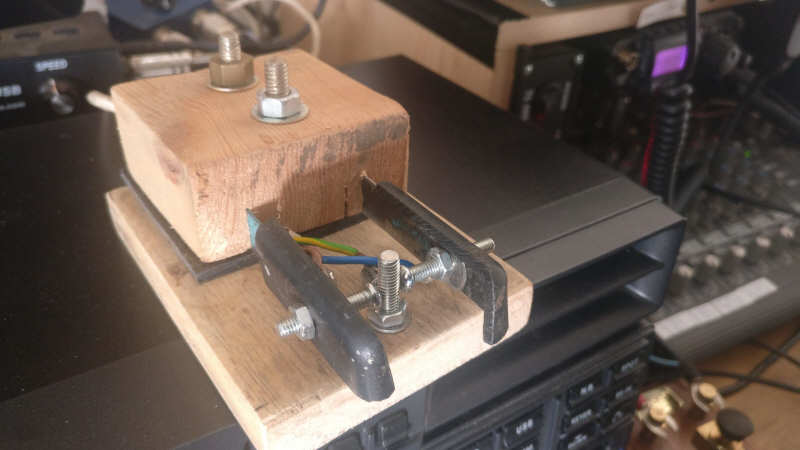 The photos show all the details but basically the central vertical bolt is earth point and the bolts that are fixed through the holes in the end of the hacksaw blade that are set horizonally are moved in contact with the vertical bolt to complete the circuit to produce the dit or the dah. There is an eyelet solder tag on the inside of the paddle arms which is held in place along with the plastic edges from a square flower pot by the horizontal bolts that creat the elecrical connetion with the verticle bolt.

The wire runs in a groove under the top woodern block and the hacksaw blade (that was cut to length with an angle grinder) are held in place in a pair of grooves that were produced with another hacksaw blade just slightly shallower than the width of the hacksaw blade. So when the top woodern block is bolted down the slightly protuding blades are held firmly in place by the black flat plastic side from the same flower pot. That plastic side also holds the blades off the floor of the lower woodern block to allow free movement.

I was really surprised how well this worked out and is easy to operate holding the paddle on the knee with the left hand while operating it with the right. An improvement maybe to use a piece of copper tube over the vertical bolt, perhaps something like a piece of copper brake pipe. Then with solder applied at the contact points of the horizontal bolts, and with solder blobs on the end of the horizontal bolts, it may make for a more consistant contact, but really it works very well as it is!
---