Home
>
Getting the Technician License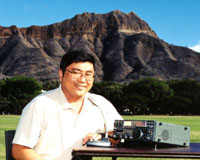 Getting the Technician Class License
I'm glad you're interested in studying and taking that first step to get your amateur radio license. Take a look at these resources on the Internet, which can help you achieve your first amateur radio license!
Internet Study Guides
You'll need some study material to build up the knowledge needed to pass the exam. There's great websites that have good study guides in a PDF file format that you can download, print and read. Choose the one that's right for you.
Printed Study Guides
You can pick up one of the printed study guides listed below and read through it. Quite a number of hams (including yours truly) passed their license exams without having to take formal classes. Once you get exposed to the materials, find an "elmer" (a mentor or informal teacher) and ask questions about the areas that you're unclear. You'll be amazed that just a handful of questions will clear up certain areas, and the rest will snap into place.
Amateur License Question Pool
The NCVEC is the national organization that oversees the Volunteer Examiner program for amateur radio licensing. They also create the question and answer pools used for the licensing exams.
YouTube Videos - Ham Radio Education
These videos go over various topics relevant to the Technician class license exam.
YouTube Videos - Ham Radio Class
Hermosa Beach Valley School features a ham radio class for the Technician class license exam. The link to this section is http://www.qsl.net/ah6rh/am-radio/license-tech/#videoclass
Amateur License Practice Testing Sites
ARRL now features a web site with free practice tests for the amateur radio license exams. Check out this article.
These sites feature free practice tests for the amateur radio license exams.
Before taking your Technician Exam
If you are taking your Technican license exam for the first time, you may want to get an FRN (FCC Registration Number) online and use that number on the application forms.
Having passed your Technician Exam
Congratulations on passing your Technican License Exam. While you're anxiously awaiting your new callsign, checkout these web sites.
YouTube Videos - Review of the Technician Class exam question pool
If you want some video instruction, you can check out these videos on YouTube. He goes over each section of the Technician class license exam, and introduces you to the questions and answers.
Links to other study material
You may find these links to be of value as you search for more study material.
Here's a historic film from 1970, talking about the upcoming impact of the Integrated Circuit chip. Written and produced by Henry Feinberg, K2SSQ four decades ago, it is a good primer on the applied technology that would revolutionize how we live today. Given that there were only 130,000 devices then, mainly in the work force, it's found in every electronic device today.
Find out more by contacting: rhashiro(remove this part)@hawaiiantel.net
Copyright © 1997-2018 Ron Hashiro
Updated: December 16, 2018
DISCLAIMER: Ron Hashiro Web Site is not responsible for the content at
any of the external sites that we link to and therefore
are not necessarily endorsed by us.