Home
>
Hawaii
>
CD Amateur Radio Club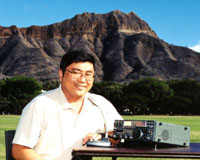 Civil Defense Amateur Radio Club
Information on ham radio testing (amateur radio volunteer examiners) on the island of Oahu.
Amateur Radio License Testing
The Civil Defense Amateur Radio Club's mission is to provide ARRL Volunteer Examiner testing services for amateur radio operators and test takers residing or visiting on the island of Oahu. The goal is to continually build up the pool of available emergency communicators available during times of emergency.
Regular testing sessions are usually held the normal testing time of 6:30 pm on designated Wednesday evenings. The sessions are the third Wednesday of March, June, August and November. Other sessions are held on an as-needed basis.
The site of the regular testing session is:
American Red Cross
4155 Diamond Head Road
Honolulu, HI 96816

To sign-up or confirm the date/time/place of the next exam session, contact Ray Moody, AH6LT via email typeandculture .at. mac.com or phone 600-5015. Advance registration is required to pass building security.
January 18, 2017, 6:30 pm, American Red Cross HQ on Diamond Head Road
March 15, 2017, 6:30 pm, American Red Cross HQ on Diamond Head Road
June 14, 2017, 6:30 pm, American Red Cross HQ on Diamond Head Road
August 16, 2017, 6:30 pm, American Red Cross HQ on Diamond Head Road
November 15, 2017, 6:30 pm, American Red Cross HQ on Diamond Head Road
Exam sessions typically take up to 90 minutes, depending on the number of persons taking the exam. Most persons that have studied for the Technician exam finish the exam portion in about 25 minutes or so.
Items to bring to the test session
When attending a test session, please bring the following items.
Two photocopies of a government issued photo ID.
If you are not a citizen, bring two photocopies of your passport.
Two pencils, sharpened with eraser.
A pen, to sign your documents.
$15 for the exam fee starting in 2009. Exact change is preferred. No credit cards, please.
Two photocopies of your amateur radio license, if you have one.
Two photocopies of any valid CSCE (Certificate of Successful Completion), if you are using these to get credit for previous successful test sessions.
If you have an existing amateur radio license, make sure you have your FRN (FCC Registration Number). You can find it on your copy of the license (if its recent), or you can look it up at the FCC website.
If you are bringing a calculator, it is best to bring a simple calculator. You must be able to demonstrate that any programmable calculator used is cleared of any programming.
If you are applying for the Technician-to-General class administrative upgrade, please provide photocopy evidence of your technician license before March 21, 1987. For example, a copy from the 1986 callbook may suffice.
Note: The Technician class written exam prior to March 21, 1987 was equivalent to then "new" General class written exam. Search results from the QRZ.COM 1993 Database may be used as evidence of a past Technician class license valid in 1987. On April 15, 2000, the morse code requirement for Extra class dropped from 20 words per minute to 5 WPM. New Novice and Advance class licenses were stopped after April 15, 2000. The morse code requirement was dropped on February 23, 2007.
Note: Former license holders of General, Advanced and Extra class licenses that have gone beyond the two year expiration period may reinstate their license class upon passing the written Technician class exam (Element 2). On June 9, 2014, the FCC announced the amendments to the rules permitting the change. The changes were published in the Federal Register on June 20, 2014 and became effective on Monday July 21, 2014. Bring proof of your expired higher class license, and two copies for the application. Effective February 17, 2015, the FCC no longer routinely issues paper amateur radio licenses.
Find out more by contacting: rhashiro(remove this part)@hawaiiantel.net
Copyright © 1997-2017 Ron Hashiro
Updated: March 10, 2017
DISCLAIMER: Ron Hashiro Web Site is not responsible for the content at
any of the external sites that we link to and therefore
are not necessarily endorsed by us.