Home
>
Articles
>
Why Join a Radio Club?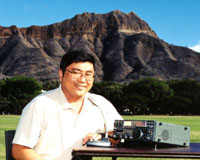 Amateur Radio Articles
These are some articles previously written and published by Ron Hashiro, AH6RH. Most have been published in the EARC (Emergency Amateur Radio Club) newsletter "Wireless Dispatch" and may contain a few revisions since the time of original publication. You're welcome to use them with your own amateur radio club newsletter. Please give credit to the EARC Wireless Dispatch.
Enjoy, and feel free to drop me an e-mail if you have any questions.
Why Join a Radio Club?

by Ron Hashiro, AH6RH
Tonight, a person asked "Why should a person join a radio club like the EARC? What are the benefits of joining an amateur radio club? The answers may surprise you.
The key benefit of joining an amateur radio club is to join up with other people who have the same interests and have a good time exchanging information and experiences relating to amateur radio. And, it's not only amateur radio, per se, but also an open door to many related and non related activities.
At one recent meeting, there were hams ranging from Novice to Extra class. There were the usual 2m handie and mobile enthusiasts. In addition, there were HF'ers, satellite, packet, tropo, repeater and other enthusiasts present. Those who've rolled their own radios, feedline and antennae to those who seemed to have bought just about every radio around.
Among them were teachers, RF and wireline communications technicians, doctors, executives, computer and networking specialists, the military, nurses, nature enthusiasts, airline pilots, financial experts and university professors. Within that mix, it seems you can understand and solve almost any radio situation with the talent present.
There are chances to try out and expand your radio horizons at the gatherings. Field Day is an excellent time to pitch in and build an HF station from scratch in the field, where one must improvise and leverage every advantage from the terrain. Similarly, at our periodic outdoor gatherings, one gets to see and operate a no-fuss HF, VHF and UHF station that's powered by deep-cycle batteries.
There are other benefits, such as the newsletter, repeater systems and frequent public service events that round out the offering.
Keep in mind that the greatest benefit of joining an amateur radio club is a regular and ready mutual access to experienced technical information, references and learning experiences. The more you pursue and interact, the more you get out of your membership. And that translates to a chance to nurture and grow your knowledge and radio horizon -- whether it's amateur, commercial or personal.
Permission given to reproduce the above
article in club newsletters provided credit is given
to the author and the EARC
(Emergency Amateur Radio Club) Wireless Dispatch.
Find out more by contacting: rhashiro(remove this part)@hawaiiantel.net
Copyright © 1997-2015 Ron Hashiro
Updated: August 31, 2002
DISCLAIMER: Ron Hashiro Web Site is not responsible for the content at
any of the external sites that we link to and therefore
are not necessarily endorsed by us.