Home
>
Articles
>
Emergency Preparedness and Shelter Evacuation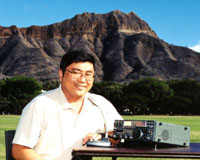 Amateur Radio Articles
These are some articles previously written and published by Ron Hashiro, AH6RH. Most have been published in the EARC (Emergency Amateur Radio Club) newsletter "Wireless Dispatch" and may contain a few revisions since the time of original publication. You're welcome to use them with your own amateur radio club newsletter. Please give credit to the EARC Wireless Dispatch.
Enjoy, and feel free to drop me an e-mail if you have any questions.
Emergency Preparedness and Shelter Evacuation

by Ron Hashiro, AH6RH
It's still spring, but the start of hurricane season in June will be upon us shortly. Now is a good time to break out your favorite Oahu (or county) Civil Defense checklist and begin replacing old supplies and stocking up for the new season.
Why is being prepared for an emergency during the early part of the season so important? Let me relate a real-life incident during a recent Hawaiian hurricane.
The sirens had sounded to warn of the oncoming hurricane and to evacuate to nearby shelters. An elderly man entered the shelter and looked around for medication. He eventually presented himself to the shelter manager and stated "Where are the medications? I need such-and-such for my heart condition."
The shelter manager (who already had his hands full setting up shelter operations in a public school cafeteria) turned to the gentleman and said "This is a shelter. It's not a hotel. It's not a pharmacy. Take a look around you. It's a roof, four walls and a concrete floor. That's it. We don't have any medications here. You need to bring your own medications, bedding, food, water and clothing."
The shelter manager wasn't really that crude and direct, but this dramatized version of a real incident makes the point. If you don't prepare properly well ahead of time to evacuate and you don't bring your needs with you to the shelter, you're stuck. There is no magic waiting for you in an emergency shelter. Don't expect it. It's your personal responsibility to be prepared. If you don't, you're the loser.
In this incident, the shelter manager scrambled to find a pharmacy in the neighborhood and tracked down the pharmacist who had to reopen the store to fill the prescription. They managed to get it filled just in time and made it back to the shelter in time to hunker down and wait out the hurricane.
Are you and your family prepared?
Do you have three to five days of food and water ready to go? (Shelters do not serve food for several days after it opens. It takes time to mobile supplies, equipment and manpower to open a food serving line. And, if power to the water pumps are disrupted, it may require several hours to flush the water mains before regular water service is restored.)
Are your supplies current and fresh? (You'll need to bring or store one gallon of water per person per day for drinking purposes, especially if you're working outdoors during the recovery.)
Do you have your own checklist of what you need to secure the home, pack the car and head out? (Don't leave it to chance. Write down a checklist ahead of time before you need it.)
Are your amateur radios equipped, packed and ready to go with you to the shelter so you can operate there? (You may not have any other radio operators there, and your equipment would have come in very handy in sending statuses and coordinating a response.)
Do you know the nearest three shelters in your neighborhood? (Who says your nearest shelter has enough room and parking?)
Is your home prepared?
Have you kept your insurance current and stashed your insurance, homeowners papers and other valuable information in a safety deposit box or other similar storage and have a copy to take with you to the shelter? (You'll need it to open a disaster relief application.)
Do you know how to prepare and file away valued and irreplaceable family photos? (No, you can't buy a replacement family photo of your great great grandparents at Sears.)
Do you have an adequate supply of cleaning tools, rags, cleaners and trash bags to immediately start to clean up when you return home?
These are only a few, key things to do while the sun is shining, the sky is clear and the lines at the stores are few. Remember that the goal of emergency preparedness is not only to survive the storm but to be well positioned to begin the recovery and restore your lifestyle.
So when you see the notices that it is the start of hurricane season, pay attention and take action now, not when the sirens blow.
Permission given to reproduce the above
article in club newsletters provided credit is given
to the author and the EARC
(Emergency Amateur Radio Club) Wireless Dispatch.
Find out more by contacting: rhashiro(remove this part)@hawaiiantel.net
Copyright © 1997-2015 Ron Hashiro
Updated: August 31, 2002
DISCLAIMER: Ron Hashiro Web Site is not responsible for the content at
any of the external sites that we link to and therefore
are not necessarily endorsed by us.