Club Meetings & Net Information Page

Club Meetings
The Massillon Amateur Radio Club meets on the first Friday of every month at the Massillon Senior Citizens Center located at 39 Lincoln Way West in downtown Massillon at 8:00 PM. Club meetings are open to all visitors and you are welcome to attend. We conduct a short business meeting followed by a break and if we're lucky a dynamite program!
---
West Stark Information Net

The Massillon Amateur Radio Club also conducts a weekly West Stark Information Net on the clubs 147.18+ mhz repeater. The net is open to all licensed amateurs and you are encouraged to join us every Friday evening at 8:00 PM (except for club meeting night) and hear the latest club news as well as current events in the amateur radio service. Net Manager Don Wade, W8DEA is always looking for club members willing to act as net control for the net. This is a great way to gain net experience, please contact Don if you can help out !
---
W8NP The Club Station of the MARC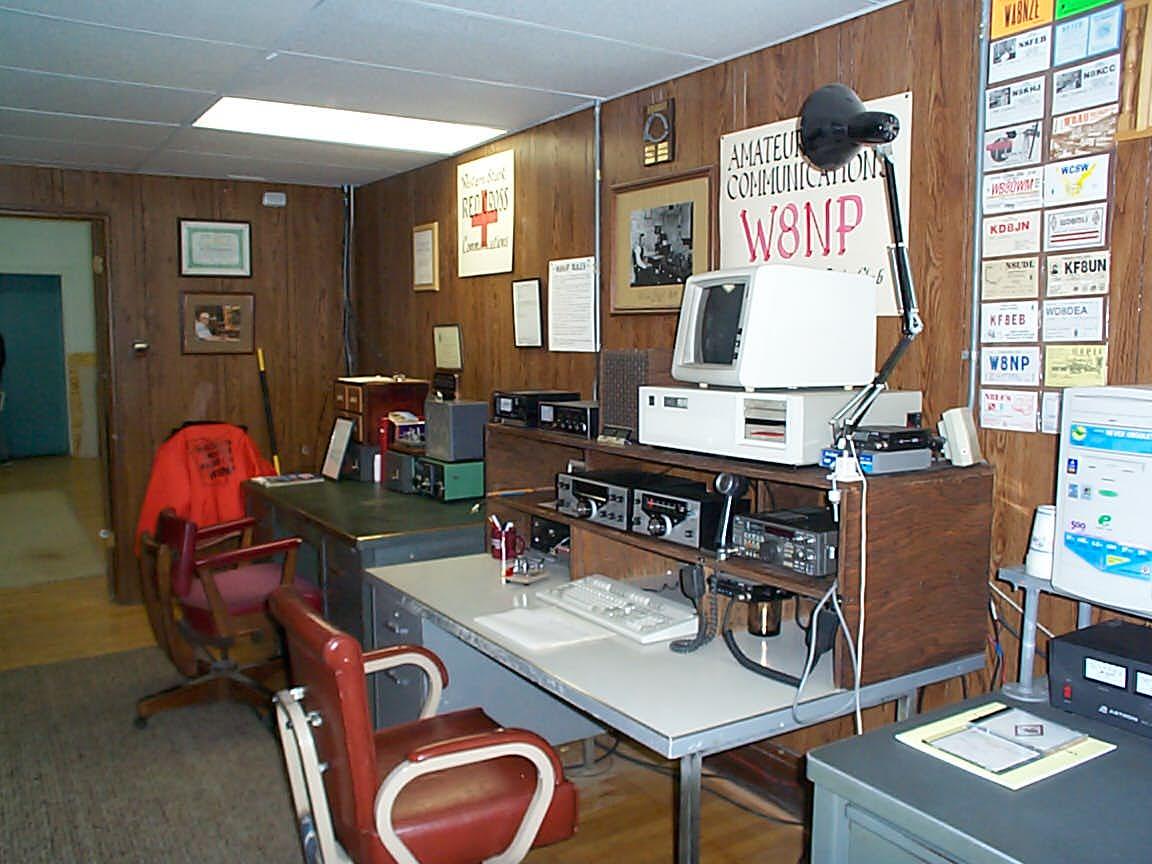 The club station of the MARC is fully equipped for all bands and modes of operation. Current station equipment includes a Ten Tec Trition 4 for HF plus a Kenwood 2 Meter all-mode transceiver. The club recently added a IBM class 500 Mhz computer system that runs a packet station. Antennas include an HF log periodic plus a 100 foot long wire. Other equipment is available when needed.
---
The MARC Club Library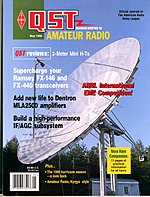 The MARC Club Library, under the direction of club librarian Bruce Putnam, AB8FB, is a new service available exclusively to club members. Available during club meetings, amateur magazines, as well as amateur books, CD's and various club newsletters (including both current and back issues of our own "FEEDBACK") maybe signed out for a two month period or articles & stories may be photocopied at no charge. Periodicals are constantly being added & updated to better serve our members. The list below is currently available. Contributions to add missing issues are always welcome, contact Bruce if you have something to add to our library !
---
Executive Board for 2003
Standing Committees
---
The Current MARC Library
QST Magazine
| | |
| --- | --- |
| YEAR | ISSUE |
| 1932 | All except Jan, Mar & May |
| 1933-34 | Complete |
| 1935 | All except Feb |
| 1936-45 | Complete |
| 1946 | All except Jan |
| 1947-48 | None ! |
| 1949-68 | Complete |
| 1969 | All except Jul, Aug, Sep, Nov |
| 1970 | Complete |
| 1971 | All except Feb |
| 1972 | Complete |
| 1973 | All except May |
| 1974-75 | Complete |
| 1976 | Complete |
| 1977 | All except Sep |
| 1978 | Complete |
| 1979 | All except May |
| 1980 | All except Mar, Nov |
| 1981-86 | Complete |
| 1987 | Only have Oct - Dec |
| 1988 | Complete |

| | |
| --- | --- |
| YEAR | ISSUE |
| 1989 | None |
| 1990 | None |
| 1991 | None |
| 1992 | Have only Nov - Dec |
| 1993 | Complete |
| 1994 | Complete |
| 1995 | All except May |
| 1996 | Complete |
| 1997 | Complete |
| 1998 | Complete |
| 1999 | All except Feb |
| 2000 | Complete |
| 2001 | Feb to Jun |
| | |
| | |
| | |
| | |
| | |
| | |
| | |

We also have the following ARRL Publications
The Antenna Compendium - Volume 3
The Radio Buyers Sourcebook - 1991 Edition
Antennas and Techniques for Low Bank Dxing
---
Previous Meeting Programs
February Program Mel Vye, W8MV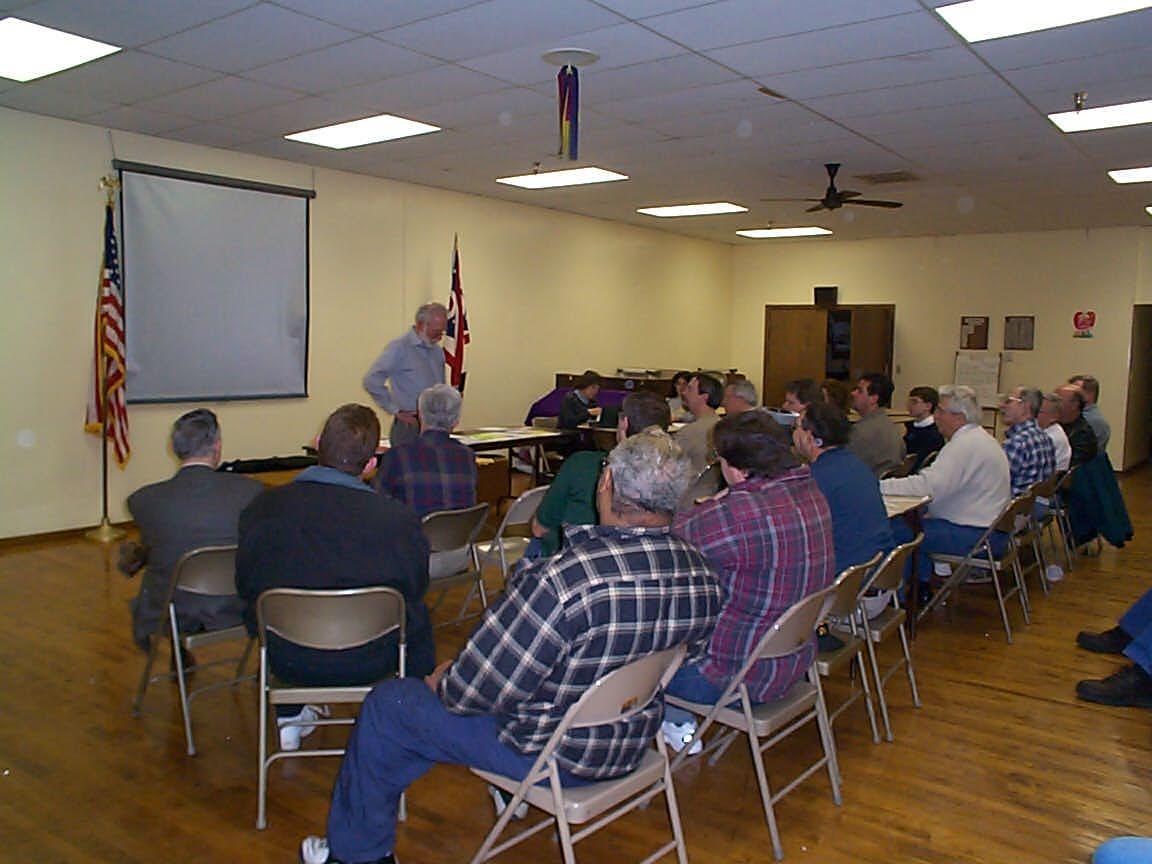 The MARC officially began its 2001 season with Don Finley, W8DEF at the helm and new Vice-President Gene Beckwith, W8KXR as second in command. Gene already tested the waters by deciding that coffee should be ready before the meeting. He must have needed a jolt to calm the nerves !
The new year also began with a super club program. Mel Vye, W8MV long time friend of Perry Ballinger, W8AU and of the Massillon Amateur Radio Club again captivated us with his most recent DXpedition memories. You will remember last year at our February meeting Mel presented a terrific program on his journey to St. Pierre & Miquelon Islands (FP land). This year was just as exciting as Mel recounted his trip last July to Midway Island in the South Pacific.
One of the world's last unspoiled, secluded paradises, it was closed to the public for more than 50 years and just recently opened to visitors. Midway Island is known primarily for World War II's decisive "Battle of Midway". Serving as a United States Naval Base from before the war until 1996, when Midway Phoenix Corporation and the United States Fish & Wildlife Service entered into an agreement which opened the island as a travel destination. Only 100 visitors are permitted at any one time as this island is more of a quiet resort, lacking the traditional commercialism of most other tourist sites.
The Naval Base is now used for tourist use and this is where the modest ham shack is located, appropriately set in the old communications shack on the base. Complete with a nice tri-band beam and several other antennas, it also has several Kenwood radios left behind by the Navy. Imagine the radio traffic that has passed through this tiny shack over 50 years ago !. Talk about radio atmosphere !
It is from here that Mel spent a great deal of his time, racking up over 3000 contacts during his week long stay. He did take some time to enjoy the natural beauty of this paradise island, taking many wonderful slides that detailed the true beauty of this island including the famous Gooney bird (the Laysan Albatross).
It was a terrific program and many thanks to Mel for allowing us to escape with him to this South Pacific Paradise if only for a short time in the dead of winter ! What a great place for a Club Field Day operation, I wonder if our meager treasury could swing it !!!!. I wonder what far off exotic world Mel might be off to next ?. I hope Mel will share it with us next year !
If you would like to learn more about this spectacular island paradise go to www.midwayisland.com for lots of great information.
---

March Meeting Program Jeff Covelli, WA8SAJ Avid ATV'er

The club was honored to have Jeff Covelli, WA8SAJ of Willoughby, Ohio as our guest speaker for the March club meeting. An avid Amateur Television (ATV) operator for many years, Jeff captivated the crowd with his personal experiences in this exciting aspect of amateur radio. Jeff opened with a little history of this mode and explained some of the technical details of this unique mode, including equipment requirements and antenna types. He noted that even though some parts of this mode can be expensive, anyone with a cable ready TV can join in on the reception of ATV signals by tuning to either cable channel 58, 59 or 60. A video was shown detailing some interesting actual on-air contact of Jeff and his friends in the Cleveland area. Did you know that the Rose Bowl Parade in Pasadena, CA is nearly fully covered by amateur operators using ATV to give continuous on-the-spot coverage to local authorities ?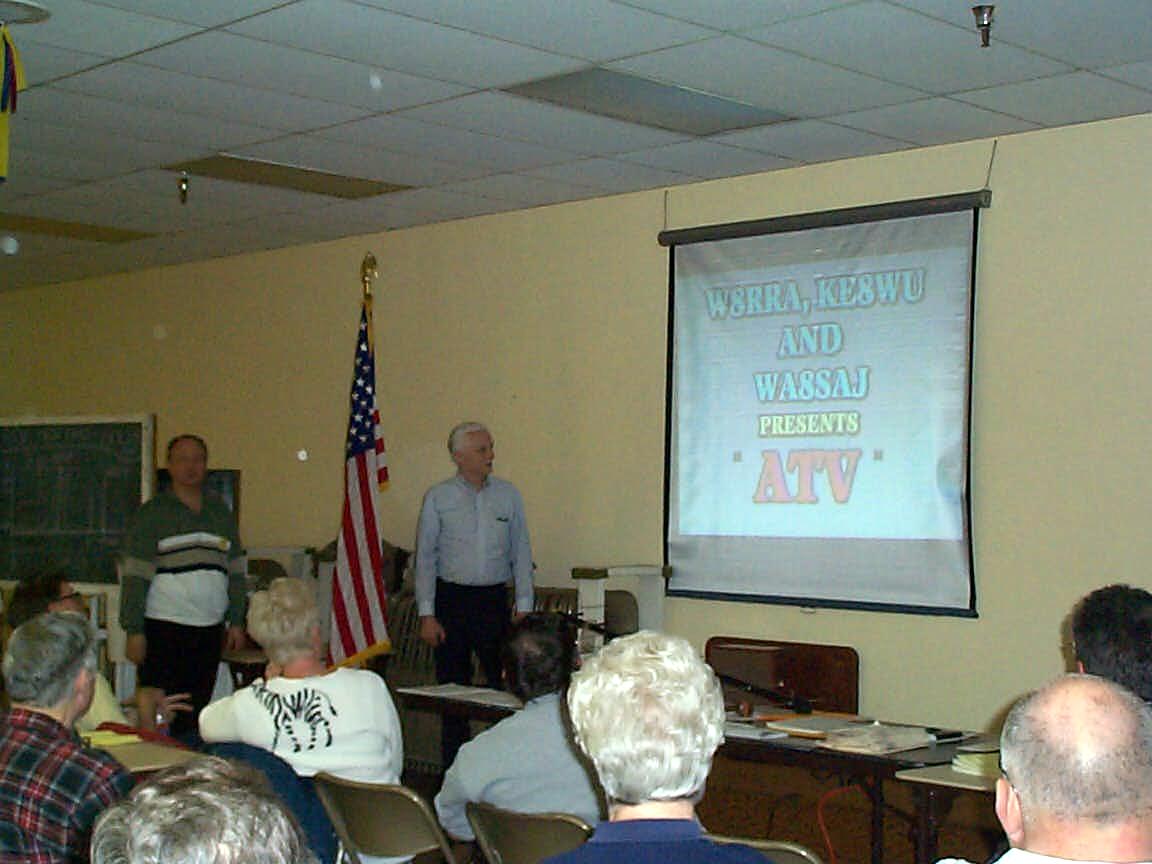 Jeff indicated that some fantastic "DX" contacts are also possible during certain atmospheric band openings, he is especially proud of his confirmed contact with a station over 500 miles away a few years ago using ATV. A number of MARC members are currently experimenting on this mode. Evenings and weekends tune your TV to cable channel 58, 59, or 60 and listen to either the 147.18 repeater or 144.34 simplex (the ATV talk about frequency) and you just might see one of our smiling faces having a great time using this exciting new mode of amateur radio ! A special thanks to Jeff for sharing his hobby with us !
---
April Meeting Program on The Civil Air Patrol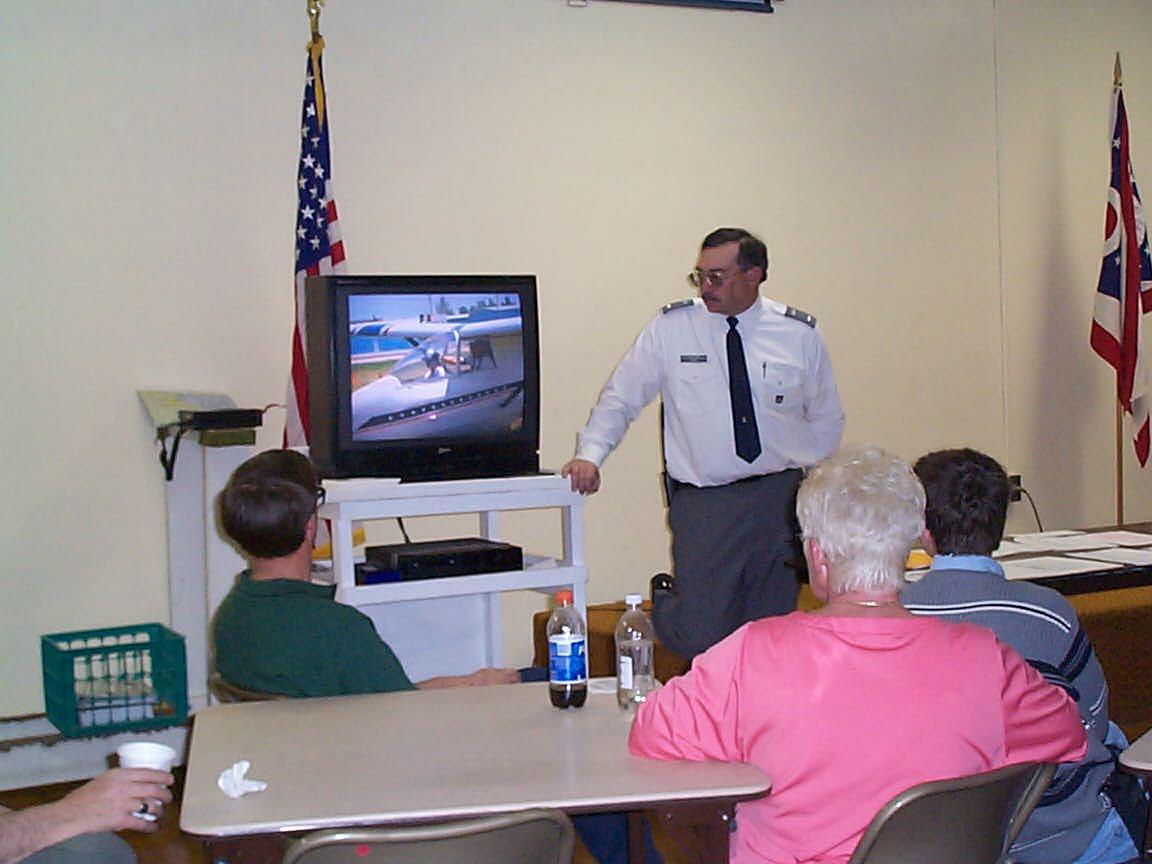 Continuing a great year of club programs, the MARC April meeting was honored to have one of our own, Don Wade, W8DEA present a program on the Civil Air Patrol (CAP).
Don, a 6 year veteran, hold the rank of 1st Lieutenant and is currently a Communications Officer over 10 squadrons in the Akron/Canton Wing.
The CAP was established on December 1, 1941 and is the civilian Auxiliary of the U.S. Air Force and organized along military lines. There are more than 1,700 active units across the United States. Organized to perform vital support functions in its early years, today's CAP has specialized programs in Aerospace Education, Cadet Programs that continue to introduce thousands of young people to aviation and perhaps best known for its Emergency Services role. CAP air & ground teams perform 85 percent of the inland Search and Rescue missions across the United States.
Don's specialty as Communications Officer is the training and maintaining of the vast data & voice communications network built to survive the loss of civil communications. Don's program included a short video of the history and current mission of the CAP, discussions of several recent CAP missions right here in the greater Ohio area as well as question & answer session after the formal program.
Their communications network is not unlike our own in the Amateur Radio Service using both simplex & duplex communications as well as both data & video, except that operations are carried out on specific frequencies assigned to the CAP. We even found out that they often use Fastscan Television in many of their Search & Rescue missions.
This was a fastening program and we want to thank Don and the entire Civil Air Patrol organization for our April program. Don is the MARC's only active CAP member but after this fascinating program he may have a few prospective volunteers !
To learn more about the Civil Air Patrol, you are encouraged to check out their excellent website located at http://www.cap.gov .
Number of Contacts with this site
This page was last updated on 01/22/03
Site best viewed in 800 x 600 Resolution
Using Microsoft Internet Explorer
2002 MARC Productions