Using Program Manager or the Start Menu, find WS_FTP. Open the program and follow the steps below.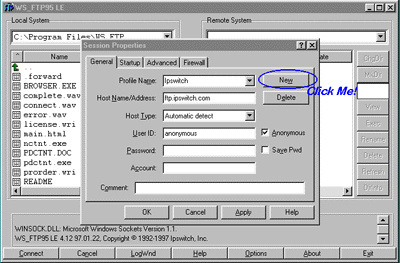 Figure 1
Click the "NEW" button.
Figure 2
Fill in the following fields like those below: (no quotes!)

Profile Name: "www.qsl.net"

Host Name/Address: "qsl.net"

Host Type: "Automatic detect"

User ID: YOUR USER ID (Your Call or Club Initials)

Password: YOUR PASSWORD



Check the Save Pwd Check box.

Click the Startup tab.
NOTE: If you have problems connecting to qsl.net or if you use AOL, try using Host Name/Address: "ftp.qsl.net"
Figure 3
Leave Initial Remote Host Directory: text box EMPTY!

Click the Apply button to save changes.

Connect to the Internet... Click the OK button to connect to qsl.net!
[Home] [Step 1] [Step 2] [Step 3] [Quick Start]
---