Home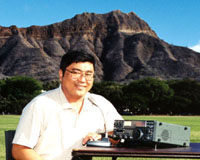 The Art of Making a Contact By Radio
While "amateur" means "for love", many amateur radio operators approach the pastime and contributions of amateur radio with as much zeal and passion as their professional interests. It is more than a hobby. It's a world of continual discovery, knowledge, and friendships beyond compare. Lifetime friendships and knowledge that enhance careers, families, your community.
The menu on the left will take you to my regular web pages. The notes below capture recent activities and tell of upcoming events. You can also get news at the ARRL Pacific Section web page.
There's so much to write about amateur radio, and there's just not enough time to make all the web pages that I would like. Enjoy, and feel free to drop me an e-mail if you have any questions. -- Ron, AH6RH
The Tinyurl shortcuts to this web page are: http://tinyurl.com/ah6rh-0 and http://tinyurl.com/dzrwel
"Amateur Radio -- Staying connected in times of emergency." - Robin, AH6CP January 18, 2010
"Get knowledgeable and proficient in amateur radio now. There's not enough time to learn during an emergency." - Ron, AH6RH October 24, 2010
November 26, 2013, updated August 5, 2014
Amateur radio clubs and organizations around Hawaii sponsor or participate in a variety of operating events and meetings. This is a list of key events around the state.
Date
Event
Tues December 31, 2013 2:00 pm HST - Sat January 1, 2014 1:59 pm HST
ARRL Straight Key Night
Sat January 5, 2014 8:00 am to 2:00 pm HST and Sat January 14, 2014 8:00 am to 2:00 pm HST
ARRL Kids Day
Sat January 18, 2014+
ARRL January VHF Contest
Fri February 14, 2014+
ARRL DX Contest - CW
Fri March 1, 2014+
ARRL DX Contest - Phone
Fri March 28, 2014+
CQ WPX Contest - Phone
Sun April 20?, 2013
Geek Meet VI
Fri May 23, 2014+
CQ WPX Contest - CW
Sat May 31, 2014
Makani Pahili - Annual Hurricane Exercise
Fri June 6, 2014+
Museum Ships Weekend (See USS Missouri)
Sat June 14, 2014+
ARRL June VHF Contest
Sat June 28, 2014+
ARRL Field Day and Hawaii Field Day
Fri August 22, 2014+
Hawaii QSO Party
Tue Sept 2, 2014
USS Missouri, KH6BB, Anniversary of the End of WWII
Sat Sept 20, 2014
EARC Mini-Field Day, 4 pm
Sun Sept 21, 2014
Kona Amateur Radio Society, Big Island Grid Madness, 1:00-5:00 pm HST
Sat October 4, 2014
ARRL Simulated Emergency Test
Fri October 23, 2014+
CQ World Wide Contest - Phone
Fri October 31, 2014+
ARRL Sweepstakes Contest - CW
Fri November 14, 2014+
ARRL Sweepstakes Contest - Phone
Saturday November 15, 2014
EARC Swapmeet, 10 am - 2 pm
Sat November 15, 2014
Big Island International Hamfest, BIARC and KHRC, Waimea, Big Island, 8 am, Waimea Community Center
Fri November 28, 2014+
CQ World Wide Contest - CW
Fri December 5, 2014+
SKYWARN Recognition Day
Fri December 12, 2014+
ARRL 10 Meter Contest
Sun December 14, 2014
Communications for Honolulu Marathon. Email Greg NH6ZS for more details.
Updated Monthly
ARRL Pacific Section News
November 30, 2014, updated November 30, 2014
October 14, 2014, updated October 14, 2014
September 16, 2014, updated September 16 2014
The annual ARRL Simulated Emergency Test is scheduled for Saturday, October 4 from 9:00 am to 12 noon. See the Hawaii SET 14 webpage.
September 9, 2014, updated September 2014
The Big Island of Hawaii International Swap meet will be Saturday October 18th, 2014 at the Waimea Community Center, next to the ball field off Kawaihae Road in Kameula, Hawaii. There will be a $10 donation per table per seller and a $5 donation per attendee at time of registration.. See the BIARC Swapmeet webpage and the KARS webpage.
Schedule
8:00am Breakfast at Hawaiian Style Cafe
9:00am Vendor setup
10:00am Doors open to public ( be sure to get your tickets for the raffle )
11:00am Drawing for Major Door Prize
12:00pm Swap meet portion closes, setup for VE testing.
12:00pm - 1:00pm Lunch and cleanup.
1:00pm VE testing ( a good time to upgrade your license )
2:00pm Event comes to a close.
There will be qsl card checking, raffles, and surprise giveaways thru out the day.
Please note: This is a non commercial event that promotes the trading of equipment and information between hams and the general public and to promote the open exchange of exploring Ham Radio as a hobby. Talk in 146.940 Maui Repeater, 147.32 Waimea repeater and 443.650 ( 100hz tone ) Kona. Contact Steve Milner WH6N 808-938-8437 - PO Box 6573 smilner@keck.hawaii.edu
Thanks for supporting Ham Radio in the Hawaiian Islands
August 12, 2014, updated August 12 2014
August 7, 2014, updated August 7 2014
Find out more by contacting: rhashiro(remove this part)@hawaiiantel.net
Copyright © 1997-2014 Ron Hashiro
Updated: November 30, 2014
DISCLAIMER: Ron Hashiro Web Site is not responsible for the content at
any of the external sites that we link to and therefore
are not necessarily endorsed by us.