---
Andrew Roos ZS1AN
PO Box 350, Newlands 7725, South Africa
email: [email protected]
Fists No. 8921 - CQ Zone 38 - ITU Zone 57 - Locator JF96
---
Navigation: Home Articles Diary Digital Voice RAE Course Station Guestbook
Recent Additions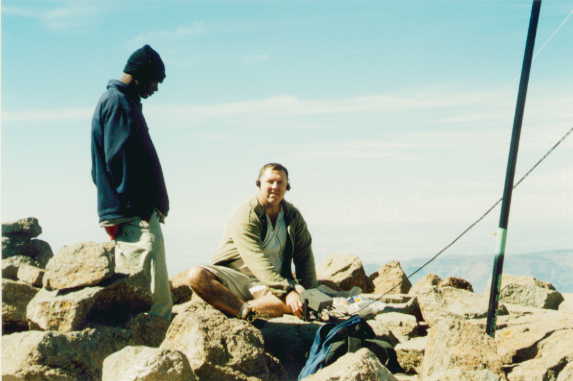 Operating my K1 from the summit of Cathedral Peak (3,005 m)
Welcome to my Amateur Radio homepage, thanks for stopping by. My name is Andrew Roos and I live in the city of Cape Town, South Africa. I have been a radio amateur since 2001.
My amateur radio interests include antennas, CW, contesting, digital voice, DXpeditions and electronics. I am the Education Councillor for the South African Radio League and I also run RAE training courses for my club, the Cape Town Amateur Radio Centre. I am the association manager for Summits on the Air in South Africa and in 2003 activated Cathedral Peak, which at 9,859 ft is the highest peak activated to date for SOTA. On these pages you can find information about my station, a diary of some of my DXpeditions and other activities, as well as a number of articles and presentations I have written.
I work for a software development company called ExiNet which specialises in building complex systems using Java. My role includes architecture, design and project management. My hobbies include aviation (I hold both a Private Pilot's License and a Glider Pilot's License) and astronomy.
I hope you have enjoyed your visit to my website. Please email me if you have any comments or suggestions. I hope to meet you on the air!
73,
Andrew
My usual QSL Card (not the one for Dassen Island)
Last updated on 2 May 2005