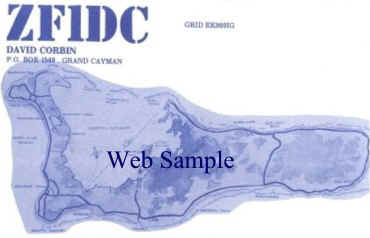 Grid locator is EK99hg
Last Updated: 04 July, 2003
---
Wondering what the weather is like in the Cayman Islands: Cayman Islands Weather
Check out the ham shack and antennas: Ham Radio Equipment
Finally something to get excited about on Sun Mar 30, between 22Z-23Z I worked W4/5/6 stations and then all of a sudden I heard KH6 very strong. The KH6 path was about 10 degrees south of a direct path. The amazing thing about Sun was that I heard W4's when beaming 220, W6's when beaming 240-250, and KH6's beaming about 270. I have never seen this happen but apparently there was a massive "cloud" that supported prop in many directions. I could not hear anyone when beaming 180 or less in the direction of LU. I found it because someone spotted the HC8 bcn and I decided to listen for it but did not hear it at all. Was very amazing. Then Mar. 31, between 19Z-20Z not to be outdone the same area beaming 220 I heard some W4 then W0 then W5's about S7-8. Then all of a sudden in popped a ZL, he climbed to 59+ and was gone in about 20min. The MUF stayed high but there was not alot of activity. Then at 2245Z was calling CQ and VK4APG was worked.
To see a daily account of new DX (or just great openings) on 6M please check my Highlights of 2002 and my Highlights of 2001.
ZF1RC's VIKING 55. When not listening to static we go out on the "Pocket Change"
Please check out the countries and grids I have worked so far on 50 MHz: Countries Worked on 6 meters , Grid Squares Worked on 6m
Check out a list of ZF Firsts on 50 MHz
Audio clips of 50MHz from ZF: Real Audio
Need a qsl card? Here is the QSL Information for ZF1DC and ZF1RC.
Jim Holt (ZF2BI / K4BI) has a house on the northern side of Grand Cayman and comes down here quite a bit. When he comes to Grand Cayman we will get together (when there is no 6 meter propagation of course..) and have a meal or maybe just a few drinks. Check out some pictures of his set up here: ZF2BI
VERY IMPORTANT TO ALL 6M operators: Recommended Code of Operation Practice for 6M Operators
When looking for 50MHz openings a good thing to monitor is the high power TV in the 48-49 MHz bands. Here is a list of the known Early Warning TV Frequencies.
6 Meter propagation clusters all on one page 6M Clusters
Possible Africa paths.
A fantastic website has been created by N3DB on skew path and long path propagation with text and graphic descriptions. Visit N3DB.
Pictures from the W6JKV BBQ 2001: W6JKV 2001 BBQ
World centered on Cayman Islands. Also on this page is a program that produces Azimuth maps centered on any location. AZMap
AO40 is horrible again. (April 2003)
Links - Mostly Ham Radio but also a few other things of interest.