Burosch Electronic - This software offers technical data of about 54.000 semiconductors and IC's. Function, housing, pinout, technical data, comparison types.

Burr-Brown Integrated Circuits Data Books and catalogs.

Philips Semiconductors Microcontrollers and Memories.

Philips Semiconductors diodes, hybrid amplifiers, optocouplers, trigger devices.

Philips Semiconductors bipolar and field-effect transistors.

Philips Semiconductors small signal, LF, RF, wideband transistors.

Texas Instruments Linear IC's Data Books.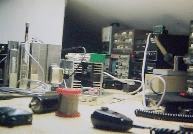 PartMiner 3.013 part1 and part2- online electronic components searching program. Need activ Internet connection with proxy server. Connect automatically to www.partminer.com.

General transistor database in Hungarian language

General diode database in Hungarian language

General CMOS IC database in Hungarian language

General TTL IC database in Hungarian language

General memory database in Hungarian language

General operational amplifier IC database in Hungarian language