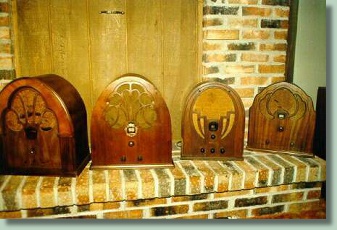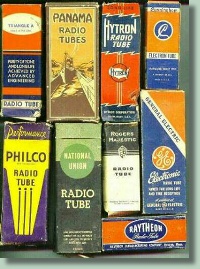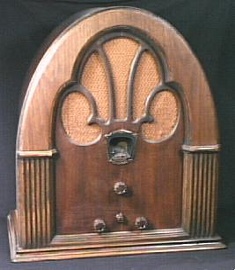 There is an old antique radio I've always wanted - a Philco cathedral. I've finally connected with a couple of them now and have had a fun and educational time restoring some of them.

The old tubes used in these machines are quite the technology.

Advertisements from Philco read:
"Use nothing but Philco tubes in this Receiver for 100% Balanced-unit performance"


The tube shield label is still in good shape after nearly 80 years !

The Philco 70 on the bench undergoing a cleanup

...what they look like when actually put together...

The Philco 70 Cathedral

Built of walnut with a center front window dial, upper cloth grill with cut-outs, fluted columns, 7 tube chassis.

1931 "Baby Grand"

You can't stop with just one! Here are the Philco 70, 20, 60 and 50.

Philco 37-610 console 1937, BC, SW, 5 tubes

Philco Model 45 Compact (45C) "Butterfly Grille" Table Radio (1934)

Broadcast, Shortwave - 6 tubes

"At Last! A radio that truly meets the modern demand for
performance, a superheterodyne receiver PLUS balanced
units PLUS balanced tubes. ... Remember, superheterodyne
is not enough. It takes Philco's BALANCED superheterodyne to meet the modern demands of crowded broadcasting conditions".

"a little gem with such big-set features as
automatic-volume-control, tone control,
electro-dynamic speaker, etc. Guaranteed
foreign reception in addition to your
favorite American programs"

A. H. GREBE & COMPANY, INC.

Grebe Synchrophase MU-1 1926-27 battery operated receiver

One of the best, if not "the best," Battery-operated TRF-Neutrodyne radio receiver, with performance that is matched with timeless styling. The new Synchrophase literally was the best performing non-superheterodyne radio at the time - all for $155.

The front components are mounted on a faux grained dark red mahogany bakelite panel for a look that was striking and unlike anything else on the market.

Grebe developed an easy mechanical coupling that could allow a "single-dial tuning," but was also was easy to change to individual dial tuning for better accuracy.

Receivers in the 20's evolved quickly as broadcasting caught on and settled in on an official band from 550 kc to 1500 kc (FCC 1927) Thus the internal circuitry of receivers like this, went through some rapid changes. This one appears to have a few changes from the middle of the production time.

Front panel controls: Left dial, Master dial, Right dial (bottom row - top row are corresponding indicator dials.)
middle row: Tone color and volume.