MY LOCATION (QTH): ALEXANDROUPOLIS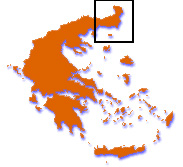 Alexandroupolis, the capital of Evros Region , possesses the leader position in the geographical area of E. Macedonia and Thrace, as it composes the connection's basic gate among the European Community's countries and the Mediterranean countries, Asia's and Black Sea's zone. It has been distinguished as the major internal border comb of the European Community.
The city of Alexandroupolis follows quick rhythms in the financial development. The harbor and the rail station compose the important centers in the transit trade.
EVROS: The Prefecture of Evros is located in the eastern part of the District of Thrace. The capital is the city of Alexandroupolis. It covers an area of 2543 km2 and to the south is bordered by the sea. The land is mountainous only in its south-western side, with the highest peak Mount Silo (1065 m). The rest of the land is a fertile green plain. In the region there are two large rivers: the Nestos River that is its western border and the Evros River that is its eastern border and also the eastern border of Greece.
The mouth of the Evros River is an important wetland, with rare species of birds and other animals, where it is not permitted to hunt. The climate is warm in summer and very cold in winter. In the region there are therapeutic springs, near the village of Loutros, 14 km from Alexandroupoli, with large curative properties.
The principal agricultural products are cereals, legumes, vegetables, grapes and sugarbeets. It also produces beef, pork and cheese. In the town of Soufli the cultivation of silkworms and silk production are highly developed.
According to history, in 334 BC, in this region near the sea, Alexander the Great founded a city, that later was depopulated. In the 19th Century, the Russians, who conquered this land, rebuilt a city again in the same place. When the region became part of the Greek state, in 1920, this city took the name of Alexandroupolis. Today it is the capital of the prefecture and a modern well-planned city.
The Prefecture of Evros is a place with natural beauties and offers quiet and pleasant vacations, far from the great current of international tourism. The beautiful clean beaches, the wildlife reserves of the Evros River's mouth, the caves and the historical remains of the area of Didimoticho are reasons for visiting this land.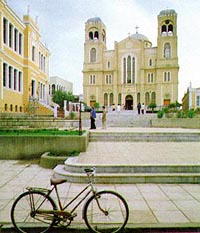 The capital Alexandroupolisis an attractive modern city that merits visiting. Finally, the therapeutic springs of Loutros are visited by many people.
The green island of Samothraki, 29 n.m. from Alexandroupolis, is a place for beautiful excursions.
Communication with the capital (Alexandroupolis)
A highway from Athens to Thessaloniki and from there a national road link Alexandroupolis to Athens (850 km).

Buses link Alexandroupolis to Athens (850 km) and Thessaloniki (343 km), several times a day.

Trains connect Alexandroupolis with Athens and Thessaloniki.

The Airport of Alexandroupolis connects the city with Athens, daily.

Ferryboats connect the port of Alexandroupolis with the city of Kavala, the islands of Samothraki, Limnos and Mytilini