The Radio Amateur Society of Thailand's new world-class amateur radio station has been formally opened on the Pathum Thani campus of the Asian Institute of Technology (AIT).
The station will provide a facility for radio amateurs in Thailand to develop their operating skills to a world class standard in International radio communication and competition. It will also present an opportunity for AIT students to learn about amateur radio and to engage in the hobby, according to President of the Radio Amateur Society of Thailand (RAST) Mrs Mayuree Chotikul.
Operators at the station will be licensed members of RAST, Thailand's national amateur radio society which is under the Royal Patronage of His Majesty the King and is a member of the International Amateur Radio Union, an ITU-affiliated body.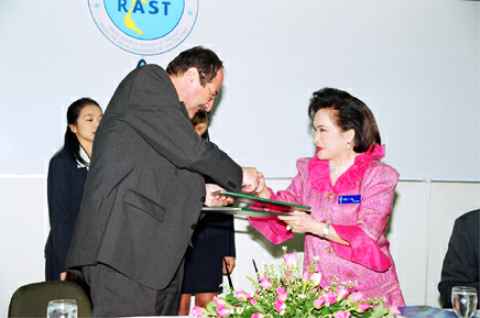 The lease is now signed (Photos above and below: E21EIC)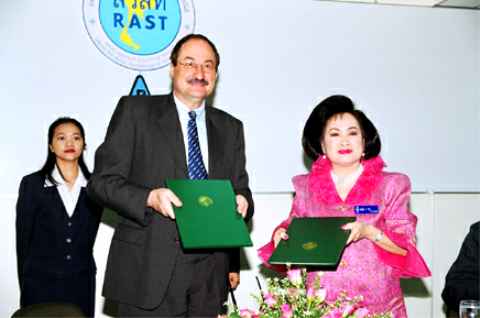 AIT President Jean-Louis Armand and RAST President Mrs Mayuree signed a three-year lease agreement and cut a symbolic ribbon on June 15, 2004 to declare the station open. The station had been built on the premises of a former electricity sub-station by AIT staff and contractors along with volunteers from the Radio Amateur Society of Thailand over the period of a year and at a cost of over 450,000 baht.
The work was jointly funded by AIT and RAST, with generous financial support from the YASME Foundation, a California-based organisation that supports radio operations from exotic and hard-to-contact parts of the world.
Among those witnessing last week's ceremony were the Treasurer of the YASME Foundation, Charles Epps, AIT Provost Mario Tabucanon, several RAST vice presidents and members along with AIT faculty members.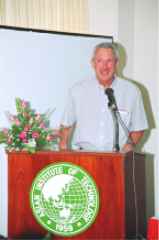 YASME Treasurer Charles "Rusty" Epps, W6OAT, says a few words (Photo: E21EIC)
Prof Armand noted how amateur radio had played a key role in paving the way for many of the technological developments that we take for granted today while the RAST President thanked the institute for its long-standing relationship with the national amateur radio society, which has had a presence on the campus for most of the past 22 years.
Operations will begin at the station by using a special callsign ``HS72B'' that commemorates Her Majesty the Queen's 72nd birthday this August, for which permission has also been granted to operate on the 10-, 18- and 24-MHz so-called ``WARC'' bands in addition to the usual short-wave amateur radio bands.
The callsign normally used by the club station, and how it is known worldwide, is "HS0AC".
Contacts with Thailand from around the world using the WARC frequency bands are very highly valued and the HS72B callsign will be an extremely popular one, while Thai operators will be able to improve their skills by engaging in radio contacts with as many stations as possible with this callsign, according to the station manager Raymond Gerrard.
Mr Gerrard, who is also a vice president of RAST, said that the station was not yet complete, but had been ``launched like a new ship with the hull and infrastructure in place.''
Furniture and computers were provided to serve five operating positions, he said, adding that two of these were now equipped with radio transceivers, and four antennas are in place _ two directional yagi beam arrays (a C3 7 element tri-band beam covering 14,18, 21, 24 and 28 MHz bands, and a 4 element monoband yagi for 21 MHz) and two wire dipoles (10 MHz and 7 MHz).
These were mounted on two support towers of 24 metres and 27 metres, he said, adding that there were plans to expand this set-up.
The station building is now complete with some special features for a radio station, such as a robust electrical supply system, a specialised grounding system, and an antenna feeder interface panel which provides lightning protection.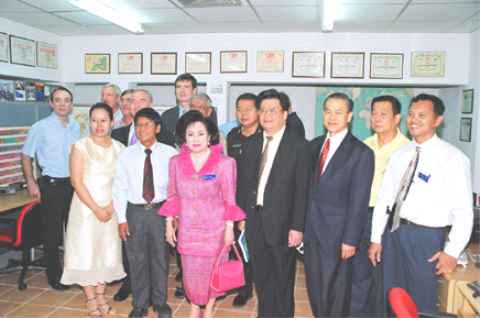 Many senior representatives took part in the opening ceremony, which concluded with a tour of the station facilities, with several RAST officers and AIT Faculty members at the club station in this group picture. (Photo: E21EIC)
Computers were used for electronic logging, continuous internet access and for modern digital modes such as PSK31, slow scan television, and radio teletype, said Mr Gerrard, who noted, however, that the club's radio equipment was rather old, consisting of a Kenwood TS950D and ICOM IC781 HF transceivers.
``We have ancillary equipment such as antenna rotators, power supplies, VHF radio equipment, switches, electronic keyers, and microphones, etc., all of which have been donated by visitors and radio societies over the years,'' the station manager said.
The principal donor organizations are The Japan UNICEF Ham Club for equipment, the Central Arizona DX Association USA with tower hardware and Western Digital Corp of Thailand with furniture, while Mr Gerrard said that a full list of donors and supports would be "too long to publish."
The station is open to all licensed members of RAST and reflects a long relationship between AIT and the national radio society that dates back to 1983, when amateur radio operations were restricted during the drafting of new Post and Telegraph regulations to govern the activity, explained RAST President Mrs Mayuree.
A vice president of RAST, Prof John Hugh-Jones, who was then also a vice-president of AIT, had proposed that members establish a station on the campus to activate major international contests so as to keep Thailand's ``voice'' active on the international short wave bands, she said.
For five years, AIT's support and RAST's members' activities enabled the ``HS'' prefix denoting Thailand to be heard worldwide and this certainly accelerated the passage of the amateur radio act of 1987 that governs ham radio activities today, according to Mrs Mayuree.
RAST now has over 600 members who are amateur radio operators with transmitting licences that enables them, through self-training, to improve their skills that are important during emergencies and that serve as an important national resource.
From left: Radio Amateur Society of Thailand (RAST) club station manager and vice president Raymond Gerrard, HS0ZDZ)RAST President Mayuree Chotikul (HS1YL), Asian Institute of Technology (AIT) Provost Mario T. Tabucanon and AIT President Jean-Louis Armand at the amateur radio club station during the opening ceremony. (Photo: HS0ZDX)