Pic'n Mix without any Pic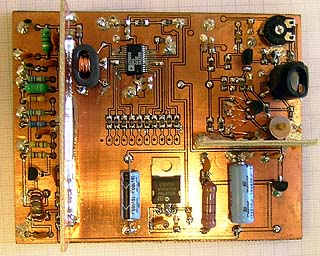 Here's my DDS board while it was waiting for its last components to be fitted.
Description
On the left side, you can see the LPF and output circuitry.
At the top-center sits the AD9850, with the output BalUn transformer on the left.
In the middle, the connector has since been fitted under the board.
At the bottom is the power supply.
And on the right, the reference oscillator. The big black ugly thing on the right is the crystal oven.
Rule 1 : Build on Experience
Introduction
As I'm using my own controller board, I didn't need all the stuff that comes with Pic'n Mix. I needed the DDS, but not the micro-controller, the display and so on... But the advantage of Pic'n Mix is that it's a proved design, which has been tested by numerous users, and which has evolved to become better (notably in the spurs reduction area).
So, Instead of reinventing the wheel, I decided to redraw a board including the DDS part of Pic'n Mix, including recent developments, but to throw away the stuff I didn't need.
What's different ?
So, there's no PIC and no associated logic on this board. Instead, there's a connector (fitted on the ground plane side, ala Pic-A-STAR), to connect to the controller.
I decided to drive the AD9850 in parallel, because I'm not limited in IO pins as in Pic'n Mix.
The chip is fitted directly on the board, instead of being on a different assembly. It's soldered normally. There's no 'undead-bug' technique involved.
The AD9850 is overclocked at 140MHz. Important : This is out of specs. So, don't do it. Or if you do and it cooks your chip, don't blame me. Even if it doesn't cook it, it could reduce its life. Well, you've been warned. You can also fit an AD9851. Take your own decision.
What's new ?
The reference oscillator is just taken from Peter's article in the september 2003 issue of RadCom.
From the same article, I kept the idea of a scale of decoupling capacitors on each side of the chip.
Again in the same article, Peter suggests to put a transformer at the output of the circuit, and I just did that.
What's else ?
Of course, the reference oscillator is boxed, but I also screened the output section (low-pass filter, etc...) from the rest, so the AD9850 sits almost alone in the middle of the board.
Back to home page.