You have to make contacts to get results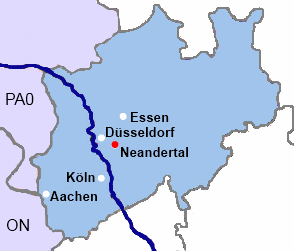 The "Neanderthal Chapter" was founded in May 1997 and affiliated with the 10-10 International Net in July. The chapter has about 30 founders. Chapter Head (CH) was until 2021 Karlfried Henrichs, DL1EK. Since 2022 the Chapter Head (CH) is Elfi Herre, DF3TE.
The weekly Neanderthal Chapter net will be held every sunday afternoon at 14:00 UTC (summer 16:00 CEST) and 15:00 UTC (winter 16:00 CET) on 28.355 MHz. Feel free to check in, everyone is welcome.
The chapter is located in the groundwave distance around the cavern, where the skull of a 50.000 to 80.000 years old "homo sapiens neanderthalensis" was found in 1856.
This place is close to the city of Düsseldorf, the capital of the state of "North-Rhine Westfalia". To the south is the city of Köln (Cologne), in the west corner you will find Aachen, the northern end is marked by the city of Essen. The most eastern cities are Solingen and Wuppertal.
Our certificate manager was working very hard early 1997 for a nice award program (foreground). The chapter head had the better arguments (background).