CURRENT INTERESTS...
---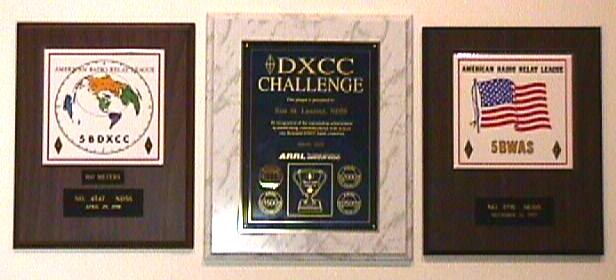 My current interests are DXing and Contesting. Actually, my buddies Bil (W8EB) and Bob (W9NIP) got me hooked on DX back in 1995. They didn't know the monster that they would create. They also didn't warn me about the expenses involved in QSLing! I soon found out. I now hold:
5 Band WAS
5 Band DXCC (& DXCC CW, SSB and RTTY)
160 DXCC
12/17/30 DXCC
5 Band WAZ (& WAZ CW, SSB and RTTY)
160 Worked All States
DXCC Honor Roll (330 Countries)
DXCC Challenge - 1500 band/countries
I contest in CW, RTTY and PHONE, in that preferred order. I have a good number of first place certificates for my state and section. Each year I try to improve on my performance.
I started contesting as a way to build up my country/band totals and ended up getting hooked on the competitive fun. Oftentimes relatively rare countries are on the air during contests. Also, many Super Stations are active and they have both great receive and transmit capability . . . a real plus to the small stations looking to make contact.
Achieving 5 Band DXCC is well within reach of the average station. At a minimum, the first 100 countries on 40 and 80 meters in the table below were worked using a Butternut HF6V ground-mounted vertical.
I used my Quad for 10, 15, and 20 meters, but I'm sure that the vertical would also have easily worked 100 countries on each of these bands.
DXCC STATUS (Active Countries)

- Through 04 December 2006

| | | | | | |
| --- | --- | --- | --- | --- | --- |
| CATEGORY | WORKED | CONFIRMED | CATEGORY | WORKED | CONFIRMED |
| DXCC Mixed | 335 | 332 | DXCC 30 | 180 | 157 |
| DXCC SSB | 330 | 323 | DXCC 20 | 325 | 318 |
| DXCC CW | 327 | 317 | DXCC 17 | 274 | 242 |
| DXCC RTTY | 278 | 239 | DXCC 15 | 313 | 303 |
| DXCC 160 | 128 | 124 | DXCC 12 | 259 | 219 |
| DXCC 80 | 201 | 188 | DXCC 10 | 278 | 263 |
| DXCC 40 | 277 | 259 | DXCC 6 | 0 | 0 |