9M6OO
The DXpedition continues!
PAGE 2
I spent two days/nights (Oct 30-31) with my old friends Stephen 9M6ET and Senny 9M6IQ.

Stephen 9M6ET in his "ham shack"

Senny 9M6IQ and Stephen 9M6ET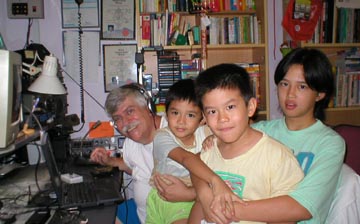 Stephen and Senny's 3 children were fascinated with my CW operating!
(Bob) and Ashley, Arnold and Amanda.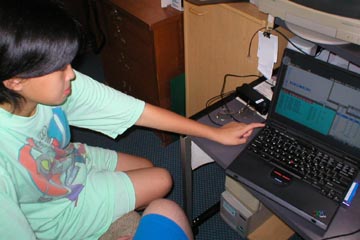 Here is Amanda "helping" me send CQ! All the kids helped me work the pileups!
I also taught them about the CQ Zone which comes up for each QSO put in the log.
They would look up the zone on "dad's" Yaesu map on the shack wall!
I had a most enjoyable two days/nights visiting with my old friends and I enjoyed some operating as well.
Made some 440 QSO's with 100 watts and no line noise, including many NE USA the first evening using "ET's" IC-735 on 20 meter CW!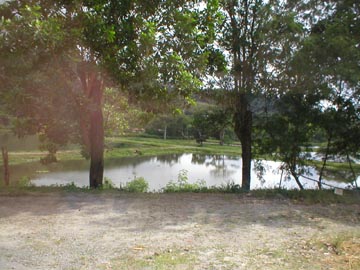 Stephen and Senny live on a large tract of land in a rural area on the outskirts of Keningau.
It includes these fish ponds which were started by his grandfather many years ago.
Stephen continues to stock and maintain them today.
Also on the grounds are a quarry, rock crushers, asphalt plant and concrete plant, all part of his
road and pavement construction business.
The boys are back in town!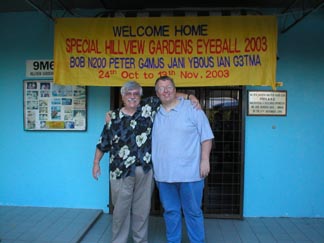 Bob N2OO/9M6OO welcomes Peter G4MJS back to Hillview on Nov 1st.

Peter jumps right in and starts a big JA pileup on 6 METERS as 9M6AAC!

Men in shirts in the official CQ Bar!

Bob gets a haircut at the local salon!

Peter gets a pedicure!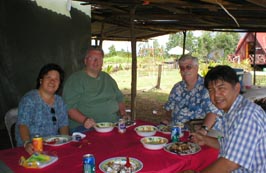 Peter plants a tree at Eagle Plateau! We enjoy lunch in the Eagle Plateau dining room!

I can't wait for Jani to arrive!!!
Jani arrives!

Jani YB0US/NM6US/9M6US arrives Nov 5th

Jani goes straight to work!

Lelu gave birth to 8 puppies when I first arrived... here they are 3 weeks old now.

Peter does a night at Eagle Plateau

On Nov 8 we are visited by Capt Philip 9M6CT
YB0US, G4MJS, 9M6CT, N2OO

The THREE AMIGOS take a rest in the pool during the intense JA DX Contest!
TO PAGE 3
More photos!

Back to "page one" of the 9M6OO photos
To the N2OO compilation of BQ9P DXpedition photos
To the official BQ9P DXpedition web site (and log search)
To the Hillview Gardens (9M6AAC) web page
November 10, 2003