9M6OO
Bob Schenck, N2OO
operating from the beautiful
Hillview Gardens Amateur Radio Club
(9M6AAC)
Keningau, Sabah, East Malaysia
from DEEP in the heart of BORNEO!
October-November, 2003

Bob arrives in Sabah!
Michelle, Brendyn, Alfons, Bob, Hassan 9M6MA, Doris and Jason at the airport in Kota Kinabalu!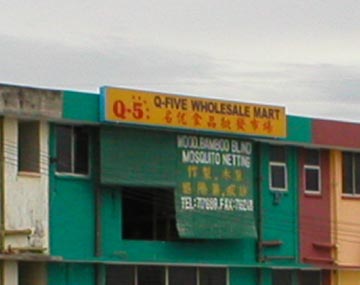 Looks like a good place to buy a new rig?

Traffic jam in Keningau!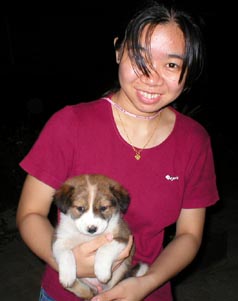 Brenda arrives home from school for 2 week break!
Here she is holding a 5 week old puppy at Eagle Plateau!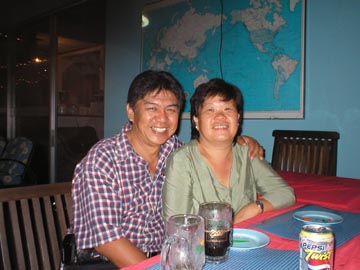 Alfons and Doris present Bob with a new 9M6AAC jacket in the CQ Bar at Hillview!

Ian G3TMA enjoys a brew on the Hillview deck.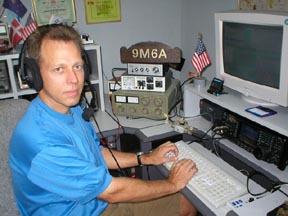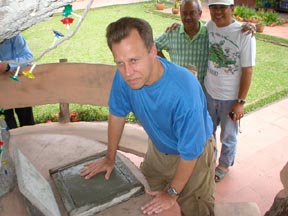 Harry WX8C comes for the CQWW SSB Contest, and takes time to make his Hillview palm print!

The road up to Eagle Plateau is truly spectacular! One view on the left... One view on the right! Wow!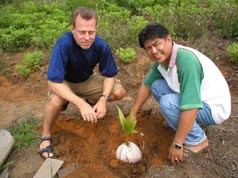 Harry WX8C plants a tree at Eagle Plateau.

Bob N2OO plants his tree at Eagle Plateau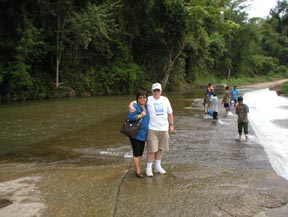 Bob and Doris ham it up at the Apin Apin dam... just before we drove over the dam enroute to Eagle Plateau.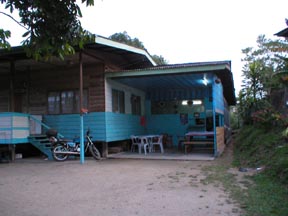 This is the Apin Apin drive through fast food restaurant! Really!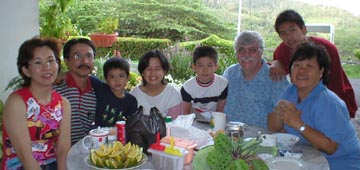 We stop to visit with old friends Senny 9M6IQ and Stephen 9M6ET (on left) and their 3 children.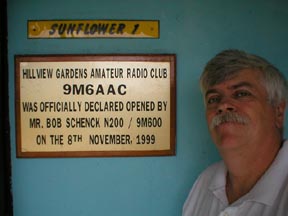 Here is the entrance to the Hillview hamshack... and the grand opening plaque from 4 years ago.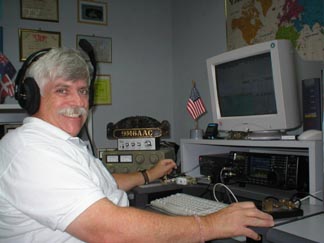 Running a pileup as 9M6OO!

The "OFFICIAL" CQ Bar! Sponsored by CQ Magazine... and a view of the CQ Bar just to the left of the pool.

Here is the outdoor mushroom where occasionally a radio has been placed outdoors. The Rafflesia
Tower with the C3 antenna on top can be seen in both photos.

On the left is the 6 meter / WARC tower. Stacked M2 6 meter beams and an A3W with 30 meter add-on kit is mounted fixed north below.
On the right is the main primary tower at Hillview with 2 element HyGain 40 meter beam on top and a 4 element Cushcraft CD204 20 meter beam
just below it. Also, the visible wire is a leg of the 80 meter inverted vee... There is also a 160 meter inverted vee up there somewhere.
More pics to come
Last updated Oct 28, 2003
TO PAGE 2
More pictures from 9M6OO !
Take me back to the N2OO compilation of BQ9P pictures
Take me to the official BQ9P website (and log search)
To the Hillview Gardens 9M6AAC website!