9M6OO
Page 3!
The Borneo DXpedition wraps up!
Happy 4th Birthday
9M6AAC
New Shack!
November 8, 1999 - November 8, 2003

Alfons and Doris celebrate the 4th anniversary of the "new" 9M6AAC shack on Nov 8, 2003!

Senny 9M6IQ and Stephen 9M6ET celebrate the anniversary with us!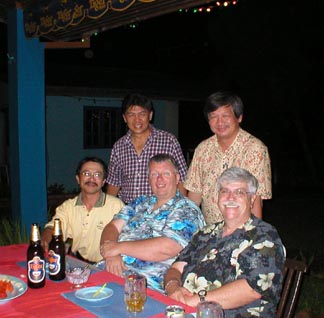 Honored guests at the celebration: Standing Alfons 9M6US and Jani 9M6US/YB0US
Sitting: Stephen 9M6ET, Peter G4MJS, Bob N2OO/9M6OO

Senny serves up some "Steamboat" for the celebration! Amanda and Stephen look on...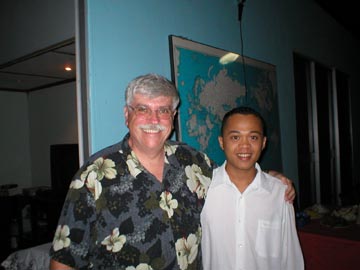 Bob and Marc... a worker at Hillview Gardens. Doesn't Marc look like a small "The Rock"?
Can you smell what The Rock is cookin'?

Marc shows off his one year old son Jesse!
LINE NOISE? WHAT LINE NOISE?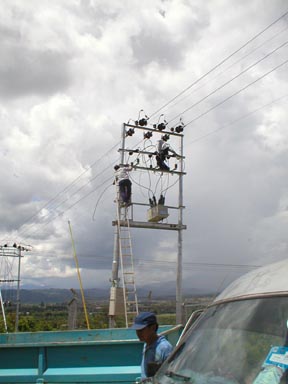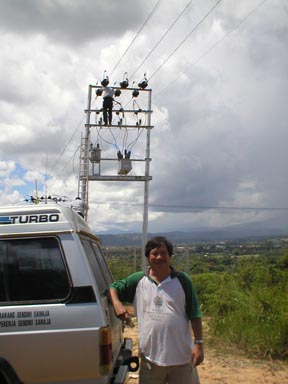 Jani keeps a careful watch on the Sabah Electric men trying to help us locate a line noise problem down the road from 9M6AAC.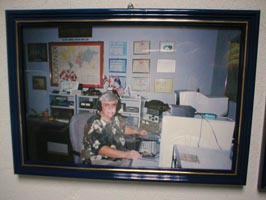 My photo finally adorns the shack wall at 9M6AAC.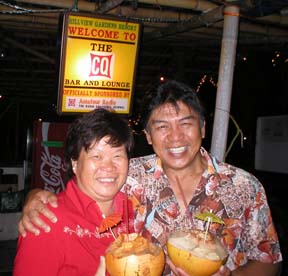 Doris and Alfons at the CQ Bar and Lounge

Chow and Nancy at the CQ Bar and Lounge
Visit to 9M6CS Nov. 11th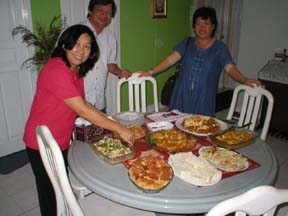 Nancy says "Come and eat!"

On Nov 11th we visited Nancy and Chow (9M6CS). Nancy prepared a fabulous cake for dessert!

Here is the CAKE ! Yummmmm!

Wow!
The final set of pictures....

Three more views of the Hillview Gardens 9M6AAC towers...
l to r: The main tower with a HyGain 2 element 40 meter beam on top and a Cushcraft 4 element 20 meter beam below.
The second tower has stacked 6 meter M2 7 element beams (shown pointing in 2 directiosn) with A3W WARC beam below.
The third tower is the "Rafflesia Tower" holding the Force 12 C3.

Farewell Hillview! Bob has one last Tiger Beer at the now world famous CQ Bar and Lounge!

Farewell Keningau... the view of Keningau from the deck at Hillview. Spectacular as usual!
A very special thank you to Alfons, Doris and the children... Brenda, Jason, Michelle, Brenden for making our month at Hillview so very memorable.
Special thanks to the staff at Hillview: Marc, Jenny, Eya, Aning, Atang, Jack, Noli, just to name a few.
Goodbye Sabah... "Land Below the Wind"!
Hope to come back soon!
Bob Schenck, N2OO/9M6OO
Selamat Datang ke Keningau!
Back to "page one" of the 9M6OO photos
To the N2OO compilation of BQ9P DXpedition photos
To the official BQ9P DXpedition web site (and log search)
To the Hillview Gardens (9M6AAC) web page
Updated November 12, 2003