BQ9P DXpedition
2003
A pictorial assembled by
Bob Schenck, N2OO/9M6OO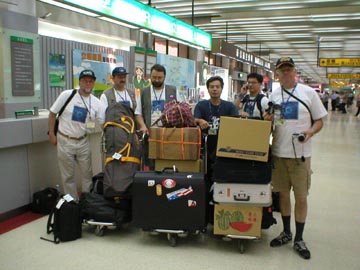 OE1WHC, DL3DXX, DK7YY, JI6KVR, BV3BW, ZL4PO in airport
with gear waiting to board flight to Pratas

The Commander on Pratas Island greets Yuki JI6KVR and Bob N2OO upon arriving on the island.

Lester ZL4PO works on an amplifier while Wolf OE1WHC looks on...

Bob N2OO running the pileups at BQ9P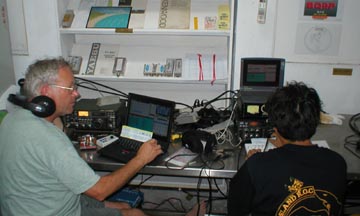 Lester ZL4POand Yuki JI6KVR running the pileups at BQ9P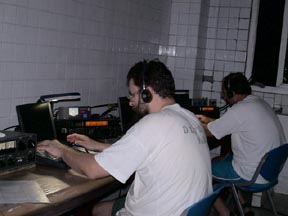 Falk DK7YY and Dietmar DL3DXX man the low band stations in a separate room next door.

Yuki JI6KVR ran some SSTV from Pratas. Here is a QSO in progress from DL9GR.
The third photo from left is the picture sent from Pratas... a satellite view of the atoll.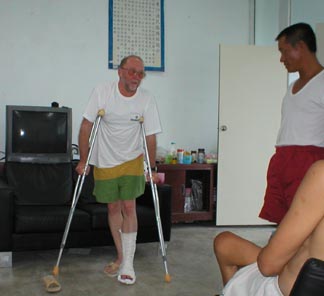 Wolf suffered a broken toe while still in Taiwan. He had it xrayed on Pratas.
The doctor on Pratas stabilized it and Wolf OE1WHC shows us HIS souvenir from this DXpedition....
a brand new set of crutches! Man standing on right is the Vice Commander.

Our LOW BAND antennas. In the distance you can see a V80 vertical. A little closer is
Butternut HF9V. Up front is another V80 vertical. All set up on the beach right behind
the BQ9P shack through the sand dunes.

The HF antenna farm at BQ9P. (l to r) C3 #1, 6 meter beam, Force 12 WARC beam 12/17,
V80 (actually on the each), C3 #2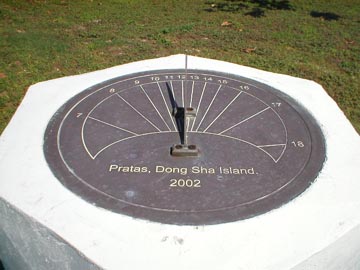 Sun dial on Pratas (also known as Dong Sha Island)

Standing: Lester ZL4PO and Wolf OE1WHC
Sitting: Dietmar DL3DXX, Bill BV3BW, Bob N2OO
at the entry marker on Pratas (thumbs UP!)

Team photo at BQ9P 2003
l to r sitting: Wolf OE1WHC, Lester ZL4PO, Bob N2OO, Dietmar DL3DXX,
The Vice Commander of Pratas, Paul BV4FH, Falk DK7YY, Yuki JI6KVR, Robert BV3FG, Bill BV3BW
Standing: The Taiwanese military officers stationed on Pratas.
PAGE TWO
more pictures!!!