---
FLASH
Will be added to/changed as Time passes
---
Accused Author of Melissa Virus arrested in New Jersey
April 2nd 1999
How to Protect Yourself Against Melissa
Avoid this fast-spreading virus
by not launching Word files from certain e-mail messages--and
updating your antivirus software.
Whether you call it "Melissa" or "Mailissa," it's becoming clear that this PC virus--or worm--is the most widespread we've seen to date. According to antivirus researchers, Melissa first appeared Friday in a sexually oriented newsgroup, and was (it seemed) everywhere on the Internet in a matter of hours.
Melissa is a Microsoft Word macro virus that infects your PC as soon as you open itse-mail attachment. Because it grabs names from Microsoft Outlook address books and resends itself, it has the potential of causing a domino effort of cascading e-mail messages that can bring even the largest mail servers to their knees. Some companies have shut down their outgoing mail in response.
Companies that make antivirus software spent a busy weekend coming up with updates that detect and remove Melissa.
Protect Yourself
Although Melissa is one of the most "successful"
viruses ever, you don't have to be a victim.
Melissa messages come with a subject header that
starts "Important Message From," followed by a name.
The name may be a familiar one to you, especially if it
pulled your address from a computer of a friend or
business associate.
The message text says, "Here is the document you asked for ... don't show anyone else ;-)."
or
Inportant information/message
If you open the attachment, your PC will be infected. If
you delete it, you're safe. And if you don't use Microsoft
Word 97 (or the prerelease version of Word 2000),
breath a sigh of relief: Melissa can't infect your computer.
If you use Word 97 or Word 2000, but don't use Microsoft Outlook, Melissa can't grab your e-mail
addresses and propagate itself. But it can still infect your computer, and while it doesn't appear to do more than send out more such messages, its other potential effects aren't completely understood yet.
It's not yet clear whether Melissa can get e-mail addresses from Outlook Express.
One particularly troubling possibility (not yet confirmed) is that the virus may randomly send your own Word documents to others. And it doesn't take much thinking to consider the trouble that could cause.
Taking Other Steps
Whether you have antivirus software on your PC, you can disable automatic macro execution in Word 97 Select Tools, Options, General and make sure the "macro virus protection" box is checked.
All major antivirus software companies have updates that handle Melissa. If you are running antivirus software, you should update it immediately.
If you don't have antivirus software, consider downloading the free trial software offered by many companies.
To make sure that your PC hasn't been infected by
Melissa, go the Trend Micro's HouseCall site, which will
perform a virus check on your PC via the Internet
---
Learn How To Skyrocket your Online Sales by 837%
This guy is the real deal. As part of my ongoing mission to find the absolute best tools for you to make money, this is without a doubt at the top of my list. I highly endorse it.
Corey Augenstein - Publisher Network Marketing Today Magazine
The author of this site, Corey Rudl gets over 2 million visitors to his websites yearly, does 2.6 million dollars in sales online each year (yes, that is $2,600,000), and personally makes hundreds of thousands of dollars from his online businesses... all from his one small office. So listen to what he has to say as he knows what he is talking about when it comes to starting and promoting a business on the Internet. He reveals all his unconventional tips, tricks and techniques with examples so you can learn the most efficient and fastest way to make money on the Internet. Click here to go to Corey's web site now http://www.marketingtips.com/

---
Mega Visitors to your Site with Links2U ?
(Was good for Visitors and Visit Conformations)
have left the above Link and visitor caption as first applied
However it may Dissapear in Future
Read More on Link2U
Links2uWarn
Links2U has Emailed to this Webmaster
Explaining what their Intensions are.
The New Links2U is Hits2U

AOL Grabs ICQ Firm
Wired News Report
8:38am 8.Jun.98.PDT
After weeks of hints that a deal was near,
America Online (AOL) announced today it is
acquiring Israel's Mirabilis Ltd., creator of the
popular ICQ instant communications application,
in a cash transaction worth more than US$400 million.
AOL, the world's largest online service, will pay
$287 million for a 100 percent stake in Mirabilis.
Much of the initial payment is expected to go for
research and development costs to get Mirabilis'
next-generation client, which allows instant
messaging and chat on the Internet, out the
door. Beginning in fiscal 2001

---

By OJR Editor, Robert Scheer
November 24, 1998

Unfortunately, I was right.

AOL's acquisition of Netscape gives the Virginia-based company a power
over what we see and do on the Internet that mocks previous concerns over
Microsoft's purported influence.

As I pointed out in my May 26 Commentary on OJR, while the government
and everybody else seems to be focusing on the power of Microsoft to
undermine a free society, it is America Online that more clearly threatens
to exercise a dangerous control on our access to information.

The argument is a simple one: portals are power. Sure, Bill Gates and
Microsoft make obscene amounts of money and have got much of the software
industry wired. But that has little impact on the representative
democracy and the free flow of ideas. We are hardly suffering a loss of
freedom because most of us are using Microsoft Word instead of
WordPerfect. But control over portals -- those all important shuttles to
the world of the Internet -- is like controlling the ground transportation
at Dulles Airport and being able to pre-determine which airline you fly
on.

The point is not one of coercion. But whoever said that Big Brother
needed physical force? Power can be built on the seduction of a Web site,
ease of entry, convenience, all sorts of wonderful things. But when they
end up giving one company power over the choices given to 14 million
people as they enter the Internet -- it is a power that no modern dictator
threatens to equal.

The Justice Department should step in and block AOL's acquisition of
Netscape, precisely because Netscape represented one of the few serious
challenges to AOL's supremacy in the portal market. If the government
fails to act in this instance, they should immediately drop the suit
against Microsoft, which has much less to do with the guarantee of a free
marketplace of ideas.

Unfortunately, most government regulators know nothing at all about the
online world other than how to check their e-mail. But those of us who
increasingly depend upon the Internet for not only breaking news but for
access to relevant databases and archives -- know that those who design
the architect of a portal wield enormous power.

When you sign on to AOL, as admittedly I do, it is AOL who has determined
which are the important headlines to call to your attention. For example,
it is an editor at AOL who leads you to polls and chat rooms as well as
picks columnists to recommend. There is no editor in the country now who
has the circulation and influence of that mysterious and unnamed figure
(or figures) who makes those decisions. Some say it's Jesse Kornbluth,
who I've known. And I'm not here to deny that he is a competent and
serious fellow. But let's not kid ourselves that AOL's facade of
anonymity conceals a truly frightening power to mold what we 14 million
subscribers come to think is important.

For example, throughout this last year, AOL has presented the White House
crisis on its home page as the most significant happening in the world.
That is an editorial decision of enormous implications. It is their right
to do that, but to the degree that their portal becomes the entry point
for more and more Americans, it represents a profound skewering of the
national dialogue.

Sorry to be the scold. And yes, I very much like AOL, or I wouldn't be a
user, but it is precisely the organization's success in seducing
folks like me, which now makes it a threat. We should have recognized
that when AOL was able to gobble up Compuserve by being graphically
flashier and better at marketing. But the folks at Compuserve in those
days represented an alternative take on what is important -- both in
the news and in the larger society.

Yet there was no government outcry over this monopolization of AOL's only
serious rival at the time. It is absurd that the Justice Department turned
a blind eye to AOL's takeover of Compuserve while it focused an irrational
ire on Microsoft.

Yes, Bill Gates is too rich, he's too cheap, and he's too uptight in his
control of his basic product. But as the failure of, first, Mungo Park,
and now Slate -- which is evidently going nowhere -- demonstrates, Gates
is a total incompetent in the area of thought control.

The problem is not bigness, per se, which has preoccupied the Justice
Department. What should concern them deeply is power over the flow of
information. And, unfortunately, AOL has demonstrated an uncanny ability
to design the future library and living room of our minds. Their truly
impressive success in hooking users is great news for their stockholders,
but the implications for a representative democracy are truly horrendous.

And it is precisely the well-being of the marketplace of ideas that should
concern the Justice Department.

---
It's Official! AOL Buys Netscape
ASSOCIATED PRESS
November 24, 1998 at 9:18:43 PST
WASHINGTON (AP) -- America Online said today it will
buy Netscape in a $4.21 billion deal that would effectively
conclude Netscape's dramatic rise and fall as an Internet
software pioneer. The agreement also includes Sun
Microsystems Inc.
The agreement also cements AOL's position as a new
superpower in the high-tech world, giving it remarkable
reach and enough influence to challenge industry giant
Microsoft's dominance in key areas.
"The acquisition of Netscape is a big step forward for
America Online that will greatly accelerate our business
momentum," AOL Chairman Steve Case said. "Netscape
has played a key role in helping consumers benefit from
the enormous power of the Internet, and we share the
same mission."
AOL becomes the world's largest Internet provider, the
distributor of Netscape's hugely popular browser software
and the owner of two of the four most popular sites on the
Web.
Netscape's site alone draws 20 million visitors each
month. The other three most popular sites are operated
by AOL, Microsoft and Yahoo!.
Under the deal, AOL, based just outside Washington in
Dulles, Va., is expected to operate Netscape as a
separate division in Mountain View, Calif. But the
4-year-old company whose software popularized the
Internet -- and whose dramatic debut on the stock market
was among the most successful ever -- would cease to
exist as an independent entity.
"This exciting partnership enables us to deliver even
better and more complete products and services to both
existing and new customers," said Netscape Chief
Executive Officer James Barksdale, who will join AOL's
board of directors under the agreement.
Netscape shareholders will receive .45 shares of AOL
stock for each of the 99.5 million outstanding shares of
Netscape stock.
In a three-year deal, Sun Microsystems Inc. will distribute
Netscape's business-level "server" software, and AOL will
use Sun's Java programming technology -- which lets
programs run on a variety of types of computers -- to offer
AOL services on what the company called
"next-generation Internet devices."
The companies have been negotiating for weeks.
A Washington public-interest group run by Ralph Nader,
the Consumer Project on Technology, promised to
protest any AOL-Netscape deal. The group's director,
Jamie Love, said its opposition in part stems from the
market for Internet software - generally split among
Netscape and Microsoft -- already being too concentrated.
It also objected because many of the nation's hundreds of
private Internet providers currently distribute Netscape's
browser for licensing fees. Under the deal, those
providers would indirectly be funding AOL, among their
greatest rivals, by paying it fees for Netscape's software.
The alliance poses new competition for Microsoft, whose
own business tactics against Netscape were so
aggressive that the federal government is suing Microsoft
for alleged antitrust violations.
Microsoft's Internet software competes against
Netscape's, and its Microsoft Network online service rivals
AOL, although MSN has been far less successful.
Sun competes against Microsoft in several areas, from
rival operating systems to its Java technology that runs
programs on many types of computers, not just those
using Windows.
All three companies share a general disdain toward
Microsoft and all are testifying on behalf of the government
at Microsoft's antitrust trial in Washington.
"The major driver of this has been the personal
connections between the principals in this deal, who have
a common mission to be successful but also a common
secondary goal to win at Microsoft's expense," said Frank
Gens, chief analyst for International Data Corp.
Although AOL considers Microsoft its rival, it agreed in
March 1996 to incorporate Microsoft's Internet Explorer
browser, not Netscape's, into the software for its 14
million subscribers. In exchange, Microsoft included
AOL's software within its dominant Windows operating
system.
That agreement ends in January.
Analysts were divided whether AOL might jeopardize its
placement within Windows by now distributing Netscape's
software to its customers. That move could restore
Netscape's share of the browser market to its highest
levels since Microsoft began its full-court competition.
"It seems to me pretty clear, if this deal happens, that
AOL customers will be seeing a very strong marketing of
the Netscape browser to them," said Gens. "If Netscape
and AOL get together, AOL and Microsoft's friendship will
be cold and somewhat short-lived."

---

It's Official: AOL and Netscape Join Forces
By Bonnie S. Hyde
Senior Editor, E-Commerce Times
November 24, 1998
America Online this morning officially
announced that they will acquire
Netscape Communications Corporation

in a $4.2 billion stock
swap. Each Netscape share will be
exchanged for .45 shares of America
Online stock. The deal is expected to close in the spring of
1999, subject to various conditions including customary
regulatory approvals and approval by Netscape's
shareholders.
Steve Case, Chairman and Chief Executive Officer of
America Online, said: "The acquisition of Netscape is a big
step forward for America Online that will greatly accelerate
our business momentum. Netscape has played a key role
in helping consumers benefit from the enormous power of
the Internet, and we share the same mission. With
Netscape, we will broaden our global audience at home and
at work, and add world-class technology to support an
expanded range of America Online interactive products and
services."
Netscape has transformed itself over the past year into a
successful portal and enterprise/e-commerce software
business. The Company currently offers a full suite of
packaged applications for business-to-business and business-to-consumer
Internet commerce, and award-winning Internet server software for building and
hosting a variety of Internet applications. Netscape's corporate customersusing
the Company's e-commerce and infrastructure software suite include Ford,
Lucent Technologies, Bell Canada, France Telecom, John Hancock and theU.S.
Department of Defense.
Separately, America Online announced that it has entered into a strategic
development and marketing alliance with Sun Microsystems, Inc. to enhanceits
delivery of e-commerce solutions that will help build revenues across America
Online and Netscape brands, offering added value to both America Onlineand
Netscape business partners, as well as the growing number of major
corporations planning to put their business on the Internet.
"The development of e-commerce is entering an exciting new stage," Case
stated. "Increasingly, companies are seeing the power of the Internet ascentral
to their business strategies and consumers are seeing the convenience ofonline
shopping as central to their lives. Netscape's highly regarded suite of
e-commerce software, coupled with our strategic alliance with Sun, willhelp us
drive e-commerce to a whole new level that will benefit both business partners
and Internet consumers."
Under the America Online-Sun alliance, both companies will sell productsand
services through each other's sales channels and customer relationshipsto
market their existing products and services, as well as their new e-commerce
solutions. Sun's large sales and service organizations will provide technical
support for these products and services. The alliance also will bring new
development and distribution opportunities for Netscape's software and
applications.

---
AOL Gobbles Up Netscape. Will the Pending Deal Bite
Consumers, Too?
Jesse Berst, Editorial Director
ZDNet AnchorDesk
TUESDAY, NOVEMBER 24, 1998
something has occurred that could turn the
industry upside down. The pending marriage of America
Online and Netscape Communications creates one of
those good news/bad news situations. Good news
because the deal would boost competition between
Internet browsers. Bad news because AOL stands to
become the 800-pound bully of the online world.
AOL is talking takeover, under a stock-swap that
values Netscape at roughly $4 billion. If successful,
AOL would assume control of Netscape's browser
software and Netcenter portal. In an offshoot
agreement, Sun Microsystems would pay to market
Netscape's business software. Click for More.
Good news: Netscape has faced ruthless competition
from Microsoft and its Internet Explorer browser. If
Netscape sells out to AOL, it solves its most pressing
problem: How do you fund the multimillion-dollar
development of a software product, Netscape
Communicator, when you have to give it away free to
keep up with Microsoft? With AOL's deep pockets,
that's how.
In addition, AOL provides access to a huge,
fast-growing market of Internet newbies. Thus providing
a solution to another nagging Netscape dilemma: How
do you hook new users when Microsoft's Internet
Explorer ships free with virtually every new computer?
With AOL's proven expertise for introducing
mainstream America to the Internet, that's how.
Bad news: Then again, this deal gives AOL a
dominant share of the online services market.
According to NetRatings, the two companies would
have an unduplicated reach of 70% of all online
customers -- way ahead of Yahoo and Lycos, both just
above 50%.
History shows us that AOL uses such power in a
controlling manner. Its customers already pay several
dollars more per month than the going rate. The
company still maintains a proprietary platform, refusing
to switch to HTML like the rest of the world.
Subscribers were only begrudgingly permitted to
access the Web. Content partners pay a steep toll for
placement on AOL. An AOL/Netscape combo would
lock up a big chunk of cyberspace -- and force
ecommerce and content providers to cough up big
bucks for a piece of the action.
All of this assumes, of course, that the deal is both
consummated and orchestrated successfully. To do
that, AOL must clear several hurdles:
Finalize financial terms of the deal
Convince Sun to buy or license Netscape's
server business
Gain shareholder approval
Receive go-ahead from antitrust authorities
Complete deal while stock market conditions
remain favorable
Wed AOL's Eastern consumer culture to
Netscape's Silicon Valley software society
AOL is courting Netscape because it wants to give
Microsoft a run in the browser market. Which is good
news for consumers. But AOL also covets Netscape as
a means to enhance its own power. Given its terrible
track record, that could be bad news indeed.
Get ready to pay your
respects to another
800-pound gorilla -- one
that could be to the Net
and e-commerce what
Microsoft has become to
PCs and productivity software.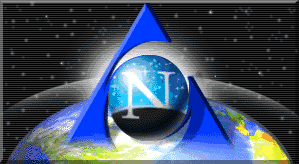 ---
[FLASH]
[
Toolbox
] [
Search
] [
Weather
] [
Horoscopes
] [
Weekly Horoscope
] [
AmateurRadio
]
[
Word
] [
Humor
] [
News
] [
LinkOpps
] [
LinkBuddies
] [
PetPeeves
]
[
Today in History
] [
Facts
] [
Sounds
] [
Banners
] [
UFO's
]
[
Home
] [
Family
] [
Mom and Dad
] [
WhoamI
]
[
Reel
] [
OfficeMax
] [
Beyond
] [
RegisterIt
] [
WebsiteGarage
]
---
Updated/Changed Jan 1st 2000


You are Lucky Number

Amateur Radio and Internet Resources
Copyright 1998-2000 NØFYT Ed Ferguson