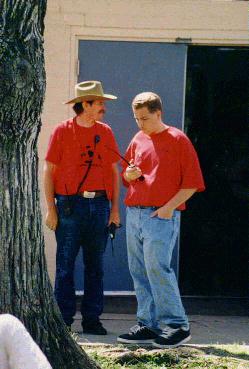 Los Banos - Who Are We?
Amateur radio operators are are people like you, with an interest in radios, radio communications, and maybe electronics. We come from all walks of life. While it is true many are electronics and radio technicians, this being that work in the area of our hobby; many others are bankers, construction, workers, factor workers, farmers, and the like.
LBARC has both retired and active farmers, housewife's, technicians, truck drivers, and utility workers included in it's membership.
LBARC has affiliated itself with the local Los Banos City Police Department as a volunteer support group. That mean that we go out to support many emergency activities that happen within our city.
Our support is generally limited to that of increasing the communications required during an emergency. this includes both voice and digital (data) types of communications. Any, yes these communications are over the radio air waves.
While many people presume we communicate over VHF and UHF frequencies, we do also use what we call HF - this is also called shortwave, and can easily allow for around the world communications between 2 stations when "band conditions" allow.