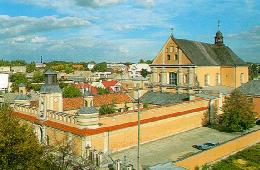 Historic part of Ostroleka, my hometown.

Story of SP5LGT

I started my amateur radio career around year 1976 in my hometown Ostroleka, Poland. My older brother Piotr enrolled local technical school where he became a member of an amateur radio club SP5PEN. I joined him a couple of months later, and at that time I was the youngest member of our club at the age of 12. A few weeks later I made my first QSO on CW with a speed of around 5 WPM. It took at least an hour, I recall. One of the main operators of our club station was Mietek SP5LCI.

Later around 1978 my brother and I became members of SP5KIR (later SP5KVW). The chief operator of this station was Jurek SP5GJH. He was a true enthusiast and activist, who organized camps for young people, and made them really involved. They also had a better equipment and better QTH atop of 11-story building. In the fall of 1978 me, my brother and a couple of our friends went to Warsaw and passed an exam for an amateur radio license. I still remember the callsigns of Jurek's younger sister Ela SP5BAQ, Andrzej SP5BHW, Mirek SP5DQK, Bogdan SP5DPR (now SP3DPR, who has been with UN peacekeeping forces and activated among others T9 and OD5). We received our licenses almost one year later on the 3'rd of September 1979 - one day before my 15'th birthday!

I received a callsign SP5LGT, while Piotr became SP5LGP (today SM7YEA). Piotr has always been very clever in electronics, and at that time he had already constructed a simple QRP CW 40 meters only transceiver. We were on the band the same day. Since I was not yet 18 years old, I could only operate on CW with 20W input and only on the lower bands 80 and 40 meters. With our G5RV antenna we made my first experience on DX'ing. I remember my first real DX QSO was TI2CF. I called him on CW while he was operating SSB. This was real fun! Since that day we were QRV every night. Piotr was operating on even and I operated on odd dates. We shared a single room, single bed and a single radio station. On my shift I used to go to bed at 8pm, wake up at 2am, operated for 2 to 3 hours and then went to bed again. I had to wake up 7am in order to make it to the school. I remember I was really tired at school those days.

During this period we became active in various competitions organized by LOK (National Defense League). We focused on Morse code reception. It was fun to compete with other young chaps from all over Poland. Once I even qualified to the national contest, where I became number 5 in my junior group. Jurek SP5GJH was again the main organizer. Thanks to him we could become very good in CW, and had the opportunity to travel around, and meet other hams. On such meetings I first met and later become friends with among others: Rysiek SP5LGQ, Wiesiek SP4EEZ and Mirek SP5IXI (now VK3DXI). In 1981 I become a member of High Speed Club (HSC) with a number 966. I am still proud of and very active member of HSC.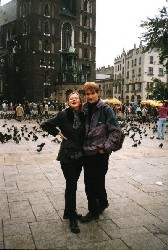 Mette and me at the market square in Krakow, fall 1996.

On the 13'th of December 1981 a military low was imposed in Poland. Over night we lost our licenses, and were not allowed to operate radio until 1983. All radio equipment had to be delivered to the military. We were afraid we would never get our equipment back, so my father and I had hidden a transceiver in the chicken house in our backyard. An unfinished home made power amplifier was delivered to the military instead. I remember an official asked me - "How far could you reach using this equipment?". "Entire World!" - I replied. I was so afraid they would not believe me. They did!

In July of 1983 we hosted Norwegian amateur radio family of Bjørn Henning LA4DCA, which we had known since 1981. Exactly on December 14'th 1981, one day after Military low was imposed in Poland, we received a Christmas parcel from Henning's family, a part of action organized by NRRL to help Polish amateurs. We then started to exchange letters inviting our friends to visit us. With lots of help from SP8TK (president of PZK at that time) the guest licenses were issued for our friends. This was very rare, since there were still very few of Polish HAMs, who received their licenses back at that time. We did not have valid licenses ourselv. For a week, three guest stations: SO5DCA, SO5PBA and SO5LBA were activated from our home. A DXpedition.

Later in August of 1984 my brother Piotr and I left for Norway, and never come back ...

I was back in Poland in 1990 and 1991 operating from my hometown as SO5MFA. Later my wife-to be Mette and I lived in Krakow for 7 months from October 1996 to April 1997 where I was using my old callsign SP5LGT/9. I become member of SP9PKZ radio club at that time, and I still keep in touch with my radio friends from Krakow. In November 1996 I participated in CQWW Contest on CW winning in class SO14MHz LP in Poland. Photo of Krakow's old town is present on one of my QSL cards.

73 de Lech, LA7MFA